January 8, 2013
Have you used Google's "disavow links" tool to manicure the backlink profile of your website yet? If not, prepare yourself for some bumps in the road if you should decide to give it a go. The tool's been around for a few months now, and reports are finally beginning to surface about its effectiveness removing rogue links.
Barry Schwartz of SEO Roundtable ran a poll a couple of months back that asked SEOs whether they'd used the tool yet. The survey garnered almost 500 responses, and roughly half had used the tool (43%), but a mere 8% of the respondents said they would use the tool again soon. That stat intrigued me, so I visited the Webmaster World thread associated with the poll to read about some of the individual user experiences.
It's a Waiting Game for Many
If you think you can log into your Webmaster Tools account, disavow some links, and wake up the next morning to find them gone, you're in for a rude awakening. In fact, last October in a Q&A interview with Matt Cutts, Search Engine Land's Danny Sullivan posed a rendition of this exact question. Sullivan asked Cutts how long it would take websites to see improvement after removing links using the "disavow links" tool:
"… say you upload a file. It takes several weeks for that to be read. Then you might wait several weeks for the next Penguin Update, until the change would be reflected, right? Or when you say multiple weeks, do you mean that really, the file might get read right away, but the changes might not be reflected until some Penguin or other update can act on those changes?"
I love how Sullivan managed to pack all those concerns into one single question. Don't tell me you weren't wondering some of the same things yourself! However, Cutts answered the juggernaut of a query with his trademark vagueness, leaving SEOs everywhere forced to read between the lines yet again. According to Cutts:
"It can definitely take some time, and potentially months. There's a time delay for data to be baked into the index. Then there can also be the time delay after that for data to be refreshed in various algorithms."
This means webmasters are left to assume that a) it will likely take months to see disavowed links removed, and b) that updates and data refreshes for Penguin (and possibly other algos) may need to run before the links disappear.
Cutts' answer is vague, but the scenarios he described were right on the money for some of the more irritated Webmaster World members. Most replied to the thread stating that they'd used the tool to disavow shady links, but were still awaiting news of their removal. Those who did see progress watched their websites' rankings drop and then dance all over the search results. Takeaway: when you use the tool, exercise extreme patience. If Google decides to disavow the links for you, be prepared for your site to slide around the SERPs through an update or two until it settles into its new spot.
Cases of Recovery
If you're feeling down about trying the tool after all the negative experiences floating around, don't lose hope just yet. There are some very public reports of successful link removal out there. For example, +Tim Grice, Head of Search at Branded3, published a popular piece back in October in which he detailed actual case studies of websites that had made significant recoveries after using the tool.
Just check out the stats this first example is sporting:
Image 1: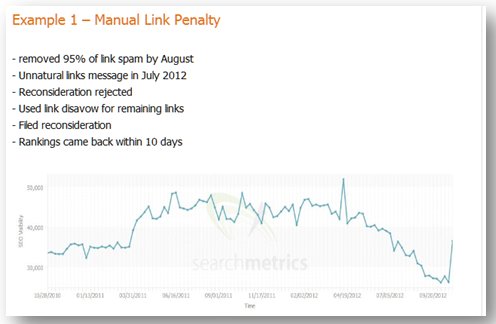 Source: SEOWizz
Here's an equally mind-blowing study from the same post:
Image 2: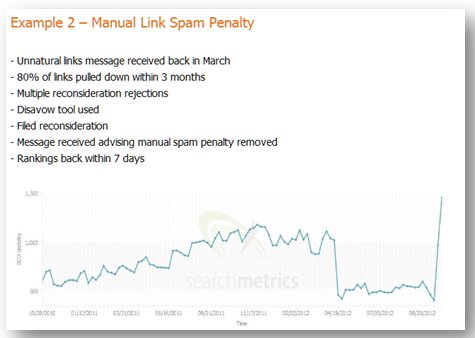 Source: SEOWizz
As you can see, there is proof out there that the tool works. There are simply multiple variables at play: whether an algo update is in progress, the number of links you're attempting to remove, whether you followed the directions and submitted enough documentation with your request… The list goes on and on.
There was also a glimmer of hope in the Webmaster World forum discussion. Some did actually report good experiences. Case-in-point: this is what one forum member, Smithaa02, had to say:
"Over the summer really scrubbed [sic] our website of artificial links but there were some that we couldn't get removed. On 10/17 submitted about 100 bad links. Position page ~5.
On 10/28 we had an incredible recovery to page 2. On 10/30 I upped the disavows from 100 to 900 that I found in a manual audit.
On 11/4 we jumped back to page 6.
The amount of disavows could have gotten us in trouble. When we scrubbed in the summer we went from page 7 to about 30…so Google doesn't like to see a lot of links lost in a hurry IMO…but this is healthy link detox in the long run (I hope).
On 11/11 we're back to page 2."
Increasing Your Chances of Success
There's not much you can do to speed up the waiting game after you submit dirty links for removal using Google's tool. However, you can do a few things to increase your chances of success before you hit "submit." First, check out the official Google Webmaster Central blog post that explains how to use the tool properly. Make sure you follow the instructions in the post to the letter to prevent longer wait times – or worse.
If you're planning to use the tool because Google took manual action against your site, listen up. It's vital to use the "disavow links" tool correctly if you want to bounce back. Make every attempt to scrub all offending links from your site manually – before you use the tool. Google's far more likely to view your removal request favorably if you've made an earnest effort to clean up the wayward links on your own first. Remember this: the point of the tool is to help webmasters remove links they were unable to take down themselves. If you're using it to dodge the task of pounding the virtual pavement to secure link removals, you're doing it wrong.
When you're disavowing links, make sure to include detailed notes in the correct format about all of your attempts to remove the links you've reported. You can disavow individual links or links from an entire domain. Ensure you format the link URLs correctly as well. Stick to the directions in Google's post and double check everything before you submit.
If you have the patience of a saint and you do things right the first time, your website may just become another SERP recovery success story. SEOs are split about their experiences with the tool across the board, but the evidence shows that the most persistent and methodological of the bunch seem to be having the most luck. Coincidence? You tell me.
Have you used Google's "disavow links" tool? Tell us about your experience in the comments below!
---
Nell Terry is a tech news junkie, fledgling Internet marketer and staff writer for SiteProNews, one of the Web's foremost webmaster and tech news blogs. She thrives on social media, web design, and uncovering the truth about all the newest marketing fads that pop up all over the 'net. Find out more about Nell by visiting her online portfolio at Content by Nell.