January 22, 2013
You never know who you might see riding New York City's subway.
City resident Noah Zerkin spotted Google co-founder Sergey Brin Jan. 20 — he was wearing a pair of his company's augmented-reality glasses.
Zerkin, a self-proclaimed augmented reality enthusiast, took to Twitter to share his excitement at meeting Brin.
"Yeeeah… I just had a brief conversation with the most powerful man in the world," Zerkin tweeted.  "On the downtown 3 train. Nice guy."
The post was accompanied by a photo of Brin dressed all in black seated on the subway, and looking rather relaxed as seen below.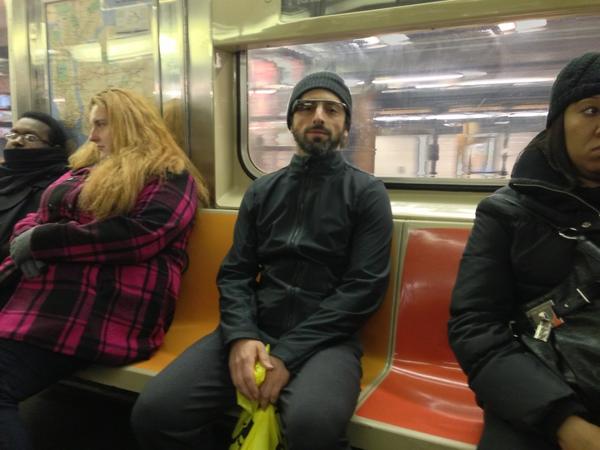 Noah Zerkin/Twitter
While many would argue about Brin being the most powerful man in the world, as Zerkin pointed out "…as I recall, Forbes did in fact name him the 5th most powerful person in the world, so it's not a stretch."
This is not the first time Brin has worn Google Glasses out in public. He was also photographed at a charity event last year sporting the spectacles.
Google Glass remains a work in progress, despite the wearable computing device project being announced more than six months ago.
The search engine company's research team is continually working on new ideas for the device — a pair of titanium-framed glasses that is to display information much like a tablet does and possibly connect to the Internet with a voice command, project head Babak Parviz said in a recent interview with IEEE Spectrum.
Google officially unveiled the glasses during its I/O conference last summer. At that time, the headset, which was controlled by head movements, had video and audio capability and a built-in compass and accelerometer.
When the glasses go on the market in 2014, consumers can expect to see a lot of improvements and additions to the device.
Parviz said although Google is not revealing specific features, the headset will have the ability to take photos and share them. Google is still in development mode so that voice commands and head gestures offer more innate control of the glasses. Glass also has a touch pad for user control and the device should also be able to accept phone calls.
"We are experimenting with a lot of things," he said. "The feature set for the device is not set yet. It is still in flux."
Those who attended the Google I/O event last year will be first in line to own a pair of the glasses — as long as those who are interested write a check for $1,500, they should receive their spectacles later this year.