Lately, when I log into my Google Analytics account to view my blog's stats, it seems like the list of keywords people use to find my site is beginning to dwindle. I still see the usual assortment of interesting (and, occasionally, downright weird) search queries that people type into Big G's search bar before they wind up on my blog. However, I feel as if the term (not provided) is creeping higher and higher up the list.
At first, it was a minor annoyance. Keywords masked by (not provided) indicate that my blog's visitors are using some kind of privacy setting or protected browser to surf the web. Don't get me wrong, I'm all for Internet privacy. However, the added security measure leaves one heck of a gaping hole in essential keyword data for webmasters like me. (Not provided) was once a non-issue; nothing more than a tiny sliver of data missing from an already overstuffed keyword pie.
Now, however, things are changing. Protected browsers are becoming an industry standard. It's a sad day, my friends: SEOs, webmasters, publishers, bloggers, and pretty much anyone that has anything to do with content creation on the web have lost one of the best tools in existence for growing their sites.
Who Turned Off the Lights?

Back in October 2012, Danny Sullivan wrote an article celebrating the first birthday of a phenomenon that he dubbed "Dark Google." In the piece, he enlightened readers about the history behind the change. The darkness, he says, is search query information that Google's begun withholding from publishers.
Before Google turned off the lights, webmasters could view all search terms typed by their sites' visitors. The data existed courtesy of early Internet browsers. According to Sullivan, browsers used searches as "referrers," so there was an open record of the information. Then, in 2011, Google started blocking users' searches if they were logged into their Google accounts in order to "safeguard privacy." What's with the quotes, you ask? More on that later.
According to a Search Engine Land post from 2011, Matt Cutts had this to say about how the change would affect the availability of keyword data:

If you keep track of your website's stats, then you've probably already seen (not provided) in action. And you're probably just as agitated as I am about the category's percentage inching upward – seemingly by the day. To show you what I mean, here's a little snippet from my own Google Analytics account:

39.54%? Wow. Not even a year ago, (not provided) made up less than half that number in my stats.
The trend shows no signs of slowing down. In fact, web browsers and mobile devices are increasingly moving to secure search. Translation: webmasters should brace for impact – more sharp increases in the percentage of (not provided) data in their keyword stats are on the way.
From Blackout to Keyword Apocalypse?
Last week, Google announced on the Chromium blog that it was changing the Chrome browser to provide an entirely secure search experience for users. The wording of the post justified Google's decision by citing other browsers that had already made the switch:

Let's see… Firefox, Chrome, heck – even Apple products have switched to secure Google searches as a default. Greaaaat. This only means one thing, and I know you're probably every bit as afraid to say it aloud as I am.
C'mon – we'll say it together: someday soon we won't have any information about search terms for our site analyses. Depressing, I know. But here's the silver lining: there are a couple of alternatives that may help combat the ever-expanding info drain in our Analytics accounts.
Webmasters: You Still Have Options
Over at the CrazyEgg blog, Russ Henneberry outlined a fantastic option for webmasters who still want to collect juicy search data from their visitors: the Google Analytics internal site search feature. According to Henneberry, the info you'll obtain from an internal site search is far more valuable than any data you manage to squeeze out of the search engines.
The author makes an excellent point – users who search your website are, in essence, telling you what they want to see on your website. You're effectively scoring free visitor feedback without even having to ask!
To enable an internal site search for your website or blog, log in to your Google Analytics account and navigate to the profile to which you'll add site search. Then, click "Profile Settings" and check the box to tell Google to begin tracking site search.
Then, enter the query parameter for your site's search function. This part of the process freaked me out a bit when I set up my own internal site search, but I was relieved when Russ explained how to do this in his post (and it's surprisingly easy):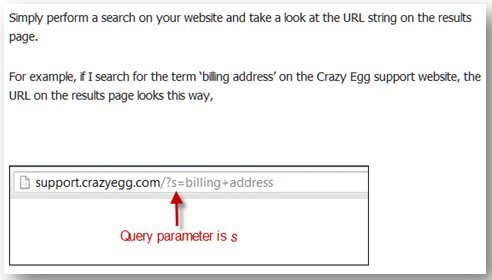 Wait four hours at a minimum before you get itchy to check the results. See? Easy peasy.
Your other option, of course, is signing up for AdWords. Remember the whole Google's going secure to "safeguard privacy" thing from earlier? I used quotes because – get this – Google doesn't do the secure thing for its' AdWords customers.
Hypocritical? You betcha. However, if you really feel the need to find out what people are typing into Google to get to your site, then consider breaking down and jumping on the AdWords train to get the goods.
At least you'll get an ad outta the deal.
---
Nell Terry is a tech news junkie, fledgling Internet marketer and staff writer for SiteProNews, one of the Web's foremost webmaster and tech news blogs. She thrives on social media, web design, and uncovering the truth about all the newest marketing fads that pop up all over the 'net. Find out more about Nell by visiting her online portfolio at Content by Nell.