December 17, 2014
Google's sixth release of Penguin, dubbed Penguin 3.0, arrived with mixed emotions late October 17. Site owners began reporting fluctuations in page rankings, both positive and negative, on that date. Shifts in ranking continue to occur, and webmasters are unclear if the rollout is now complete. According to Google's Pierre Far, it's a "slow, worldwide rollout."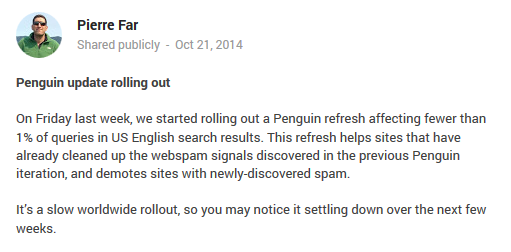 But what, specifically, has been targeted? Google hasn't been overly talkative about Penguin 3.0, so let's take a closer look and see what we can determine.

Penguin 3.0 Targets Bad Link Profiles
The Penguin algorithm targets spammy links, and with every Penguin update, Google is getting more accurate in pinpointing sites that employ black hat tactics. The latest update is Google's most recent attempt at penalizing sites that don't comply with its quality guidelines and rewarding those that do.
What to Do if You've Been Hit
The good news is that it might be faster to recover from a ranking dive than it previously had been. In the past, site owners had to wait for the next update to see if they were able to make the necessary changes needed to recover. Now that updates seem to be rolling out over an extended period of time, recovery might happen faster.
If you've been negatively affected by Penguin, it's important to determine what you did wrong, and then make the appropriate changes. Check your backlink profile, and branch out from there. Send out link removal requests if necessary, or use Google's disavow tool.
As always, the best plan is to comply with Google's quality guidelines and operate your website and SEO practices in a way that's conducive with Google's policy for best practices.
Where is Google Headed?
While no one knows for sure (the search engine behemoth isn't always forthcoming and transparent about its plans), there are a few factors to consider when thinking about the future of search.

Will Google Continue to Update its Current Algorithm?
This is a fantastic question. If not, the other option is to launch a brand new element. Looking at Google's 2014 financial tables, it's clear that advertising accounts for the majority of revenue. Being that the bulk of advertising happens with search, many experts assume that Google won't tamper with what's already working very well.
This doesn't mean Google is predicted to stop making changes. It simply means Google isn't likely going to completely revamp something that isn't broken.
Google is the King of Kings
Of course, we know that content is king. But if content is king, Google is the king of all kings. Google dominates the search market share and spent 7.3 billion on its data centers in 2013. This is further evidence that things are working quite well for our king. The emphasis is likely to be on refinement, not on a complete overhaul.
A Brief Refresher on the History of Penguin
Like the old adage claims, history repeats itself. And we see that this is true when looking at Penguin. Instead of brand new elements, we see refinement of what already exists.
April 24, 2012 – Google released Penguin 1.0 in an attempt to counteract spammers and those who purposely went against publisher guidelines. The update affected approximately 3.1% of queries and targeted keyword stuffing, sneaky and doorway redirects, link schemes and duplicate content.
May 26, 2012 – This tiny update known as Penguin 1.1 impacted about 0.1% of queries and focused on penalizing more sites that violated Google's quality guidelines.
October 5, 2012 – Penguin 1.2 was released, targeting low quality links and affecting about 0.3% of queries.
May 22, 20 2013 – Affecting approximately 2.3% of queries, Penguin 2.0 further penalized black hat SEO tactics that violate Google's quality guidelines. The update focused on low quality links, advertisements that float page rank, and hack sites.
Oct 4, 2013 – Penguin 2.1 was released and further targeted guideline violations and affected around 1% of queries.
This brings us up to date with the recent Penguin 3.0 update of October 2014, which, after a year of no updates, is further penalizing quality violations and has affected about 1% of queries.
Is this history lesson evident of a system that's going to opt for a drastic change? Probably not. Small updates that affect no more than 3% of queries seem to be the trend – and it seems to be working well for Google.
With lots of legwork and a healthy dose of patience, search continues to reward those who follow on the righteous path toward a coveted first page ranking. And isn't that the mark of a job well done? Nothing is supposed to come easy, and the value of hard work is a universal concept. Cutting corners is rarely prudent. The benefits that come with anything that was honestly earned feel better than something earned through a shady deal.
Your Simple Plan for the Future
If you want to stay in the game, opt for honesty. It doesn't get any simpler than that. Continue creating top-quality content and engaging in respectable, genuine SEO practices. If a tactic to increase your ranking seems questionable or too good to be true, it probably is. And it's not worth your time. Penguin will eventually catch up with you – and the penalties could be severe.
Stay in Google's good graces by not trying to outsmart the leader. The future of search – regardless of Google's plans – is to continue to provide better and authentic results to searchers.
And don't you want to be part of that genuine plan?
---
Adrienne Erin writes weekly for SiteProNews about online marketing strategies that help businesses like QuantiFERON succeed. Follow @adrienneerin on Twitter to see more of her work or get in touch.