The SiteColo Case
SiteColo is a managed cloud hosting and domain registration provider with 24/7 support. The Operations Center is located in Denver and the main Data Center is headquartered in Chicago. It is more than a web hosting company. It's also an innovation company that develops proprietary software used for driving the customer success. 
SiteColo developed an Artificial Intelligence for managing the workloads of its customers and the in-house dedicated resources including CPU, memory and input-output. This has enabled the firm to provide a safer, faster and more efficient web hosting experience for its customers. The newly developed AI is proving to be revolutionary for the company and is looking to change the future of cloud services. 
An aggressively stable network with zero downtime, the firm provides all customers with free SSL Certificates for all their domains. SiteColo is PCI DSS compliant and places heavy focus on security of its customer data.  The newly-deployed AI is a massive improvement to the previous cloud hosting technologies since it locates potential risks before they turn out to be a problem. AI helps in saving an immense amount of time for both the company as well as its customers. The newly developed AI helps in accomplishing tasks within a day that previously could have taken weeks, months or years under the less developed systems. 
Facts and Figures Related to Web-Hosting Services
There are around 1.94 billion websites

 

There are over 338 million registered domain names (as of Q1'18)
WordPress is considered to be #1 CMS, which hosts over 20.5 million sites with a market share of 59.9%
The top 10 hosting companies account for about 24% of the web hosting market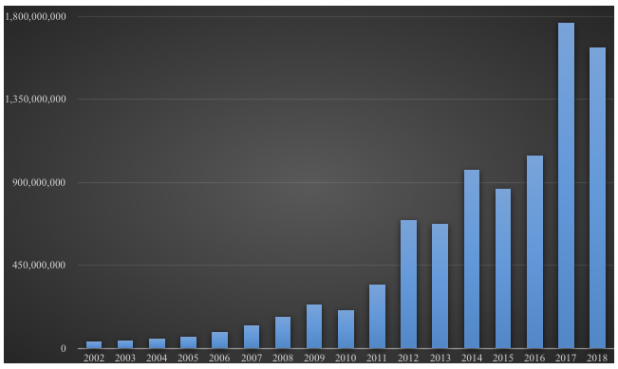 What can AI do for Web Hosting Businesses?
By using AI, businesses can manage their web hosting in a better manner. AI actively helps the web-hosting business by improving the way in which one can manage and control various operations of the business.
Following are some enlisted benefits for web-hosting businesses:
1. High Level of Security and Performance
No incidents of malware attempts can go unnoticed because of the adaptive learning model of the machines that support AI. The user not only gets a warning, but also gets a detailed report that can help in taking timely actions. It enables website owners and hosting companies to act at the right time before any harm is done. Management of a website infrastructure requires regular involvement as well as investment. AI is fully capable of carrying out data related tasks with more accuracy. With the use of AI, users can save their staff from carrying out such tedious and manual tasks, thereby increasing productivity time, resulting in better Return-of-Investment on manpower. It also ensures maximum accuracy and faster delivery of results which maximize realizable benefits
2. Use of Data for Report Generation
The owners and stakeholders of the company can get comprehensive reports which include activities and periodical audits which keep the data fresh and relevant to meet the current needs. The updated information is sent in real-time. One can also get better insights into website performance which can help in various ways such as cost-efficiency, better performance, more satisfied customers and smoother running infrastructure processes which adds to the user experience. Such tools are able to perform optimization functionalities like configuration, bug fixes, software fixes, and upgrades without any manual aid.
3. Improved Accuracy Over Time
Complex tasks are performed in less time with maximum accuracy and this capability is increasing with time as AI tends to learn faster than humans. AI can also be trained to take actions to resolve site issues in real-time, offering websites a consistent performance. So, be it a case of website getting heavy trafficked, or meeting unexpected glitches and fluctuations, users can be assured the performance of the site remains unaffected
4. Improving Domain Performance
AI understands very well the pattern in which data is being coded and decoded. It analyses the data and adds new patterns to it. AI can forecast the performance of domain names and individual URLs. Companies tend to use AI for research and such domains can receive higher traffic and conversion rates, thereby ultimately increasing the productivity and ROI of web-hosted customers.
5. Self-updating and Improving Systems
For anyone associated with the digital field, it is necessary to keep a website and other related digital data updated for advertising to the target audience. This increases the constant maintenance work by human intervention. When AI is used for web-hosting services, it can decrease repair work and maintenance because the systems self-update. An updated system provides a smooth workflow to all users of the digital platform.
Leaders in AI Hosting
1. SiteColo: SiteColo's AI system can handle scaling and predicting traffic spikes thereby ensuring better user experiences. AI manages workloads and is designed to ensure that every website hosted is up. Use of dedicated resources such as CPU, memory and input/output can be adjusted automatically, which in turn improves server performance.
2. GoDaddy: GoDaddy uses AI in a creative way. ADI or Artificial Design Intelligence function is based on AI that generates templates and content for the user website. The quality of generated products is not comparable to custom solutions but can be used as something to start the process. The use of AI is not restricted to images and templates. GoDaddy uses deep learning technologies which can predict the price of a particular and give advice on what option needs to be chosen.
3. Canadian Web Hosting: Integrated an AI-based, Linux-server protection system in the year 2017 and their security system, called Imunify360, serves Wavecom as well.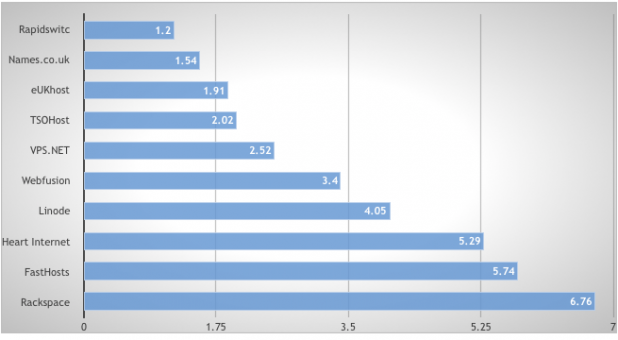 AI can do a lot of things which helps web hosting companies as well as individual website owners by warning against cyber threats, keeping an activity track, taking proactive actions against performance issues and by maximizing uptime.