Do you want to do effective Email marketing without using any automation software and sending out a single email? Sounds strange, right? But, yes it is possible. You can definitely target Gmail as a place to display your Google Adwords.
Surprisingly, Gmail Ads (Gmail Sponsored Promotions) has been around for a time. However, to date Adwords advertisers have inadequately understood and infrequently used this platform. That's a kind of shame because Gmail ads provide certain opportunities that don't exist on the regular Google Display Network.
Brief about Gmail Ads
Since September 2015, with the help of targeted Gmail Ads online advertisers have been able to target users natively within personal Gmail inboxes.
The targeted Gmail Ads appear on the "Promotions tab" in Gmail Inboxes as a collapsed teaser ad.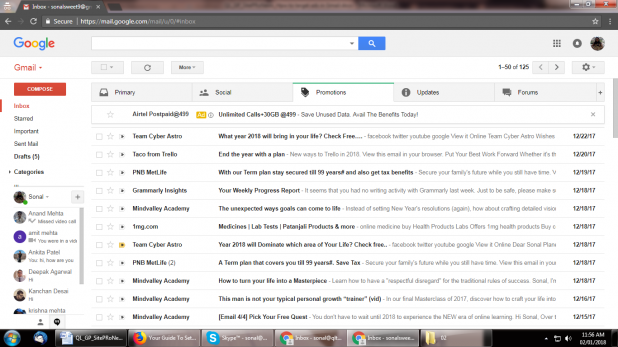 When a user clicks on that "Ad", it expands to an email-sized space to reveal images, videos and/or embedded forms.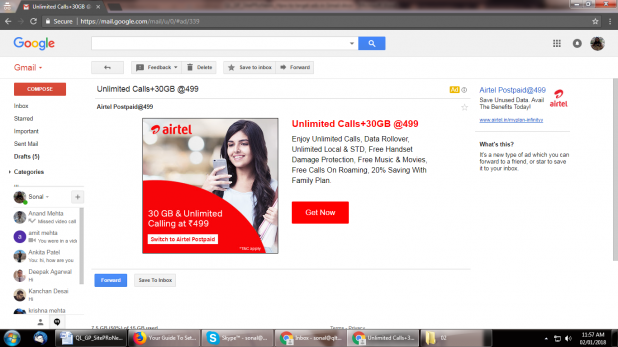 Target Gmail as a place to Display your Adwords
You can target your potential customers through Gmail Ads using many of Google's display targeting options. These options include keywords, topics and demographics. Also, it is possible to target Gmail users who receive emails from specific websites. This can be done with the help of domain targeting.
In the recent years, Google has rolled out several audience targeting solutions such as:
Similar Audiences
In-Market Audiences
Customer Match
Affinity Audiences
Life events
Remarketing
Types of Gmail Ads
In Google Adwords, you can have four types of Gmail Ads:
Gmail Image Template
Gmail Single Promotion Template
Gmail Multi-product Template
Gmail Custom HTML upload
Steps to create Gmail Ads in Adwords
This is how you can target Gmail as a Place to Display Your Ads.
1. Sign in to your Google Adwords account
Sign in to your Google Adwords account and click on new campaign.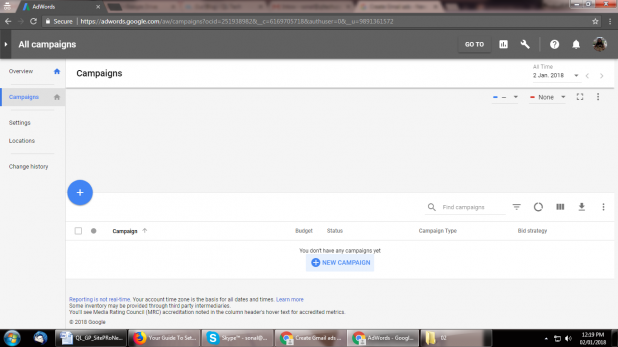 2. Click on type of  campaign in the page menu
To create a Gmail Ads campaign in your Google Adwords, you need to select the "Display Network only" option; and then tick on "Gmail campaign" as a sub-type. :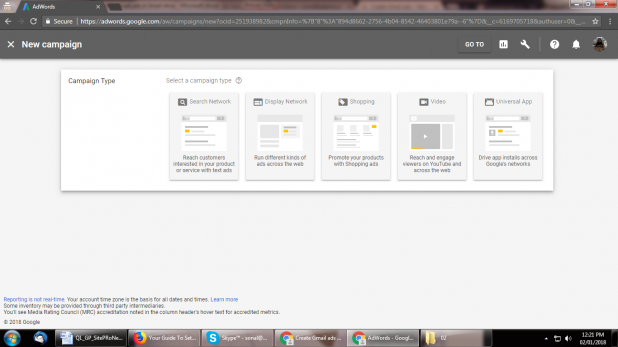 On clicking display network options, you need to fill out the goal of your campaign. In case you don't want to select goal at this stage, you can still continue creating your campaign. :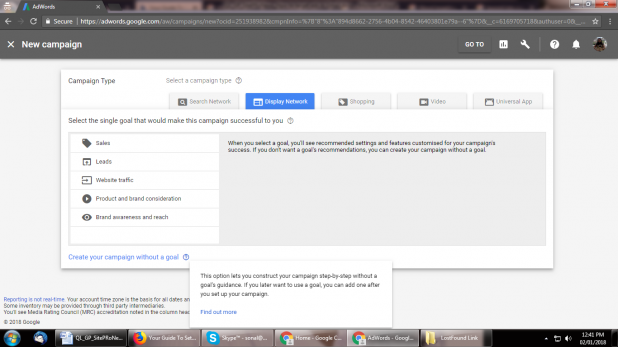 You will get two options. Click on 'Gmail Campaign".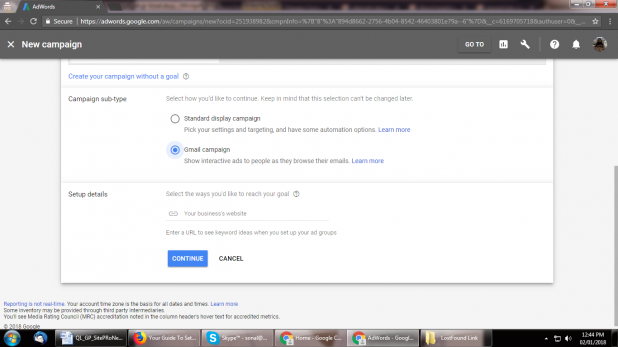 Note that the following options are not available for targeting:
Placement targeting
Topic targeting
Custom affinity audiences
Area of interest
Content Keywords (previously known as Display Select Keywords)
3. Create your ad group name
Under your Gmail Ads campaign, you can create an ad group name. In Google Adwords, to target ALL Gmail users, do not add targeting for Keywords, Audiences or Demographics. And, if you want to target specific customers (based on your buyer persona), you need to select applicable tick boxes.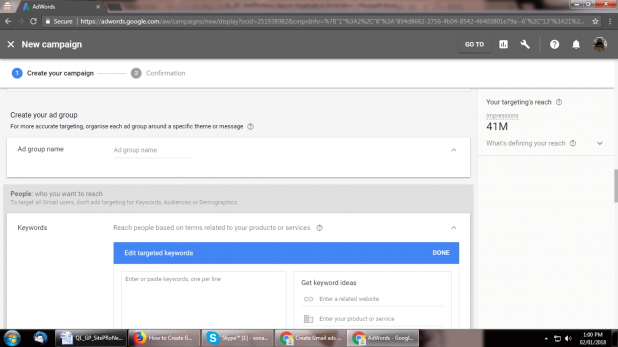 4. Improve your content with targeted keywords
You can enter as many keywords as you want. And, if you are unsure about which keywords to target in your niche, you can also get keyword ideas by entering a relevant website URL on the right hand side.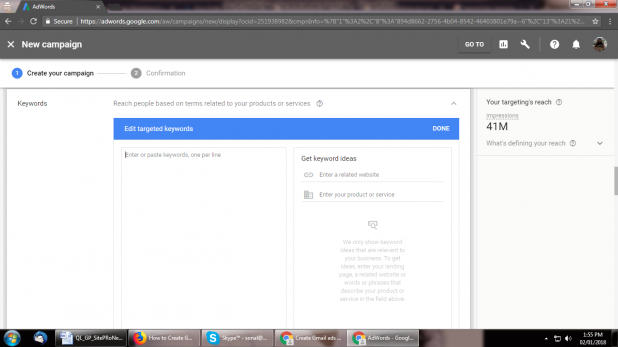 5. Confirm audience that you want to target
If you are aware of the tastes and preferences of your targeted audience, this is the best parameter to get targeted traffic and generate leads. The option of "Audience targeting" lets you target ads to people based on their interests or the sites they visit.
Note: AdWords may use data from your Audience sources to improve the bidding and targeting of your audience campaigns.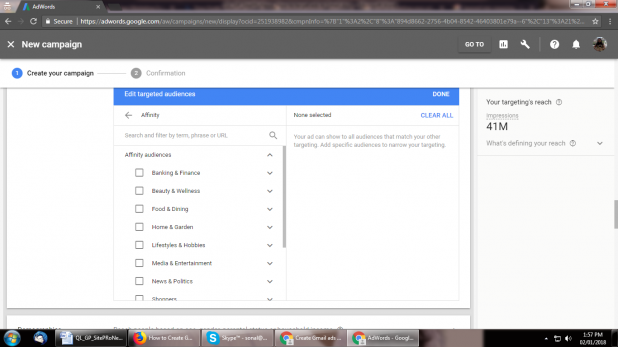 This option also aids you to create a message that is relevant to your audience depending on where they are in the funnel.
Quick Tip: Your ad messages should be different for cold audiences as compared to the one that is familiar with your brand and lies at the bottom of your funnel.
6. Consider the demographics of your targeted audience
With demographic targeting, you can reach people who are likely to be in demographic groups that you choose. For example, if you run a beauty clinic exclusively for women, demographic targeting could help you avoid showing your ads to men.
The filters include age, gender, parental status or household income.
Note: Household income is currently only available in the US, Japan, Australia and New Zealand.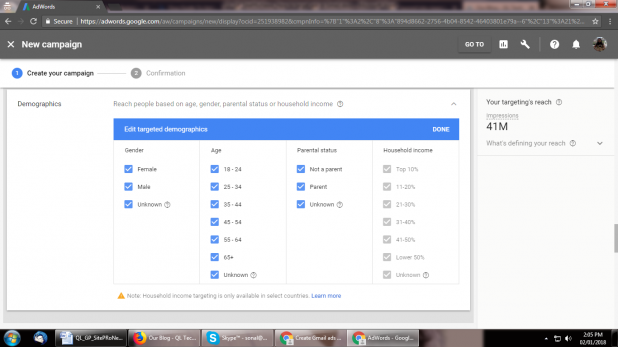 7. Automated targeting 
The next step is to choose what kind of automated targeting you want.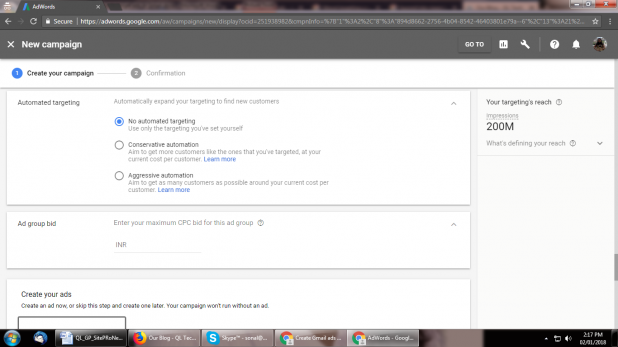 If you are unsure when to use automated targeting, apply it in any of the following situations:
Find more customers
Identify the best targeting to reach your most likely customers
Increase reach without increasing bids or cost per customer
Automatic targeting results in new placements. Hence, it is appropriate for advertisers who don't follow strict brand guidelines about where their ads appear.
Note: Automatic targeting works for remarketing.
According to Google, the guidelines are:
Use conservative targeting when you want more conversions, but need to stay close to your current cost per customer (or Target CPA).
Use aggressive targeting when you want to get as many conversions as possible, and are comfortable with some variation from your current cost per customer (or Target CPA/ROAS).
8. Finally – create your ad
Once you have set all the parameters, NOW is the time to create an ad and view its preview prior to running a campaign for the selected period.
Note: You can have three images and videos as well in your ad. You can either allow scanning of images from your website or upload from your system.
Format of Gmail Ads: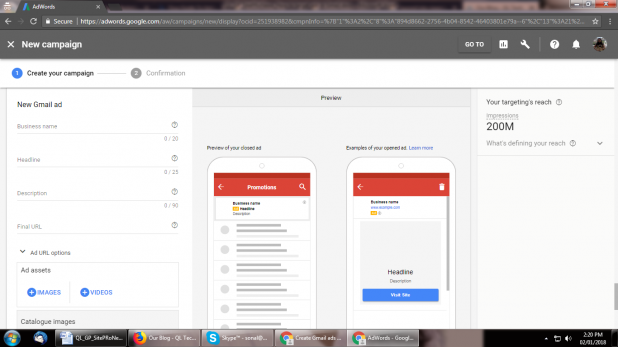 This is how your advertisement will appear in desktop preview: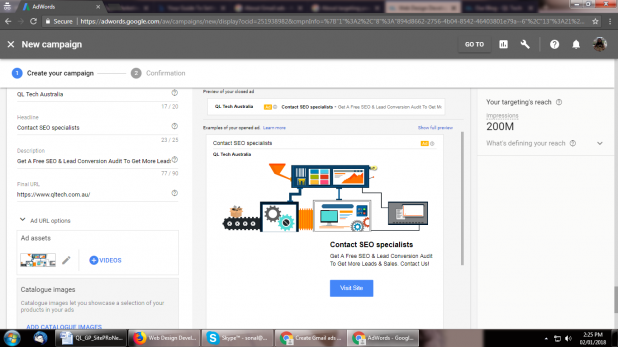 This is how your advertisement will appear in mobile preview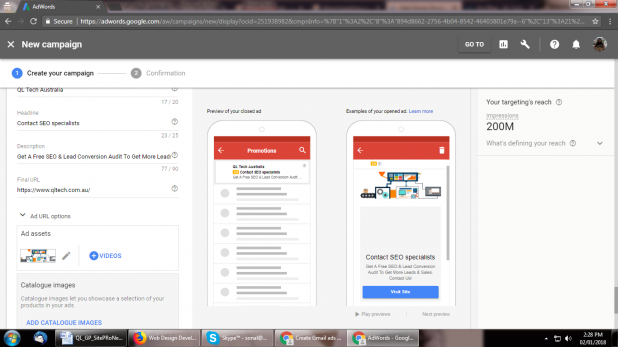 Signing off!
In addition, you can also narrow down your targeting by selecting:
Languages your customers speak
Types of devices and operating systems where the ad can appear
Globally there are more than 1 billion Gmail users. And, according to Litmus Email Analytics, nearly half of all emails are opened on smartphones and tablets. And that's why, as a digital marketer, you should keep Gmail as one of your top options to display your Google Adwords. Give it a try!