Are you a running a small business and trying to improve your target outreach with the best marketing analytics software?
You might choose Moz because it has proved itself to be the most effective and popular SEO analytics tool. But on the contrary, when you compare it with other alternatives, Moz is not really the best SEO tool for small businesses out there due to a number of factors. In this article we list Moz alternatives that are far more effective, efficient and affordable than Moz, that are not only cheaper but also provide better data. 
The pricing for Moz Pro Standard Package in 2018, starts from $99/month. But if you look at the data that is offered in the Standard Package, you will notice that you're hardly getting anything out of it. Moz has a very limited backlink index and if your website is brand new, it might take weeks or even months for Moz to index all the backlinks. 
The $99 Standard Package provides only 5 keyword research reports every day, and supports only 5 campaigns. It does not offer any great features. In fact the services offered in this package are quite limited. As a startup or small business, you might think that's all you need but spending $99 is a complete waste of money for 1 or 2 services.
Due to its limited features, Moz is not considered to be the best SEO tool by small business across the web. Small businesses are looking for much better services that are priced right, giving them the best value for their money. Below is a list of some of the most popular Moz alternatives that offer so much more to small businesses in 2018.
Do you want to analyze your website performance in just a few click? SE Ranking is the tool for you! You can instantly find out and optimize all important SEO elements on your website and also receive tons of useful analytics about your website every day.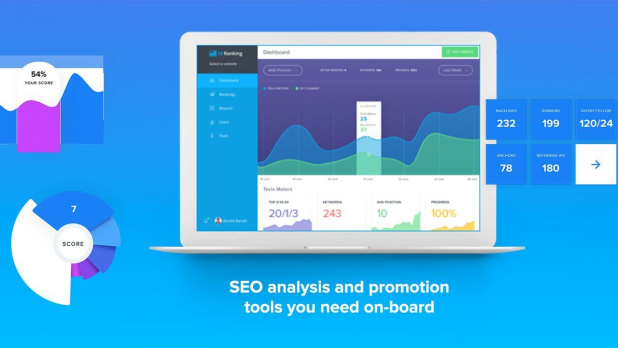 What makes SE Ranking a great Moz alternatives and different from other SEO tools is that it offers a comprehensive 360° view of all website rankings, together with a backlink profile. SE Ranking also keeps you up-to-date on your competitors, as well as, social media network analytics. You can also download detailed reports, by exporting them into .html, .csv, pdf, and .xls. 
If you have a website that so numerous page, sign up for SE Ranking today as it can analyze all your pages in a matter of minutes. It will quickly tell you the missing keywords and help you optimize your page in seconds.
The best thing about SE Ranking is that it is very easy to use, has good customer support and is quite affordable too, starting at only $4.20/month.
Long Tail Pro is by far the most efficient keyword research tool for small businesses. It is considered to be the best Moz alternative when it comes to better keyword research. It costs just $25 a month. What makes Long Tail Pro a great tool is that it works with every niche, no matter what your blog topic is, you can find the best keywords to increase your search traffic and also boost your sales.
With Long Tail Pro, you can :
Find multiple keywords in less than a minute
Generate over 800 results on every seed keyword
Conduct Competitor Analysis for top 10 Google Search Results
Find available domains automatically
Check Rankings of multiple sites on Google, Bing and Yahoo
Pre-filter your keywords.

SEO Site Checkup is one of the most comprehensive search engine optimization tools on the web. With its unlimited features and incredibly amazing backlink tool, SEO Site Checkup is as popular as Moz, SE Ranking, and SEMrush tools.
SEO Site Checkup allows small businesses to easily monitor and analyze their backlink profile. It collects all the data and presents it in an efficient way. It does not only show you all the backlinks in order of their importance, but also examines the quality of your backlinks. It also gives you the option of exporting all your backlink reports so you can track their performance on a regular basis.
What makes SEO Site Checkup one of the best SEO tools is that many of its tools are free, all you have to do is just sign up on the site and get started.
Raven Tools is the best and most affordable browser-based internet marketing platform for small businesses. You can efficiently deal with SEO and social media campaigns with this tool. It allows you to perform a full SEO audit of all your websites and also provides a detailed analysis of on-page SEO, links, page speed and details of search engine visibility.
You can analyse your keyword rankings instantly with Raven Tools and quickly find out all the impressions that your keywords are getting, as well as, the click through rates these keywords generate to increase search traffic.
Raven Tools also allow you to monitor your link building strategies by analyzing the quality of your links. It also offers small businesses social media tools allowing you to integrate all your Twitter, Facebook, Google+ and other social media accounts together in one place.
You can avail all these features for $99 a month which is not the cheapest option. You can create unlimited marketing campaigns and conduct Site Audits and crawls for up to 10,000 pages per site.
Cognitive SEO is yet another popular and efficient authority tool that helps you find all the weaknesses present in your backlinks campaign. It quickly analyzes your backlink profile and finds out all the unnatural links that have the potential to incur penalties. With Cognitive SEO you get all the tools you need to fix any situation you encounter with your backlinks campaign.
Cognitive SEO is an innovative SEO tool that offers a wide variety of tools for small businesses to audit, analyze, and track their backlink performance and improve their ranking on the search engines.
If you are looking for a cheaper Moz alternative, try out these amazing SEO tools today!