Backlinks have been and still are one of the most important ranking factors for Google. Google's Andrey Lipattsev confirmed in a Q&A that the links pointing to your site are one of the top 3 ranking factors.
For those of you who don't know, a backlink is a link coming from any site to your site. Ranking without links is almost next to impossible in even a moderately competitive niche.
Wait, a guy just offered me 55 links on Fiverr!
Not so long ago, you could easily influence rankings by purchasing backlinks on Fiverr and other platforms. You could be pay someone to put your link on their site. You could spam the internet. Then, Google launched the Penguin update in April 2012.
Penguin was designed to deal with low quality backlinks. You shouldn't be worrying if you haven't indulged in paid backlinks or spamming websites to oblivion. However, any sketchy link building on your part should ring the alarm bells.
Link Building Strategies for E-commerce Stores That Work in 2018
1. Fake Funny Product
Creating a fake product that will attract links/shares isn't easy. It isn't even guaranteed that it will be successful. It will either explode, getting you loads of links or it will flop, leaving you with nothing.
Start by thinking up a product which is funny or too good to be true. Brainstorm with your designer to create images of the product. Get a copywriter to write amusing descriptions.
If you don't have a designer/copywriter at your disposal, you can easily hire them on Upwork.
The success of this tactic depends on your ability to mask the product as real, at least initially. The possibility of such a product being real elevates the chances of garnering links, social shares, and media coverage.
A few examples of this tactic that worked really well are:
1. KÄT: The World's First Cat-Proof Sofa – The Swedish giant, IKEA launched a sofa/cat scratcher hybrid for those who love their pets. They claimed to have launched it after a year-long study on how people live with their pets. 
The results? It ended up attracting 140 links from 30 referring domains and a combined 5500+ social shares across all channels. Not bad, right?
2. Canned Unicorn Meat – ThinkGeek.com offers canned unicorn meat which as per their claims, tastes like rotisserie chicken but with a hint of marshmallow sweetness.
1.04K Referring domains.  Mind = Blown.
Just like any other piece of content, don't expect this tactic to work if you don't promote it. Work with your outreach or PR team to get the word out in front of bloggers and journalists. Share the product on your homepage and on your social media channels to get maximum eyeballs on it. 
Also, you might want to consider the launch date. April 1 may seem like the most appropriate time but be wary since you'll have many similar products and campaigns being executed by your competitors and there is only so much that the media can cover.
2. Infographics
A huge majority of webmasters looking to build links to their e-commerce site completely overlook infographics. Well, guess what? They are missing out. 
If you are on a small budget, infographics can be your saviour. However, you will need to be creative. 
For a successful infographic-based link building campaign, you need to work on three things: 
Idea
Production
Outreach
You will have to start out by thinking of an idea which hasn't been abused by others in your niche. Once, you have thought of a viable idea, make sure to bounce it of your co-workers/employees/friends etc. What might seem like a good idea to you, may not resonate with your target audience.
Then, move on to actually producing the infographic. Hands down, this is the step which will make or break your campaign. If you are going for a data-based infographic, double check that your data is correct and has trustworthy sources. You don't want to end up red-faced.
If gathering data is important, designing the infographic holds equal value. You shouldn't expect a data dump to attract links and get news coverage. Your infographic should look nice and present your data in an easy-to-digest format.
Finally, carry out your outreach. Promoting your content is as important as producing quality content. Identify the people that you want to publish your content, send them a personalized email and try to push your story.
Online Doctor Superdrug created the following visual which displays the perception of the perfect woman in different countries. All they did was get graphic designers from different countries to photoshop the "ideal woman" according to them.
This static visual ended up getting almost 2000 backlinks from 800+ different websites. Mission Accomplished. 
3. Guest Blogging
This one is rather simple. You provide your expert opinion to a website in your niche and in return for your fantastic content, they give you a link back to your website, usually from the author bio.
Before anyone says that guest blogging is dead, I would like to say that it isn't, your approach is. Guest blogging was abused as a method to gain easy backlinks to such an extent that Google's then head of the webspam team, Matt Cutts, released a statement saying "Stick A Fork In It, Guest Blogging Is Done".
However, to make guest blogging work, all you have to do is change your methodology. Stop treating guest blogging as simply a way to get a backlink. Aim to provide genuine value to the audience. By doing so, you and your brand will start being recognized as an authority in your niche.
Finding guest blogging opportunities isn't difficult. For those who aren't familiar with the functionality of advanced search operators, I'll be discussing a simple tool, DropMyLink.
Before going any further, decide upon a few broad keywords that are related to your niche/industry, e.g if you sell dog food online, your industry-defining keywords will be dog, pets, dog food etc.
Now, sign up on dropmylink.com, login and stick in your keyword. Set the category to "Guest Posts" and search using different footprints. Don't go deep into the SERPs, check out the first three results and move on to the next footprint.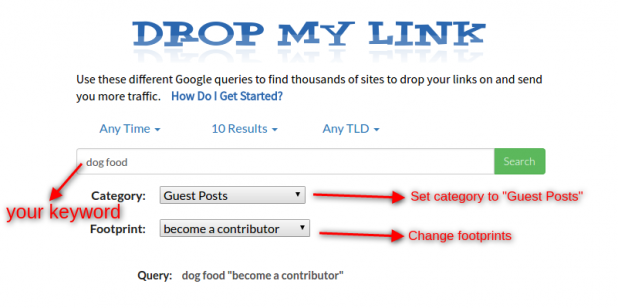 You can also use a platform like MyBlogGuest to find sites in your niche that accept guest posts. Sign up for your account and get started.
If all else fails, you can use the following advanced search queries which I personally use to find the best results for guest blogging:
[keyword] inurl:write-for-us
[keyword] intitle:"Write For Us"

 

[keyword] intitle:"Guest Post"
An important step that you must undertake is to gauge the quality of the site that you have found. While this can be hard to do if you aren't SEO-savvy, there are a few methods you can follow to ensure the quality of a site:
Check the Domain Authority of your target website. Domain Authority(DA) is a metric to gauge the authoritativeness of a website developed by Moz, an SEO tool company. Although it isn't the only thing you should be focusing on, it can give you a rough idea. Aim for sites with a DA upwards of 40. You can check a site's DA using this Domain Authority checker tool.
Check that the site has actual traffic. Use a tool like Alexa or similarweb.com to check the traffic levels of a website.
Check the quality of previous guest posts. The content should be good and it should have some sort of engagement level, either in the form of comments or social shares.
Once you have decided your target website, it is time to pitch them. I don't recommend using an email template for a guest post pitch. However, there are a few factors that you should consider before writing your pitch:
Mention 2-3 quality topics that you would like to write about
Personalize your email – use the person's name, talk a bit about their blog.
Show that you are an expert on the topic and qualified to talk about it.
Be polite, even if you get rejected.
Following these points should land you a guest blogging gig. Now, all you have to do is deliver excellent content. Also, don't disappear once your article is published. Engage with the users and answer any questions they might have.
4. Content Marketing
It is with good reason that everyone keeps on chanting "content is king". High quality content is more likely to get shared and is easier to build links to. As you might have noticed, few people link to a product or service page.
Before diving into content marketing, it is important to actually know what qualifies as high quality content –
Well-researched.
Accurate
Supporting images/videos/graphs/data
Up-to-date
Simply, super valuable
Look for content gaps within your industries. If you are able to think of a topic that people search about but no one has written on, that is your cue. You can also follow the Skyscraper technique by Brian Dean. It simply involves creating a piece of content that is better than anything that already exists. Also, do yourself a favor and read this brilliant piece on content creation by Jason Acidre. You can use a tool like Ahrefs or Buzzsumo to find content that is loved by the public and attracts the most shares.
Once you identify a topic that has a good chance of succeeding, get down to writing. If you are not a writer, hire a freelance writer. Just make sure that they are highly knowledgeable about the topic.
Finally, work on promoting your content. Don't believe in "If you build it, they will come". Reach out to website owners and bloggers in your industry and tell them about your article. If possible, spend a little on promoting your content through Facebook & Google ads.
Also, don't give up on content pieces if they don't succeed at first. Keep revisiting and updating them. Over a period of time, they can amass a decent amount of links.
5. Steal your competitor's backlinks
No link building campaign of mine would be complete without a deep and thorough competitor analysis. Your top ranking competitors have probably put a good amount of effort towards building links(hence, their rankings). It would be criminal to ignore the links they have built.
To get a sneak peek into your competitor's link profiles, get a tool like Ahrefs, Majestic or Moz. All these tools have free/paid trials so it won't cost you much. Or you can simply order a backlink report for any of these tools for $5 on Fiverr.
I personally prefer using Ahrefs. Once you have access to your competitor's link profile, have a look at the Referring Domains section. Sift through each of the links.
You can easily uncover any niche or location specific directories that you can submit your site to. You can also find sites where you can submit your company profiles for easy backlinks.
However, we are going to go a step beyond the simple competitive analysis. Find sites that your competitor has guest blogged on – you have a good chance of getting accepted too. 
Finally, uncover the type of content that is attracting the most links for your competitor. This is a clear indication to you about what type of content works and brings in the most links. 
Competitor analysis isn't simply about duplicating links. It is a means to find out what is working for your competitor. Once you know what has a higher chance of success, you can do it again by adding your own personal touch to it.
Conclusion
Honestly, you aren't going to rank without links. Link building has gotten difficult over the past few years and will probably get tougher as Google gets smarter.
To stand the test of time and avoid a penalty from Google, make sure that you aren't paying for links or engaging in shady link schemes. Build links through quality content and proper outreach.
Finally, I would like to end by quoting Bill Slawski of Go Fish Digital – "The links that people are most likely to follow are the ones that end up carrying the most weight."