In the highly progressive field of SEO and content marketing, Google Trends is the name that most marketers swear by. In order to create valuable content and maintain the visibility of their website, Google Trends is an irreplaceable resource. The tool allows you to find out how your target keywords are being searched over a period of time.
Sadly, this incredible resource is often underutilized and mistaken to be just another keyword research tool. Even though there are many tools that can provide you with a bulk of exact match keywords, Google Trends isn't just restricted to providing relevant search phrases. It offers you a visual, comprehensive idea of a keyword's lifetime – its past, present, and possible future. So let's delve a little deeper to find what else Google Trends can accomplish to make your SEO and content marketing strategies stand out.
1. Finding relevant topics that are trending
Coming up with fresh topics can get troublesome after a point. But with Google Trends, you can find the right topic that offers context and meaning through the use of visual charts. 
Finding appropriate topics to write about will allow you to produce content which will generate more traffic on your website. Go to the Google Trends dashboard and find stories that are currently trending. You can use the filters to look for stories on a particular niche or category that is relevant to your target audience.
2. Conducting research on long-tail keywords for your content
It can be time-consuming and tiresome to rank at the top of SERPs for a highly competitive keyword like 'assignment help'. But you can focus on features at the top of the search results by choosing a long-tail version of a high-traffic search query.
For instance, let's assume that you run a science blog and want to write about emerging technology, like cryptocurrencies. Now, if you go to Google Trends, you'll notice a bunch of additional information like,
Top questions asked on Google
Most Searched News on Cryptocurrencies
These insights can be useful in order to come up with many different long-tail keywords that you can apply in your content, and optimize for search engines.
3. Receive advanced insights on specific search options
Google Trends comes with five options that allow you to gather advanced details about your target keywords and search queries.
Web Search
Image Search
YouTube Search
News Search
Google Shopping
Each of these options allows you to check search trends for a different section of your particular niche or market. For example, opting for the YouTube option will highlight the search trend of your target keyword among the audience of YouTube.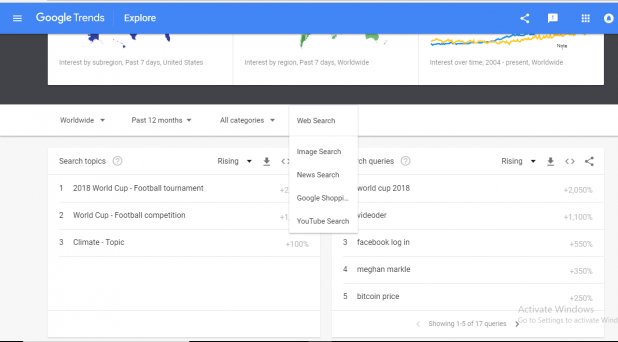 You might notice that a target keyword like 'pizza' does really well in Image Search, and possibly in Google Shopping, but has no searchers when it comes to News Search.
Each of these options will also provide you with a list of associated queries that are popular or growing in popularity.
4. Plan and create a publishing schedule
Creating a schedule is vital in the case of SEO and content marketing. You need to publish the right piece of content at the appropriate time so that you can receive the maximum benefit. What makes Google Trends incredible is that it contains data that can provide you with information regarding what kind of posts are generating a buzz.
For instance, if you are writing about wellness and healthy living, you can check when it's the best time to post that type of content. With the assistance of Google Trends, you will be able to decipher the best moments to post a piece of content. That makes it convenient to carry out your content marketing strategy in a hassle-free manner.
Now, creating the right piece of content requires a lot of hard work which leads to favourable outcomes. It's wise to be meticulous about posting the content at the right time when there will be people around to read them. 
5. Implementing location-centric targeting
Even though Google Trends is primarily utilized for keyword related requirements, it delivers the best results when you include geographical territories in the process. It uses the geo-specific interest levels for your target keyword or search queries.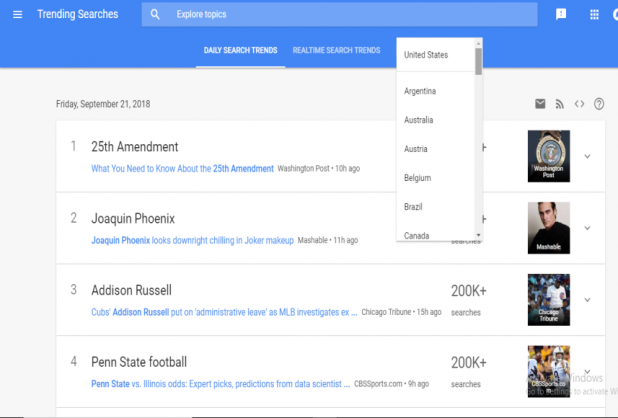 Keyword popularity information by location is considered as vital for content creation, link building, content promotion and pay per click. For instance, if a topic is popular in a specific area, you can focus your content promotion to approach the regional magazines, groups and clubs that are associated with the niche you're delving into or marketing to.
So, don't be apprehensive to focus on regions and sub-regions to check how search interest differs according to the location.
6. Do better keyword research
Aside from the fact that your content has to be creative and offer a memorable experience to readers, it also needs to follow the SEO guidelines to improve your website's performance in the search engines. In the Google Trends dashboard, you will find the Explore button.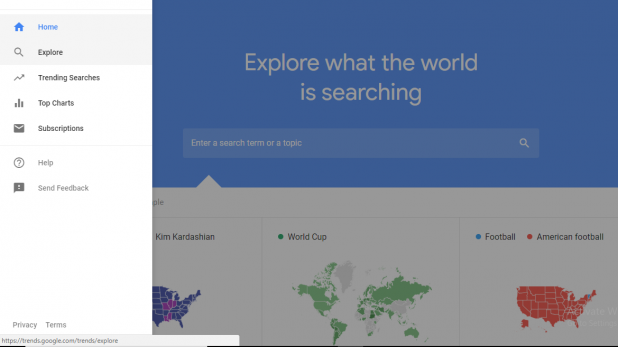 Here you can type in different search terms to check which ones are searched more. When you've found the words or phrases that are suitable for your niche, compare them and check which ones receive the most number of searches. These are the ones you should be applying in your content. 
Once you are done searching for the right set of keywords, you can also scroll down to check some of the related topics based on the keywords you have chosen.
7. Adapt Google trends for visual content
Let's say you posted a YouTube video about healthy living. As you may already know, any text-based metadata like title and video description plays a pivotal role in ranking your YouTube video on the search engines. The following are some ways you can use Google Trends to optimize the title and video description.
Type your search query in Google Trends.
Choose the YouTube Search Filter.
Go to the Related Queries and Related Topics sections. These will provide you with a set of keywords and search queries that you need to include in your title and video description.
If you want, you can sort them by Rising or Top.
Such useful insights will help you to write highly relevant title descriptions that allow you to target customers better.
Final thoughts,
Google Trends presents a host of useful features that you can adopt to learn valuable insights about your content and devise your SEO strategies accordingly. What's even more interesting is the fact that you do not have to shell out a single penny. So, make sure you utilize it to make your website appear at the top of the search results.