Content is the undisputed king, but with this monarchy, comes greater struggle for the sovereignty.
With limited resources, short time and high expectations to generate sales leads, brands and marketers are in a constant brawl to exploit content worth investing their resources and money in.
"Less talking and more listening" terminology yields more success with social media and content. As Harrison Mann stated – People want to be inspired to purchase something you sell; thus, so you need to get at your users' core interests. And, I acknowledge the words of Ramona Sukhraj, unless your content is pioneering and exclusive, it's not supposed to turn heads resting on your content laurels. So, continually shake things up.

I do not need to tell you that interactive content did produce remarkable results for brands making their content viral on the internet. And, when I hear the word, "interactive content"; instantly the word "Quiz" pop-ups in my mind.
They are pretty engaging, versatile, entertaining, shareable, and most importantly – when done right, they can be highly informative. They can be employed to attract an entirely new audience qualifying themselves for sales.
Just see BuzzFeed
Have you taken any of BuzzFeed's quizzes?
The website beautifully redefines the social media space with the quizzes they produce – on average; 7 to 8 daily.
One of the Slate articles admitted that 200 million quizzes were taken in FEB 2014, and it allowed BuzzFeed to reach 169 million users.
Look at their current traffic from Similar Web insights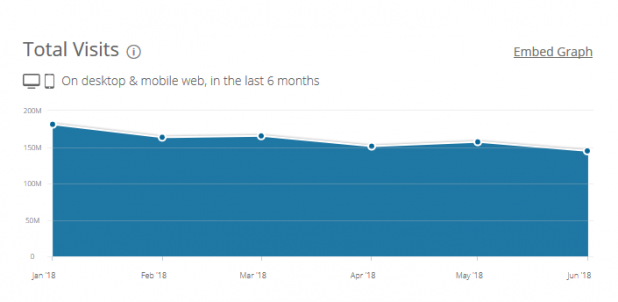 The mastermind behind these personality quizzes at BuzzFeed, Summer Anne Burton told Huffington Post, "Our most successful quizzes are mostly built so that the results feel personal and that you can relate to them."
True. I see this criterion gets fitted in all of the most viewed quizzes to date. While this post is not a guide on how to make a personality quiz, you can check the Opinion Stage Tutorial Post I hyperlinked.
Below are six examples of viral personality quizzes:
1. New York Times Dialect Quiz
The most viewed item on the New York Times in 2013 was this quiz – How Y'all, Youse and You Guys Talk. This one was created by an intern, Josh Katz, and was planned as a survey of local dialect during his graduate program in Statistics. From the survey results, Josh developed a series of maps rendering regional dialect disparity across the United States.
His one exercise in data visualization and spatial statistics got turned into the most viewed piece of content in New York Times history. During the last eleven days of the year, it went viral and, it was such a massive hit for NYT that they had to put a notice on its Quiz Page – The quiz has received so many visits that it may be slow to load.
2. What City Should You Actually Live In?
Was published back in January 2014 on BuzzFeed by Ashly Perez and, it has received over 22 million views.
We all live in a place and, this specific quiz engages audience based on the idea that people want to confirm whether they are living in the right place. And, if not, it gives them ideas on where they could move.
Reportedly, it got more than 2.5 million FB likes and, it's one of BuzzFeed's most viral posts of all time.
3. What is The Color of Your Aura?
This online quiz was published back in 2014 (July) on Playbuzz by Elaine Brunson that asks people multiple choice questions about emotions, energy, conflicts, and personality.

This quiz once again proved that people like to interact and has received over 12000 comments and thousands of online shares.
4. The Million Dollars Quiz – You've Been Framed
My list comes down to the next quiz, and this comes with a massive commercial success history.
A digital marketing agency, IMI, built an online quiz campaign for online glass retailer company, Zenni Optical. The campaign was a set of nine multiple choice questions that took people via a visual journey to show them a pair of glasses complementing their lifestyle and budget.
Results? It was an absolute viral smash for Zenni Optical. It made them over one million dollars in revenue and generated 29,410 leads in a span of 6 months.

5. The Elephant Pants
Today's successful retain brand, The Elephant Pants, was looking for fundraising before their actual launch. They wanted to embrace the Kickstarter platform, and they chose to rely on an interactive quiz entitled – Which Pair of Elephant Pants Are You?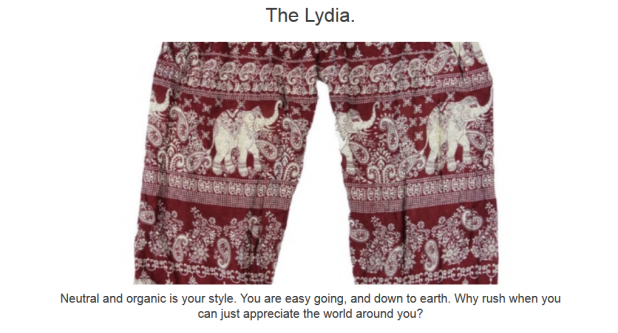 Fortunately, the quiz went so well that they received handsome donations – over $8,500, and they launched successfully.

6. The Cloud Sherpas Lead Generation Quiz
This one is quite different from the previous ones because this quiz was not in the interest of the general public. This was primarily intended for Cloud Sherpas' targeted audience segment to assess how someone was familiar with their products.
I do not have any statistics about the traffic or social shares, but reportedly, they continue to get 3 to 4 leads per day, thanks to this interactive quiz.

Conclusion
Hopefully, you can move ahead feeling confident about implementing personality quizzes into your lead generation efforts and social media marketing. We've seen by example that they are fun and have the potential to bring immense user engagement. Give it a try it and see how effective it is in your campaigns.