Digital marketing represents incredible opportunities for businesses in 2018. When executed well, digital marketing can be instrumental in driving exponential business growth and helping businesses reach their goals and objectives.
On the flipside, truly excellent digital marketing can be complex, challenging and highly competitive.
At our agency, we know the value of great digital marketing tools to take your digital marketing to the next level. This article looks at the best and latest tools to support you in a range of areas, from SEO to social media and analytics.
1. Google Analytics
Analytics are critically important in all aspects of business, no more so when it comes to digital marketing. Analysing your marketing performance lets you measure how successful you are, what is working, and what isn't working.
Google Analytics is a good all-round analytics tool to measure your website's performance and get data on your site's traffic. The basic version of this tool is also completely free. 
2. CoSchedule
Chances are social media pays a big part of your digital marketing as a business. It's also likely you are posting across multiple platforms. Social media scheduling tools help you to plan your content out strategically, schedule it for optimum peak times in advance, and keep on top of scheduling especially if you have a team working on this together.
CoSchedule not only provides a user-friendly content calendar to let you schedule content, but also integrates well with WordPress, letting you easily promote blogs and web content through your social media. Monthly plans start from $15. 
3. BuzzSumo
Making sure you schedule social media content is only part of the picture: you also need to make sure this content is engaging, and most importantly shareable. 
BuzzSumo is a freemium tool which can tell you what content across your channels is getting the most shares. You can have the tool analyse any social media channel, meaning you can also see what content is getting the most shares on your competitors' channels.
You can then use this information to learn more about what makes the most engaging content in order to create more shareable posts.
4. Ahrefs
Any digital marketing strategy in 2018 should pay close attention to SEO. Ahrefs is a professional-level SEO tool which helps you to improve your site's SEO rankings.
Along with a suite of SEO analytics and site audit features, one of Ahrefs' key features lets you analyse your competitors' sites to see what key words they are ranking for.  Ahrefs also has the best backlinks analytics tool in the business thanks to its large database of backlinks, so you can see which sites in your niche have the most backlinks. Subscriptions for Ahrefs start at $99 per month. 
5. Answer the Public
Answer the Public is a handy online (and free) SEO tool. You can use it to help you create content which is reflective of what users are looking for. This is not only great from an SEO perspective, but also in producing better, high quality content.
Answer the Public reverse engineers Google's autocomplete feature to tell you the questions people are most asking about any given topic. Although this is essentially an automated autocomplete tool, this site gives you many, many questions and phrases which are invaluable in creating responsive, SEO-friendly content.
6. ClickFunnels
Driving traffic to your site is very important. However, once they are there, you need to convert this into sales and revenue. This is where sales funnels and lead flow comes in.
ClickFunnels is a subscription service which lets you set up sales funnels on your website. It provides user-friendly templates for not only sales conversions but also to sign users up to newsletters or subscriptions.
7. Constant Contact
Email remains an essential tool in digital marketing. Great email strategies can create strong relationships with your customers, build trust and loyalty, and generate sales leads. Email marketing tools are essential to execute this effectively.
Constant Contact is a user friendly service which lets you manage lists, contacts, templates and track email performance. An added feature is online training in email marketing techniques. Subscription rates start from $20 per month.
8. Adwords Performance Grader
Paid search can be an effective form of digital marketing, but it is also challenging and can be difficult to get right. Balancing the best keyword combinations, analysing A/B tests and maximising results is not easy.
WordStream's Adwords Performance Grader is a free online tool which analyses your account to report back to you on your strengths and weaknesses. It also shows you how your account compares to competitors in your niche, and gives suggestions on how to improve.
9. LikeAlyzer
Although not the only social media platform you should be paying attention to, Facebook is certainly one of the most important, if not the most important for the majority of businesses. LikeAlyzer is an AI-driven tool which analyses your Facebook page performance and provides suggestions on how to improve engagement. 
This free tool provides a user friendly report based on your URL, with insights on what isn't working, looking at factors such as engagement, and type, timing and length of posts.
10. Canva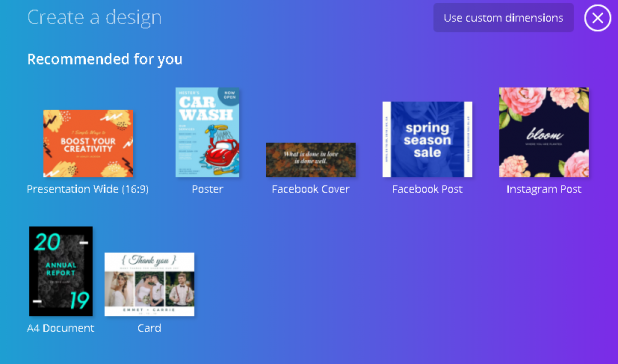 Creating engaging content is key to a successful digital marketing strategy. One great way to ensure engaging content is by using graphics, images and infographics. Canva is an extremely easy to use design tool which lets even the most novice designer create interesting graphics for social media, blog posts and emails.
The app has free and reasonably priced subscription options, both providing a large range of predesigned templates which make the design process very simple. It also gives users the option to completely customise their designs, with countless elements and options to help them do just that.