Google Posts have been around for roughly a year and a half, yet I'm surprised at how many businesses still haven't truly harnessed their many benefits. The feature located within Google My Business basically allows businesses to publish content directly into Google's search engine results pages when users search for their business name.
It's sounds pretty nifty don't you think?
It was first used by US presidential candidates, before being offered to a small number of businesses. It's now open to everyone with a verified google my business account, and there are so many cool reasons why you should be taking advantage of this feature.
Really, why wouldn't you want an extra way to promote events, specials or new products?
Posts offer flexibility in how they deploy links, copy and imagery, so you can use them to push pretty much any area of your business. Here are a few real pluses when using Google Posts.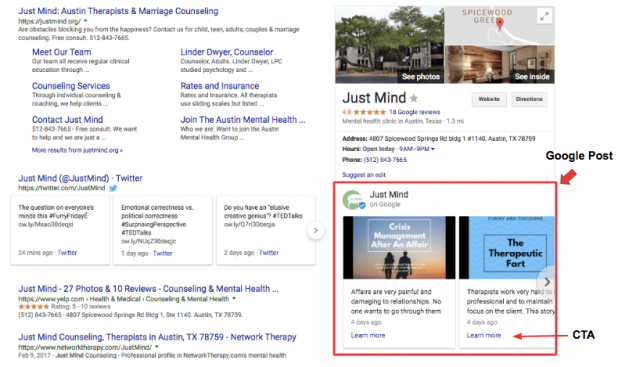 Show the personalities of your business
The feature doesn't solely have to be used for sales, either. You can show the "face" behind your business and have a little fun – or even just post a special message during the holiday season. This can help in the long-run by building trust in your brand, which can do wonders for your conversions.
Gain further traffic to your site
Google Posts come complete with buttons where you can direct traffic where you want it to go – whether that's your homepage, landing page or somewhere very specific.
If you choose to send them to a landing page, make sure the content matches the content on the post, to avoid the user navigating away from your page. Also make sure you do take time to think up strong calls-to-action because clever copy wins leads and conversions.
Strengthen your SEO efforts
Google Posts can also help reduce bounce rates and this is good for SEO, good for leads and good for making you more money or furthering your particular agenda.
If you find yourself struggling to rank certain inner pages, Posts can help bring them to more people's attention and hopefully generate some backlinks while you're at it.
Recently, Google rolled out a new feature that changed the game for Google My Business listings. This involves a "Follow" button within Google Maps and whenever a user chooses to follow your business, they'll receive a notification whenever you update your Google My Business page.
With Google Plus being canned soon, it would appear that Posts are your next best bet when delivering ranking signals to Google.
Generate more backlinks
If you want to build more backlinks then posts could help. To do this you need to offer great content or something of great interest. Posts are a great way to showcase compelling content to your audience and see which is the most valuable. You can push a piece of content which you feel could generate good discussion and in turn more backlinks to your site.
Marketing versatility!
Posts give you the option of creating a product, event or offer so depending on which area of your business you want to highlight, you can do it here.
Their ability to deploy links, copy and imagery in a rather broad way gives users a great amount of flexibility. They can certainly plug a few holes in your marketing approach.
Present strong calls to action
Let's face it, websites are made to bring you leads and sales. Having the ability to do this through your knowledge graph is a big win! With some clever copy and great accompanying images, you can create some very compelling calls to action and in turn gather a bucket load of conversions.
Direct people to specific pages
A great benefit of Posts is being able to inject key bits of content directly into the SERPs. You can direct potential clients toward established sales funnels and even track the success of your post by incorporating UTM codes via Google's Campaign URL Builder.
This means more exposure for you, without too much extra effort.
To make the most out of your Posts limit them to 100 words. Though Google allows you up to 300, not all characters will be visible – and you don't want people to miss any important info.
Adopt a conversational tone and don't forget to include target keywords in any copy. If you use any images, ensure they're around 750 x 750px in size and centered so you don't lose anything if they get cropped – you can also A/B test images to determine which get the best click through rates.
The main point to remember is post often as the posts only stay live for seven days. Events will stay live, until the event is over and you can schedule posts with external tools like Sendible.
Give it a try today!