July 8, 2019
For many people, social media has become the main source of information. It poses both as a newspaper and a very talkative friend, sharing updates on world events and the people you know in one place.
What does it mean for your brand? Well, for starters, it means that social media is THE channel to pay attention to: the lines between brand social media accounts and personal accounts can be quite vague, which makes people more susceptible to your message.
It also means that your brand will appear on social media: doesn't matter whether you are the subject of media attention or an exciting startup, someone will mention you. And not all these mentions will tag your brand. In fact, most brand mentions are not tagged.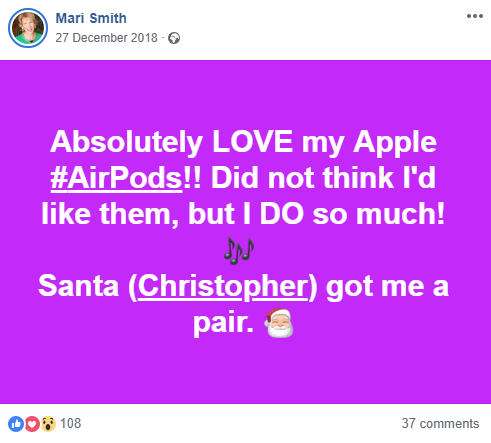 If you're not engaging in social media monitoring, you're very likely to miss these untagged mentions. According to Brandwatch, brands respond to untagged mentions in the mere 1,9 % of  cases.
Moreover, you're losing a unique opportunity to find out what your customers actually think. Many times people don't directly @ a brand when they just want to vent or praise something without any intention to actually have a dialogue with a brand. But how cool would it be if you could gather these opinions and in some cases engage with these people.
We stan a nice Canadian queen! pic.twitter.com/5CZ6NYrhx3

— Lyft (@lyft) April 1, 2019
So let's see which tools can help you find all your brand mentions and get valuable insights from this data.
Awario is a perfect tool for monitoring your brand mentions since it both lets users interact with individual mentions and analyzes all the mentions it finds. It can find mentions of your brand on Twitter, Facebook, Reddit, Youtube, Instagram, blogs, forums and the rest of the web.
Once you sign up for Awario, you immediately go to the page where you can choose what keywords to monitor. If your goal is to monitor your brand, obviously, you'll put in your brand name. However, there are some less apparent keywords to add: your website domain, your brand name misspelled, abbreviations, alternative spellings (Coca-Cola, cocacola, coke, cola, coka-cola).
Awario looks for mentions in real time so you will know anytime someone mentions you. It has a feed where you can work with individual mentions (sort and filter them, like, reply, mark as done, etc.). Then there are several modules for analyzing these mentions:
Mention statistics. Here you will see analytics of the collected data: the number of mentions; the reach of these mentions (how many people say your brand name); the sentiment behind those mentions (positive, negative, neutral); the breakdown of sources, locations, and languages of the mentions; and the words used alongside your brand most often.
Alert comparison. If you want to compare your brand with one of your competitors, you can create another alert with their brand name and compare your performance with theirs.
Influencers. This module will show you what influencers say about your brand ranked by reach, followers, and mentions.
Awario offers even more features beyond brand monitoring such as looking for new leads, researching your target audience, finding link building opportunities and so on.
Price: starts at $29 per month. You can also sign up for a free 14-day trial.
Mention is one of the pioneers in the brand monitoring field. Its primary focus is on real-time search: once you set up your alert, it will return only the mentions from past 24 hours. If you need historical data, you can get it on request.
Mention monitors all the main social media platforms as well as websites and some e-commerce platforms such as Amazon. It allows you to organize found mentions and tag them.
As for analytics, one of the advantages of Mention is the ability to customize reports, which means that you can add such metrics as location, gender, source of the mentions and so on. You can export these reports in PDF or CSV.
Mention is a good choice for large companies since it offers a lot of opportunities for integrations: it is integrated with Zapier and Slack and gives access to its API, so you can add its features to your own marketing software.
Price: starts at $29 per month. Free trial available.
Brandwatch is the big gun of brand monitoring. It's an enterprise-level tool made for big agencies and social media marketing departments of leading corporations. It monitors all the major social media platforms as well as some obscure ones like Sina Weibo and QQ.
Its Analytics platform is a powerful data machine that is able to give you multiple insights about your brand on social media. Moreover, Brandwatch doesn't just collect social listening data, but it combines it with data from Hootsuite, Buzzsumo, and Google Analytics.
It also uses AI to analyze unusual trends in your number of brand mentions and will notify you of these trends as they start happening. It can be useful for identifying a potential crisis or an opportunity to go viral.
This solution is most suited for research, so you should consider it if you're looking for demographic and psychographic data about your audience, their location and languages, trending topics in around your brand, and robust sentiment analysis.
Price: Starts at $500 per month. There's no free trial, but you can book a demo here.
Talkwalker is another Enterprise-level tool that is perfect for analysis and research.
It monitors many niche social media networks in addition to the popular ones (Soundcloud, Flickr, Foursquare). Along with the mentions of your brand, it can recognize your brand logo in images. With Talkwalker, you get access to 2 years of historical data after you set your search.
Talkwalker offers customizable automated reports which you can enrich with data from Google Analytics. It shows who mentions your brand: their age, gender, occupation, location, languages they speak and so on.
While Talkwalker puts great emphasis on data analysis, you can also use it to work with individual mentions, responding to them in real time.
Price: Freemium, paid plans start at $700 per month. Start for free here.
Keyhole is a brand monitoring tool that focuses on the "big three": Facebook, Instagram, and Twitter.
It collects mentions from these platforms and analyzes them. You can get historical data for Twitter on request. In addition to that, it also evaluates your own social media account and displays relevant analytics. You can see how your posts are performing, see which updates generate interaction based on media, hashtags, posting times and other network-specific factors.
As for social listening data, Keyhole shows you the number of mentions, the engagement rate, the reach of your mentions, and the words associated with your brand name. These metrics are represented in dowloadable PDF and Excel reports. In addition, the tool also analyzes social media accounts that mention your brand in order to identify influencers. You can also compare social media accounts, which can be useful for brand monitoring.
Price: Starts at $199 per month. Sign up for a free 7-day trial.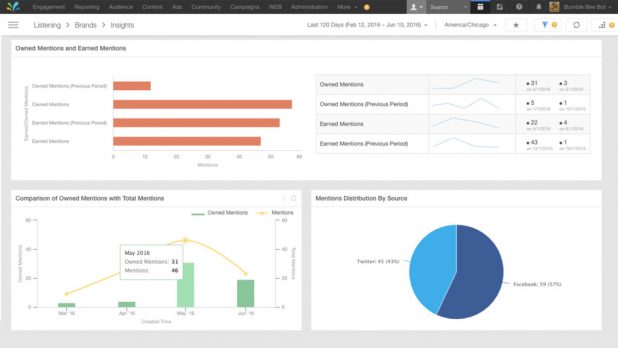 Sprinklr is actually a social media management platform designed for agencies and big social media marketing teams. The tool monitors Facebook, Twitter, Instagram, Youtube, Tumblr, Renren, Flickr, WordPress, blogs, and the web.
Sprinklr enables you to both engage with individual mentions as well as see analytics of your mentions and you have access to historical data. It provides demographic and psychographic data on people who mention your brand. Moreover, it identifies potentially harmful trends and alerts you in real time.
The tool is designed for large teams, so it offers collaboration features.
Price: customized and available on request.
Finally, here's a brand monitoring tool that is completely free. Social Searcher lets you put in your brand name and immediately returns results — mentions from Facebook, Instagram, Twitter, YouTube, Reddit, and the web.
You can click on those mentions to go to the original post, or you can look at the analytics that Social Searcher provides. For a free tool, Social Searcher gives you a lot of data insights:
By clicking Detailed Statistics you go to the dashboard that showcases various metrics: the timeline, the number of posts broken down by social network, week day, hour, and the most popular hashtags used along your brand. 
You can also dive deeper and look at the sentiment of the posts for each social media platform and see the most popular positive, negative, and neutral posts. The users tab will show you how many people posted about your brand and the most active publishers, and you can also see most linked domains. The tool allows you to set up email alerts, so you get notified every time someone mentions your brand.  
The downsides of Social Searcher are as follows:
You can't really set up a detailed search since there is no way to eliminate certain keywords in order to get only relevant result.
You can't collect historical data.
This tool is the best fit for solopreneurs and startups not ready to invest in a full-on social media marketing tool.
Price: completely free.
This list represents the variety on this market: you can invest in an Enterprise-level tool to get the most intricate details on your target audience or buy a modestly priced tool to engage with individual mentions and get the essential analytics.
---
Hanna Bredava is a Social Media Marketing Specialist at Awario, a social media listening tool, which brings instant brand mentions from everywhere online. Anna has several years of experience and has managed around 20 social media profiles for several companies over the years. She specializes in social media management, social selling and social media marketing tools.