August 16, 2019
Organic traffic remains one of the most dependable ways to build a sustainable business. Once your website establishes credibility, Google keeps sending repeat visitors your way for years.
However, most websites struggle in keeping up with the basics of SEO. They write mediocre content and don't build backlinks to build their authority. For this article, I'm assuming that you're already executing the beginner SEO strategies and you're hungry for more.
Ready to open doors to more targeted traffic and increase your revenue? Let's begin with three advanced SEO tips that work in 2019.
1. Create content following the hub and spoke model
A common SEO tactic leveraged by many businesses is targeting long-tail keywords in their content. However, the machine learning update to its algorithm means Google now analyzes the content in terms of 'topics' over 'keywords.' It now discovers the relationships between words.
The evolution in algorithm calls for moving beyond writing one-off articles on low-competition keywords like "how to do [x] step by step." Instead, you pick a subject to establish your business as an authority on. Then, cover it comprehensively from every possible angle.
Tactically, you will broadly cover the main subject (with high search volume) on one page that's called the hub. Then, find between 15-20 long-tail keywords that go as spoke articles inside this hub.
For instance, James Clear has created a page for the head term – creativity. He broadly covers how to master creativity on this hub page. Then, he links to spoke articles that cover lessons from famous creators, best creativity books, creativity articles on Albert Einstein and a few prominent figures, and the like.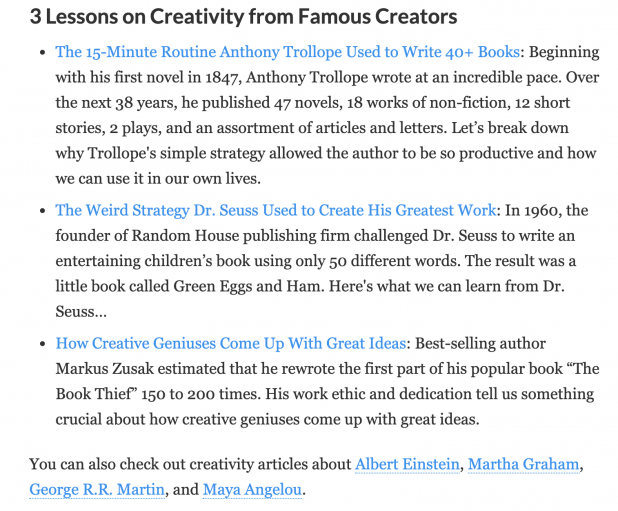 Covering a subject comprehensively in this manner at a single place with navigation links to sub-topics is also a smooth experience for the user. It helps Google understand your content and crawl your website efficiently. It also lowers your bounce rate as readers jump to articles on your site itself for reading more on the subject. 
Ultimately, you earn higher SERP placements.
Google loves brands. They rank higher in search results and are mostly immune to negative SEO attacks. The reason is that brands are reliable sources of information, and they provide a consistent experience to users. The top executives at Google have spoken in favor of brands.
To create a memorable brand, content marketer Neil Patel publishes high-volume content to help his audience. Neil has published 5000+ blog posts, 1000+ podcast episodes, and 400+ videos on YouTube. He even goes to buying technology for $120k and offering its premium SEO features for free.
However, it's not sufficient to create helpful and educational content. If you look at any new age Ecommerce company, they use engaging storytelling to connect with their customers emotionally. Here's an infomercial by Harry's that takes a stab at their competitors and shows how they are "fixing shaving."
Your brand also acts as a moat that protects you against competitors. Building a brand requires time and patience. Start with taking stock of your visual appearance and ensuring consistency across every brand touchpoint. Then, promote your brand through content marketing.
If you're on the right path, you should see an upward spike in Google Trends. Here's an example: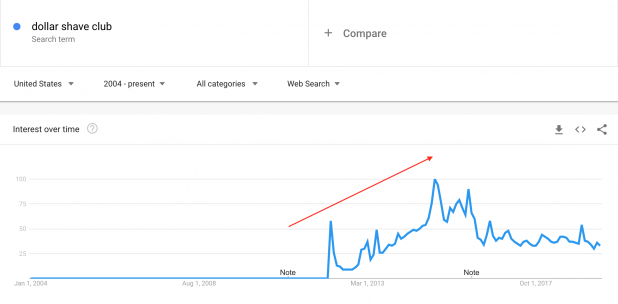 3. Update old content
Most content marketers talk about publishing new content regularly. However, once you have a bank of content, you can derive more SEO value from it by updating the existing articles to ensure relevancy.
In its annual survey of bloggers, Orbit Media found that having a strategy to update old content makes you twice as likely to report "strong results."
The strategy works because most websites earn the majority of their organic traffic from old posts published at least a month ago. To prioritize historical optimization of your blog content, here are the 3 steps you can follow.
Step 1: Find the pages on your website that are ranking for keywords with decent search volume between the position of 10 to 20. You can use Ahrefs for the same. Plug your website into the "Site explorer" and navigate to the "Top Pages" report.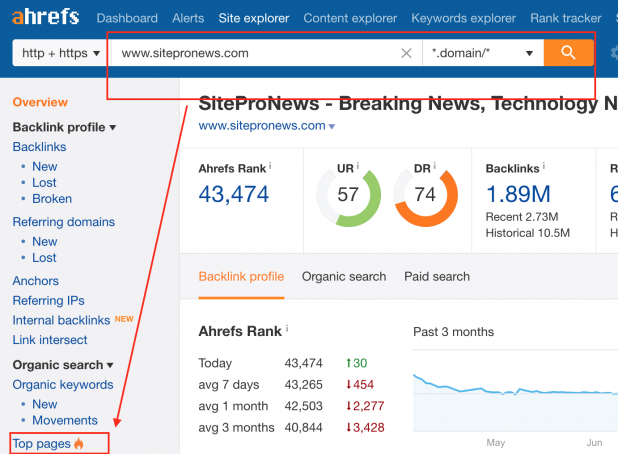 Now, filter the results by position 11-20 and having a search volume greater than 1000. You'll find the articles ranking on page 2.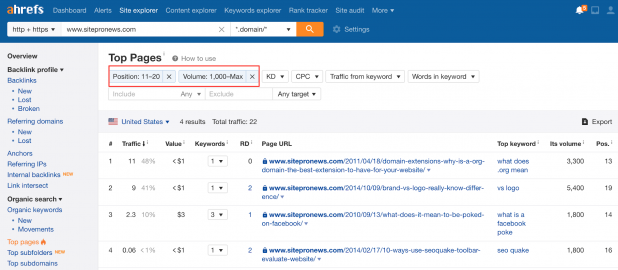 Step 2: Now, look at the pages ranking on the top 3 positions for these keywords. Then, update your piece, making it more comprehensive and better quality. Also, let some link juice flow on this page by adding internal links from high authority pages on your site (where relevant). 
Step 3: Promote your article via social media and send it to your email list. If possible, also build a few links by scheduling emails to people that have linked to your competitor's content. Tell them why your content is better than your competitors that they have linked to. You can also send up to three follow-ups to the people that don't respond. 
And voila! 
Your updated content will start seeing an increase in traffic and leads generated for your business.
Final Thoughts
The algorithm of the search giant is ever-evolving. The above three strategies will give you the edge in search results for years to come.
---
Chintan is a writer and an ROI focused content marketing consultant. Join him at Elite Content Marketer to learn how to grow your business through content. He currently leads the content at The Ecommerce Academy (T.E.A).