Have you ever wondered how social media platforms choose what posts show up in your feeds or what accounts to suggest to you?
Turns out, AI has been doing the heavy lifting, processing volumes of information to make sure your feed is personalized based on your preferences and online behavior. This is just one of the many ways AI has been changing the social media landscape.
The SAS Institute defines artificial intelligence (AI) as "the science of training machines to perform human tasks." AI uses large volumes of information and algorithms to identify patterns in the data.
AI covers an extensive field, including machine learning, neural networks, deep learning, cognitive computing, computer vision, and natural language processing (NLP). Social media companies have been using these to improve users' experience on their sites and to help businesses better understand and engage with their target audiences. 
I. The State of AI in Social Media Marketing
To appreciate how AI has been helping to facilitate online activities, consider these statistics.
These social media platforms' billions of user accounts and content from around the globe are generating a vast wealth of information. But while the data is out there, analyzing all the information and turning these into actionable points has been a challenge. 
More and more, digital marketing is made simple by AI-powered tools. These have enabled businesses and marketers to interpret and use the data to meet client expectations, find new audiences, and improve their conversions and ROI. Given the vast capability and potential of AI, companies must look into how they can incorporate these into their social media marketing strategies.
II. AI as a Tool for Understanding Human Behavior on Facebook, Twitter, and Instagram
Facebook
Deep Learning: These techniques allow machines to organize unstructured data. For example, they can learn to recognize images and videos of particular animals or products and analyze the context of these materials. The insights gleaned from these techniques are used to determine which ads to show to specific audiences. 
Facebook also leverages deep learning to predict road networks based on high-resolution satellite imagery. The company is looking into accurate mapping to improve its services such as Facebook Marketplace. Additionally, the platform will make the maps publicly available so these can be used for disaster response and development projects.
DeepText: This Facebook-generated deep learning-based engine is designed to glean textual content in over 20 languages. This is particularly critical since the platform has billions of users posting in different languages. DeepText allows Facebook to understand a user's intent and offer them the right suggestions, products, or tools. For posts that receive a lot of replies, DeepText may help identify and feature the most relevant comments, even if these are written in different languages.
Face Recognition with DeepFace: This AI-powered technology can recognize people in images with 97 percent accuracy. It has enabled Facebook to automatically provide tag suggestions on photos. More recently, Facebook has given users the power to switch face recognition on or off, depending on whether or not they want to appear in tag suggestions. 
Twitter
Improved Tweet Recommendations: Twitter has been using a ranking algorithm to select the most relevant tweets to serve to every user. Twitter leverages NLP to learn about a user's preferences so it can show only those tweets they are most likely to be interested in.
Image Cropping Tools: In addition to generating tweet recommendations, Twitter has been using AI to crop photos in a way that highlights its most interesting features. 
Detect and Delete Hateful Accounts: Twitter has employed AI to spot and delete abusive or hateful messages. AI has played a huge role in the platform's move against inappropriate and racist posts. In the first half of 2017, for example, Twitter removed almost 300,000 terrorist accounts that were identified through AI. 
Instagram
Finding Experiences and Posts: Instagram has been using AI to sift through millions of images and videos uploaded by users on the site daily. AI has been improving user experience by helping Instagrammers quickly search and explore posts and accounts that align with their interests or content they've liked or people they follow.
Keeping the Platform Safe for Everyone: Similar to other social media platforms, AI is keeping Instagram safe for its users by helping filter posts related to self-injury, nudity, and exploitation. With DeepText, Instagram is curbing cyberbullying and internet trolling by blocking offensive comments and spam.
AI Influencers: AI has already made its way into influencer marketing territory. For example, Instagram virtual influencer Lil Miquela (or Miquela Sousa) is a computer-generated model created by LA start-up Brud. She has come a long way since her first instagram post in 2016. Today, Miquela has 1.8 million followers and has partnered with high-end fashion names like Prada and Calvin Klein. She has even released several music singles and published interviews, such as this one on Coachella.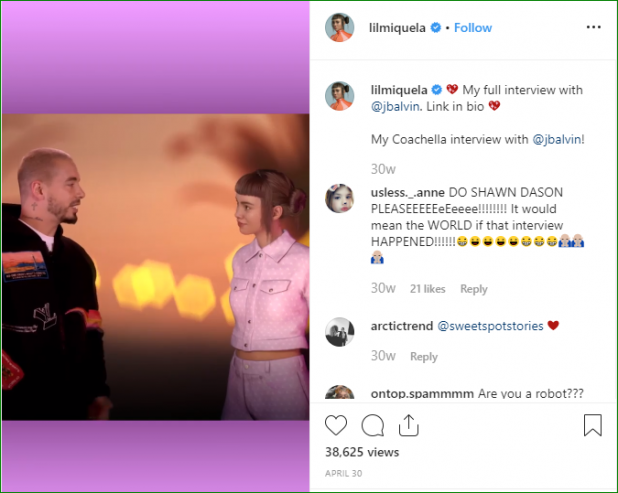 Beyond the creation of virtual influencers, people are also looking into harnessing AI for better brand-influencer matchmaking. Perhaps in the near future, small businesses will find it easier to find and partner up with multiple ambassadors–from mega-influencers to nano-influencers–that match their target audience, values, and desired results.
III. Leveraging AI to Boost Social Media Marketing
As AI tools become more sophisticated, accurate, and intelligent, they are providing businesses with endless opportunities to further improve their social media presence. Here are some key ways companies have been using AI to their advantage.
Generating More Content in Less Time
In recent years, more and more companies are turning to AI-powered tools to help them create content such as profit and loss summaries, hotel descriptions, stock insights, and sports game recaps. These businesses include The Washington Post, The New York Times, and Bloomberg. 
The Associated Press has also tapped AI to help it produce around 4,400 reports on U.S. public companies' quarterly corporate earnings. This was almost 15 times higher than the number of reports it used to produce manually. In the same way, you can harness AI to automatically and regularly generate fresh content for all your social media accounts.
Deepening Customer Insights
Through image recognition software, you can quickly scan thousands of images and find those that include your product. This can give you insights into the way customers are using your product and uncover new ways to promote it.
Moreover, AI is empowering brands to understand their audiences' online behavior, social media engagements, and buying patterns. You can use these details at your fingertips for conversion rate optimization and enhancing your targeting for paid ad campaigns. There are also AI marketing platforms like Albert that can handle digital media buying and optimize your paid campaigns.
For example, Cortex utilized AI to help Utah's tourism office identify the type of content skiers love engaging with. These insights were then used to inform Utah's content strategy. Specifically, the tourism office began creating more content that includes landscapes and trees and features only one person, and used fewer visuals that showed kids and families. These strategies helped increase their followers by 4% and their Instagram engagement by 23%.
Better Competitor Research
AI can help you analyze not just your company's data but also your competitors.' You can use this information to understand what your competitors may be doing better, identify gaps in their strategy (or in yours), and find ways to beat them or differentiate your business from rival brands. 
Develop New Markets
Beyond grasping foreign languages, AI-powered tools are also being developed to better understand cultures. This will then pave the way for content localization, allowing international brands to produce culturally sensitive content that will be more interesting or relatable to foreign audiences. You can tap these AI tools to go beyond literal translations of your brand's name and messages. Eventually, these tools can help you craft concise messaging while avoiding images and language that may be offensive in those specific cultures you are targeting.
Use Voice Assistants
Aside from better content personalization and suggestions, AI tools have allowed large companies to deploy voice assistants like Amazon Alexa, Google Assistant, Siri, Microsoft Cortana, and Samsung Bixby. More and more people are turning to voice assistants for directions, traffic updates, weather forecasts, news, and playing music. A few have begun using it to post to their social media accounts or find people or brands on these platforms.
24/7 Online Presence via Chatbots
Today's customers and audiences have become accustomed to getting quick responses. Moreover, delayed responses from your business can lead users to look for similar companies that can answer their queries much faster. 
But with AI-powered chatbots, you can reply to users' questions on your services, products, menus, prices, schedules, and more. Chatbots are also utilizing NLP and machine learning to answer open-ended questions. With all these capabilities, you can use AI to provide round-the-clock customer support, grow your business even as you sleep, and manage multiple social media accounts even if you are running a lean team. 
Chatbots do not always replace the human experience, however. You can use chatbots to let customers know they will be connected to a human representative, who will resolve their concerns. Or you can let chatbots handle frequently asked questions, and focus your team's energies on solving more difficult client issues that your chatbots are not yet equipped to handle.
—
As AI tools become smarter, they continue to stretch the possibilities of social media marketing. With these tools, brands and marketers can create a better user experience, make more informed decisions, and glean insights from AI-organized data that would otherwise have remained unstructured and unused. 
Use these tools to your advantage. Even if you're a start-up or a small business owner, you can use AI to help your team build a stronger social media presence and create positive customer experiences.