Whether your business is just getting off the ground or the wheels have been rolling for some time, finding and keeping customers is key. And unless your business is totally eCommerce, it's very likely that at least some portion of your customer base — possibly a significant amount — is local. 
Having a solid SEO game plan will go a long way towards pulling in new customers and part of that game plan should be focused on "near me" searches. People use Google to find everything and as soon as they begin to type their keywords in the search bar, Google suggests "near me."
If your business is left out of this equation, then outlasting the competition is going to be a serious uphill battle. Before we jump into how to optimize "near me" searches, let's touch on why you should be doing this. 
"Near me" searches are on the rise
Consumers have a variety of ways to search online for goods and services they need, from voice-enabled devices like Google Home to the traditional PC and, of course — smartphones.  Mobile edged out desktop searches for the first time in June 2019, and there's no reason to think that trend is going away. 
All of this relates to the fact that people are using mobile to search for local services and goods more now than ever. Take the phrase "pizza near me." Just about everyone likes pizza and as you can see from the Google Trends screenshot below, this search term is steadily on the rise.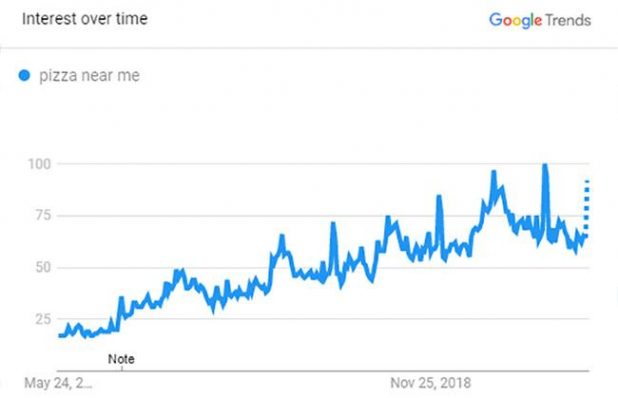 Here are a few more pieces of data to highlight why you should care about "near me" searches.
There was a 900% increase in "near me" searches from 2013-2017
72% of consumers visit a business within 5 miles after a "near me" search
65% of people use their phone when searching for a good or service
Convinced that maybe there's something too this "near me" search thing for your business? Good, let's get started then. 
Create a strong Google My Business profile
Back to our pizza example. When a potential customer searches for "pizza near me" on Google, it's essential that your business shows as high up as possible in those first few results — and that relevant information is available. Your business name and phone number isn't enough. Your Google My Business profile should also include a photo of your business, address, hours, and reviews. 
This service is free and Google's algorithm will rank your business higher for SEO if you provide relevant information, so there's no reason to skip this. It should include:
Business name and full address
Any marker locations for your business so users can receive directions
Hours of operation, website, phone number, etc.
Business category and amenities offered such as wifi
Images of your storefront, interior, favorite products/services
Sounds easy enough, right? Just make sure you update your Google Business profile anytime you make major changes like new operating hours or a change of website/phone number. 
Make certain that your website is mobile friendly
Just because somebody might be able to access your website via their phone, that doesn't necessarily mean it's mobile friendly. A truly mobile friendly website will use a separate URL for the desktop version than the mobile version — since Google now prefers the mobile version for indexing for SEO purposes. It wasn't always this way, but since mobile search is growing quicker than desktop search, Google is now indexing based primarily on mobile sites. 
So what are some tips for making your website mobile friendly?
Use a simple template
Keep fonts and buttons the appropriate size
Include a meta tag
Turn on autocorrect for the search bar

 
Remember this word when making your website mobile friendly — "small." It's all about the user experience, and if the font is too small to read or the tab buttons are too small for a person's thumb, they probably won't bother. People are going to be viewing your site on a smartphone and Flash or giant uncompressed images will slow it down. A more responsive mobile site is going to help you rank higher with Google for those "near me" searches. 
Acquire local backlinks with geographic anchor text
Backlinks, which are simply sites that link back to your website are a fantastic way to optimize your business for "near me" searches. That said, this part of the SEO strategy does require some effort and might take a little time, but it can really be worth it. 
Let's switch up our pizza example and say you run a bicycle rental business in Miami. Obviously, ranking in search for "bicycle rentals near me" is key, but you might also want to rank for "fun things to do in Miami" or a host of other local search terms. 
One strategy to apply is starting a blog where you can share what's going on in your industry or tips for people who might be looking to rent a bicycle. Potential blog topics could be "Why Bike Riding is Good for Your Heart" or "Take a Bicycle Tour of Miami's Little Havanna."
You could reach out to a few health experts in your area on the importance of exercise or some local cafes or boutiques that your customers might enjoy visiting. These local experts or businesses could link to your blog on their own blog or social media and presto — a local backlink. 
That's just one strategy, though. If you wanted to rank for "best things to do in Miami" you might reach out to area tourism websites or local writers who could write an article or mention your business. This would create geographic anchor text with the backlink and help your bicycle rental business show up in more of those "near me" searches. 
Rack up those Google reviews
Regardless of what business you're in, if you regularly deliver a bad customer experience, you're probably not going to be in business long (unless, of course, your business is the DMV, in which case the customer experience is moot). The fact is, 90% of people check out reviews before visiting a business, so having a healthy number of positive reviews is pretty important. 
While websites like Yelp actually prohibit businesses from asking customers to leave a review, Google is just the opposite. Google encourages business owners to ask customers to leave a review of the product or service they received. 
These Google ratings outweigh the reviews of third party directories like Yelp and having a lot of positive customer reviews will help your business rank higher with searches. It's not only acquiring those customer reviews that will help make your business become a star in the eyes of Google, but responding to those reviews, too. Whether the review is positive or negative, Google still encourages businesses to respond regularly. 
And yes, those reviews do matter when it comes to "near me" searches.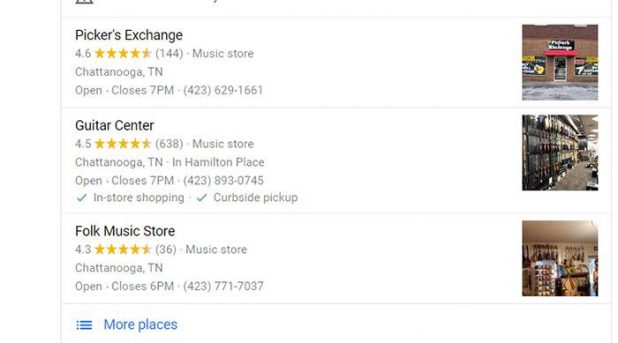 Notice the top three "music store near me" searches all have a significant number of customer reviews. 
Use the right schema markup
Schema markup refers to tags that you can add to your website's HTML code to improve how various search engines read your website. It's a little geeky, but sometimes it's those small geeky details that can make all the difference. You want the schema to match the info on your website and Google My Business profile because this allows for a more enhanced description or "rich snippet" of your business in search results. 
If your business has multiple locations, you should be adding a schema markup — as well as a webpage — for each location. You can customize your own code for such things as reviews, hours, and pricing, but there are also numerous free schema generators out there worth checking out. 
In conclusion
There are numerous ways to optimize your business for "near me" searches and some take more effort than others. The internet isn't going away though, and a well maintained online presence will show your customers that you're keeping up with the times and the competition.