Countries around the world are gradually lifting the COVID-19 lockdown. Small businesses are getting ready to reopen their doors to customers. However, this isn't the reopening you would generally have after renovation or a holiday. 
For millions of business owners who had to close their stores overnight, easing the lockdown means that their offline stores have an opportunity to return to "business as usual, with new norms". 
But as you know, with measures such as social distancing, the opportunities of marketing at trade shows, conferences and live events have disappeared overnight. 
This means digital marketing will matter more than ever for your small business. For millions of small businesses, the challenge is to remain profitable, recover losses and grow. A brand's online presence is going to be extremely valuable in the market post-COVID-19. 
The importance of digital marketing
This is your chance to use online channels to build trust with your customers. Show them that you care. Strategic digital marketing enables brand building by engaging with your target audience. The result is generating traffic, leads and ultimately sales. 
Even if you are not actively acquiring traffic or leads, there is no reason you should miss out on promoting your business using digital marketing. Because the right approach will help you emerge stronger and more profitable. 
In a post-COVID-19 world where people will shop online more often than visiting offline stores, both brick and mortar and eCommerce businesses will have to focus on gaining virtual traffic to become successful. 
The 4 digital marketing strategies to scale your online traffic and promote the reopening of your store, post lockdown:  
#1. Update your business's information on Google – A crucial step when you open your physical store is to make sure that all the information posted online is relevant and updated. The first step a customer takes when they want to know if your store is open is to look for the information online. Update store hours on all online channels where you are present. 
Don't miss out on updating the website, social media and your Google My Business listing. This profile is the first thing displayed when people Google your company. Updating the current information on Google should be your first action.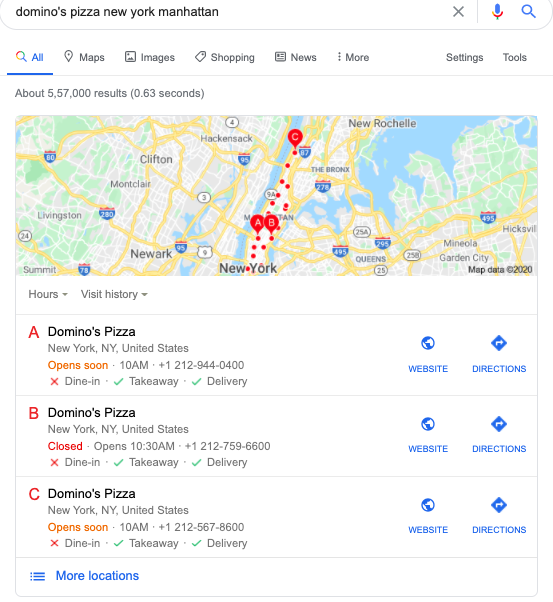 For businesses affected by the coronavirus outbreak, Google created a resources hub with articles and video tutorials to update your Google listings. 
Update the following information about your business's reopening: 
Opening and closing hours

 

Contact information

 

Whether you allow walk-in or is it just takeaway

 

Measures you are following regarding social distancing

 
#2. Digital campaigns to promote your store re-opening – Now is the time to let your customers know that you are opening the store again. 
Chances are, that with the existing uncertainty and after the long confinement, your store may not be the first place customers think of visiting when they are allowed to. 
However, they say out of sight is out of mind. Put down a marketing communications plan so that you are on top of their mind when the isolation is lifted. These campaigns are aimed to remind the customer of your brand's existence and reopening. The channels that you should be using to communicate are: 
Email marketing – To reach directly to your customer's inbox, send an email newsletter to all your subscribers. Communicate in a personalized and contextual manner, if email marketing is set up for your business.

 

Announcing the reopening on social media – Get creative with your messaging on social media. You can even record a video to engage with your audience.

 
You can design a cover photo for your social media profiles using DIY tools like Canva and Buffer. 
In case you have a budget for paid marketing, additional ways to promote the reopening of your small business are: 
Running ads on social media and Google

 

Running an SMS campaign

 

Sending out postcards

 
Explore non-digital advertisement methods such as word of mouth and adding an announcement to your store's window. Your friends, family and network will also help you spread the word around. 
The pharmacy chain Walgreens uses emails to inform its customers about drive-thru shopping, free shipping on prescriptions and phone consulting with pharmacy specialists.

#3. Special promotions – You can go a step further to get customers back to your business by running a post-lockdown offer. 
Explore organizing offers such as "discount code on all or specific products" and a "buy one get one free". Place this at the center of your digital marketing campaign. People may be hesitant buying and this could be the incentive nudging them to make a purchase. 
A consumer incentives survey by Wirecard found that 75% of customers who receive a reward are more likely to make another purchase from the same brand. Another 50% will discuss their experience with their network and leave a positive review. The majority of shoppers will not shop before they receive a discount or will look for discounts from competitors before buying, as per the National Retail Federation. 
Razor supplier brand Supply offers customers a Father's Day sale discount of 20% on their products.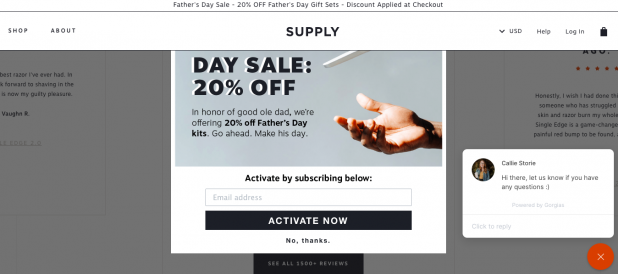 #4. Leveraging content  – Conduct an audit of your content calendar for the coming weeks. Is the blog post or social media post that you scheduled to go live appropriate given the impact of the coronavirus. 
Ask yourself if it is relevant in today's environment or if you can make it more helpful. Modify the tone and the information if it comes out as insensitive. 
Your brand should be optimizing content at every touchpoint. Think about striking the right tone by being empathetic to your customer's situation. Don't refrain from re-thinking your entire content strategy. 
If you are considering launching the spring collection for your apparel brand, how would you reposition your brand's offerings? Instead of talking about how the collection could be enjoyed at barbecue parties, promote its suitability for conference calls. These seemingly minor tweaks show the human side of your brand without coming off as out-of-touch. Your messaging should resonate with customers. 
Clothing brand Draper James shared an impactful message from the founder Reese Witherspoon introducing their spring collection. She addressed the current situation and asked the audience if it was right to share the new collection, on the company's Instagram page.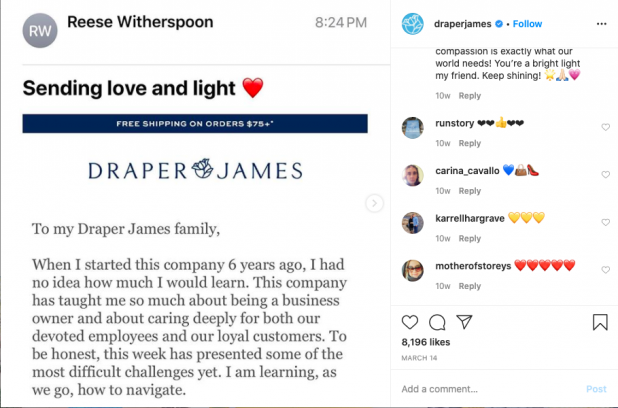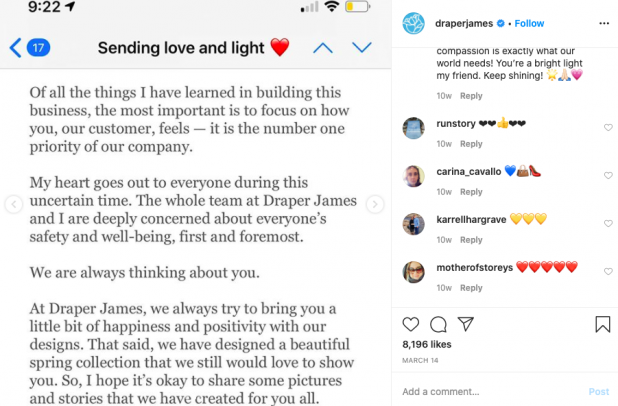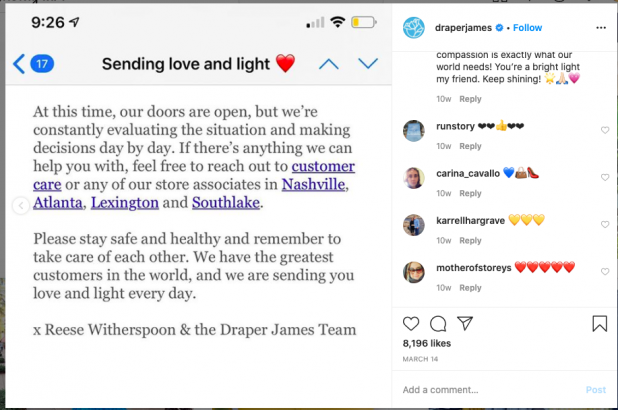 Everyone loves a comeback – Undoubtedly, the current crisis has resulted in a difficult moment for small businesses. There will be survivors and those who adapt and evolve will thrive. 
Smart business owners will have to navigate by constantly listening to customers who  provide insights on the best possible way to move forward. These 4 digital marketing strategies will help you adjust to meet the needs of the post-coronavirus shoppers.