In this article you're going to find out about free tools (our favorite kind) for SEO research. These tools will help you find keywords and track how they are doing. 
These all serve a different purpose. Using all you will be able to:
Find and research keyword search volumes and CPCs

 

Identify the BEST keyword ideas from any webpage
Brainstorm techniques for diverse keywords
Quickly get all potential variations for products
Check if your keywords are moving on up in the rankings

 
Without wasting anytime. Let's get right into reviewing our 5 tools. Starting with…
A free keyword search tool – WhatsMySerp Everywhere
First on our list is a free Google keyword search tool replacement – WhatsMySerp Everywhere.  Using this tool you can easily find search volume and cost per click.
It will show you related keywords and other keywords which users also searched for. This is an essential tool to get the raw data on keywords.
Just install the chrome extension by visiting the link https://whatsmyserp.com/extension – you need to sign up, which literally takes a minute.
Now head on over to Google, search any keyword and you will get the extension popping up results for you. Here's what it looks like (below). It's intuitive, so you can take it from here!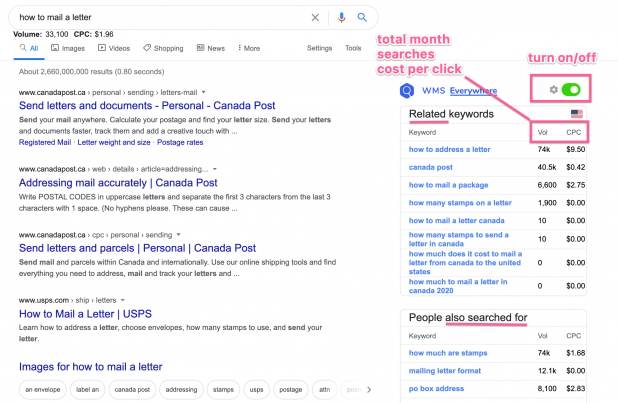 Best Keywords from Competitors With WordTracker Scout
This extension is really neat. Why? Because it simplifies a part of competitor research which can be frustrating – that's looking at individual pages.
Usually you will take a look at a page and note all the keywords you see your competitors using in excel. However with Wordtracker Scout, once you have the plugin installed you can view the insights of any page – such as what keywords make it up, how many etc.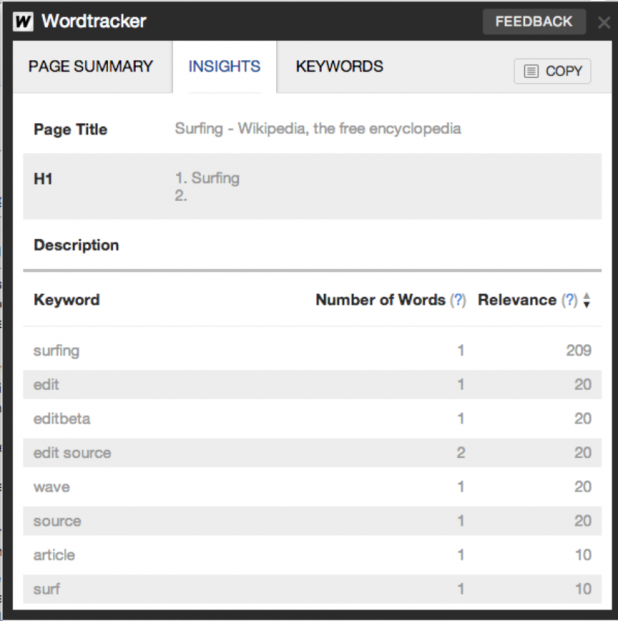 Super helpful. This can give you really specific insight into what's ALREADY working within your market by studying the competition. Don't underestimate the simplicity of the extension 🙂 
Creatively brainstorm keywords fast with Soovle
One very common SEO technique is to do a search on Google and head down the page to the related searches page: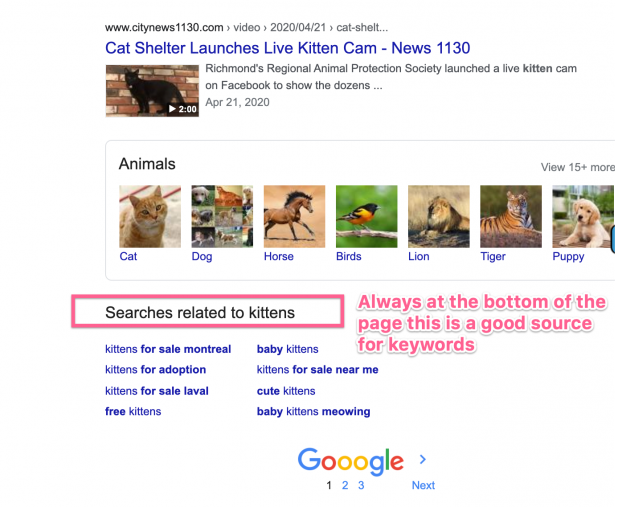 What Soovle does is automate this process. It's not the most beautiful interface wise, but it gets the job done. You can choose which search engine you want to get the results from.
By repeating this process a few times for different keywords, paying attention to patterns you can find some interesting and unique ideas.
It's best used in moderation as there's a limit to how diverse the keywords are. Personally the most useful function is the ability to switch quickly between different search engines which can lead to varied results.
How to produce keyword variations at scale – KeywordIN
Often when you are generating initial lists of keywords you are working with 100s or 1000s of keywords that you'd like to research, check and validate.
This is where writing out each keyword manually, or arranging an excel spreadsheet may take more time than necessary – doing really boring data entry work.
That's where this tool comes in handy. The image below will explain it better than text can: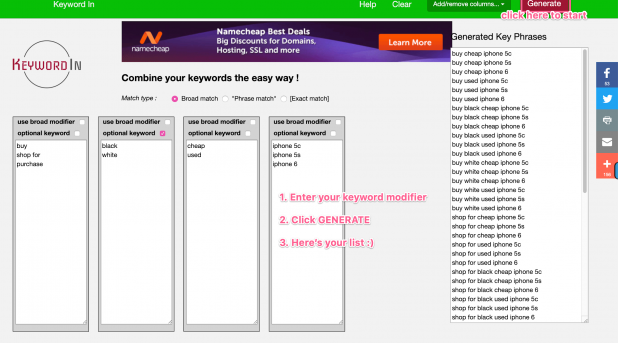 As you can see – you enter in up to 4 modifiers, and it automatically generates all the combinations for you. 
Tracking your site rankings with WhatsMySERP.com
This is a free SERP checker. After you pick your keywords and start promoting your website it 
will be important to stay on top of where you are ranking.
Using this tool you can check the top 100 results for any keyword to see if your site is showing up. If you are, these are pages that you should be working on building backlinks to, promoting and trying to rank.
This kind of information is the basis of "are my efforts paying off" and "what should I try to rank for next". Essential SEO information.  Here's an explanation of how to use the tool: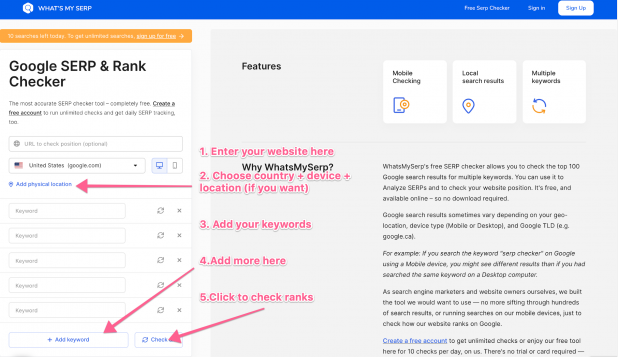 Have fun trying out these free keyword tools.
That's it folks. There's 5 of our favorite tools. Hopefully at least a few will become favourites of yours too. And if you really like the tool remember to get the paid version – it helps the creators to build cool things like that in the future.
Also keep in mind that keyword research is important but there's more afterwards. Don't get caught up on picking the perfect keywords or researching for days to weeks. 
It always comes down to building backlinks, promotion and actually ranking your web properties. You will get better with keyword research over time – just keep at it.