As companies focus on new approaches and forward-looking strategies, increasing sales productivity is one of the most challenging tasks that every organization has to face. Sales reps and managers must prioritize sales productivity to leverage growth and to improve the overall performance of the company. It's a key factor in the success of a business. 
Today's high performing companies use various different field-tested strategies to improve sales productivity that focuses more to increase efficiency as well as effectiveness. Not only do these organizations need to improve efficiency but to understand how sales teams become more productive – which can lead to increased sales productivity. 
"Real-time insight into the performance of your sales team is the only way you can solve execution issues and take the necessary steps to iterate and improve your sales process."  
Ali Sabeti | Vice President of Marketing and Sales, ZeroCater
Sales are the bottom line for sales organizations. As a sales rep, your ultimate goal is to get the sales for your company up as much as possible for balanced sales growth. To improve sales productivity, nurturing customer relationships is one of the most important factors for company goals and longevity. As a sales manager, you should track the amount of time you spend on your leads, emailing, and the technology that helps to connect with your customers. Addressing all these points will give a clear picture of how productive your sales rep is. 
Before we dive into how to improve sales productivity, let's first define —
What Sales Productivity Really is?
Sales productivity is all about maximizing the sales results from sales rep activities (prospects, client meetings, and communication) and minimizing the resources expended. Here, resources can be anything from cost to effort to time. 
In simple words, Sales Productivity is the ratio of effectiveness and efficiency. 
Sales Productivity = Effectiveness x Efficiency
Sales Productivity Stats to Know Right Now
Today's Sales professionals spend just one-third of their day actually talking to their prospects and spend 21% of their day writing emails. (Hubspot)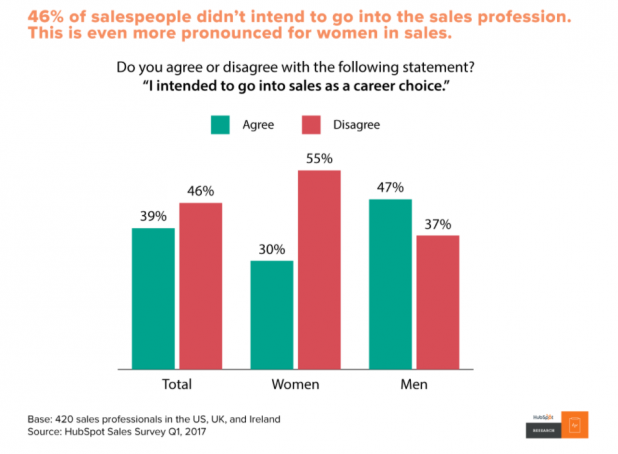 While customer satisfaction is the top priority, 66% of the sales team tracks customer satisfaction (CSAT) as their top KPI to measure their team's performance. (Salesforce)
On average, inside sales roles have increased by 7% and sales development roles by 6% since 2015. (Salesforce)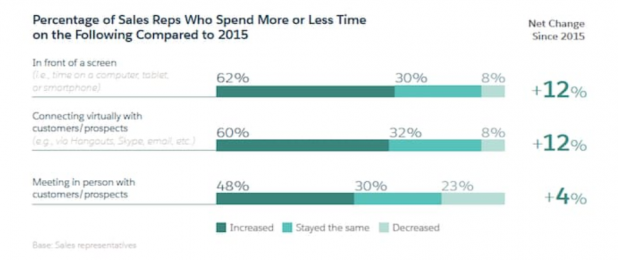 42.5% of sales reps take 10 months or longer to become productive enough to contribute to company goals. (Accenture)
By 2020, 30% of all B2B companies will employ some kind of AI to augment at least one of their primary sales processes. (Gartner)
By adopting collaborative selling criteria, 77% of salespeople say selling collaboratively with other departments is important. (Salesforce)
So, these are top sales productivity statistics that help you to get a better handle on top sales trends that highlight the new era of selling. In fact, these stats ensure that you keep your sales force always performing at the top level. 
Here are 7 proven growth strategies that sales leaders can use to improve sales productivity and enable their sales team to work smarter and faster.
Understand your ideal customer profile
Spend the first-hour prospecting
Track & Measure Sales KPIs
Establish Clear or Automated CRM
Set Goals and Follow Up
Improve sales training and onboarding
Send more Personalized Emails
1. Understand your ideal customer profile
In sales, in order to improve sales productivity, it is very important to research your target market. Focusing on the main drivers of revenue for your business is a crucial way to improve sales productivity. In fact, it is estimated that 75% of B2B buyers and 84% of C-level/vice president (VP) executives surveyed use networking technology like social media to make purchasing decisions.
However, you need to find out who your best customers are. Once you understand your ideal customer profile, not only will it save you time, money, and effort, but it will be easier to know where you should spend most of your time. 
2. Spend the first-hour prospecting
Once you understand who your right customers are, your sales reps need to educate themselves on a prospect before they make initial contact. Just as importantly, you may need to create a standardized process to get the right leads. And you can get them by researching prospects, whether that means….
Learning about the prospect's business (size, industry, employees, etc)
Linkedin Research
Finding

 

the pain points
Anthony Iannarino, an international speaker and sales leader, advises salespersons to get more productive and spend the first-hour prospecting.
3. Track & Measure Sales KPIs
If you don't have your sales KPIs then how do you know where you currently stand? Tracking sales metrics is important to identify the weak links in your sales process. If you can visualize the places where your deals need improvement – where you can improve and stop spending on areas that won't work for you – it will lead to a higher conversion rate and establish a benchmark to measure your productivity gains against. 
In the words of Steve Scott of Develop Good Habits – 
Many people in the sales force think that working longer and harder will somehow magically equate to more sales.
4. Set Goals and Follow Up
As sales reps, setting goals is a simple easy way to serve as a form of motivation. Both long term and short term goals can help to give salespersons a sense of direction and stay on top of work that ultimately increases sales productivity. 
By focusing on your goals, you will have a great sense of achievement and accountability that produces effective results.
5. Establish Clear or Automated CRM
Using marketing automation tools like CRM's and communication tools, can greatly help to boost your sales productivity. Additionally, Software advice says, finding a CRM, that works best for you and your organization is more efficient and effective. 
CRM allows you to keep track of your leads, entire data system and information all in one place. With less administrative work, a sales team is able to focus more on customers, not on tools. So, sales leaders must take a few hours to keep the CRM clean and set clear objectives that will save time in the long run.
6. Improve sales training and onboarding
Sales reps should receive effective sales training to set your team up for success. According to the Harvard Business Review, you should assign the most talented people to business-critical roles. Deploying the right talent for your company may have a big impact on sales productivity. Your sales training should be thoroughly effective and present enough information in a way your sales reps can relate to.  
Having super-skilled sales reps to train new ones, can pay off for your long term sales productivity.  On an individual level, the right people management practices can be beneficial for the overall sales process. 
7. Send more Personalized Emails
Your sales productivity will improve if you focus on sending more personalized emails instead of generic ones. Cal Newport, author of Deep Work, laid down a three-step process for sending better emails:
Identify the aim of an email,
Figure out the process that attains the goal,
Understanding and short email content.
So, it's important to customize your message clearly specifying your prospects' needs. Also, having a simple and compelling call to action can increase the chances of better conversion rates. 
In Conclusion
In an era where every successful company has ambitious goals, aligning your best sales growth strategy involves finding numerous ways to increase sales productivity, and generate revenue. Using these strategies will ensure that your investment will pay off and help you to sell more in less time.