October 6, 2020
We use our PC for multiple purposes on a regular basis and we download, copy, transfer or backup a lot of files from other devices on our computer. At times, we unwillingly get a lot of duplicate files on our system that take up a lot of storage space on the hard drive and the system behaves unpleasantly.
Both Windows and Mac computers don't automatically find duplicate files and folders since there is no default software that works automatically to identify duplicate files and folders. We may try to manually find and remove duplicate files, however, but that is a tedious process to follow.
Why Should You Delete Duplicates?
Duplicate files are basically junk files and keeping them on your computer is just a waste of hard drive space. They make your computer run slow and utilize your computer resources.
Removing duplicate files will: 
Recover hard drive space.
Reduce the need for creating repeated backup files.
Enhance your search efficiency.
Enhance system performance and optimum output from your device.
When you have duplicate files, it creates confusion. You need to open and check which file is the most recent one with all the updated information. Identifying duplicate files manually and removing them from your computer may not give you the desired results as you may not be able to find and remove all the duplicates at once. If you wish to optimize and clean duplicate files, you will need to use one of the better duplicate file finders.
Mind These While Removing Duplicate Files
If you are manually finding and removing duplicates from the system, there are certain things that you need to take care of. Ignoring these tips may get your system in a No Boot situation.
Never ever delete duplicate system files even if you come across them. Only delete personal files like photos, videos, movies, music or setup files downloaded by you in the downloads folder.
The duplicate file finder for Windows or Mac that you install, should be set to automatically ignore system folders while searching for duplicate files.

 

There are many freeware applications that are not good enough to automatically exempt system files.
Always check the file preview before deleting. You may end up deleting important files that may halt your computer.
How to Manually Find Duplicates on Windows
There is no pre-installed app that can help you find and remove duplicates from a Windows computer. The only feature that alerts you while saving a duplicate file is name check. If you try to save the same file with the same name, it will alert you that it already exists. But you can always save the same file with a different name.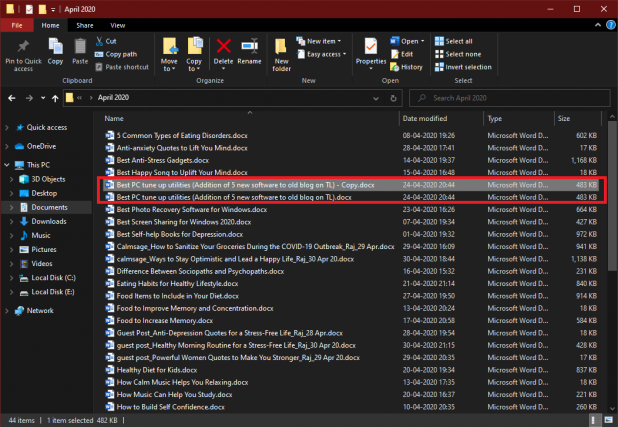 You can go to Windows File Explorer and start searching for duplicate files in various ways.
Sort files by looking for the same name. If you find files with the same name, check if they are of the same size and file format.
Sort files by size and check for files with the same name or (Copy) written in front of them. 
You can also try to sort files with the same date and look for files with the same name downloaded on the same date.
This manual process will not be as accurate as using a duplicate file finder for Windows.
How to Manually Find Duplicates on Mac
Mac comes with an intuitive feature for finding duplicates on your computer. The Smart Folder feature can help to identify and eliminate duplicate files to some extent.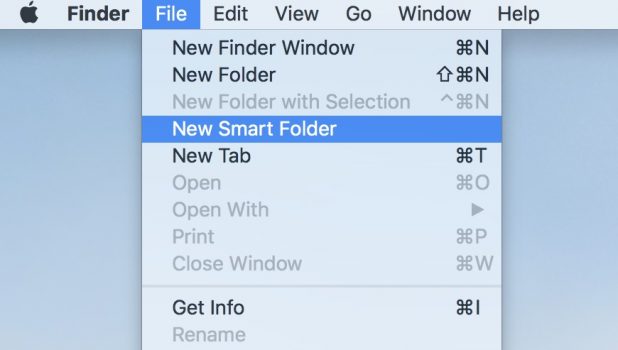 Click on the File menu on the Finder App and select 'New Smart Folder.'
Click the '+' button on the top-right corner.
Here you need to search for a specific keyword and sort the files by name and size. The process is the same as used in Windows computers to identify and remove duplicate files.
You can use different filters like File Type, Last Modified, and others and then filter by Name.
You need to be cautious so you don't delete the wrong files and compromise your valuable data.
Best Duplicate File Finder
There are hundreds of software applications available to find and remove duplicate files from your computer. We have reviewed, compared and tested dozens of them and  recommend Duplicate Files Fixer. This is one of the best duplicate file finders for Windows and Mac.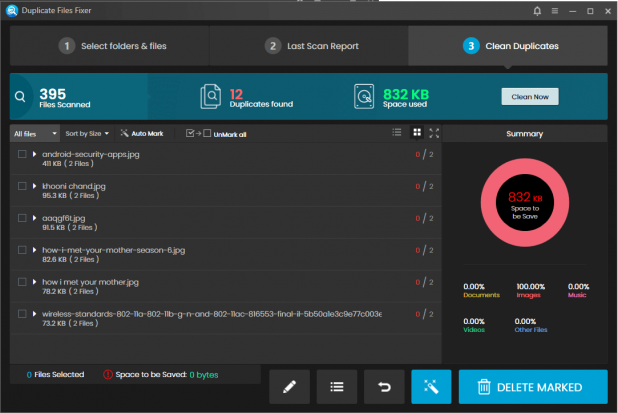 The software is compatible with Windows 10, 8.1, 8, 7, XP, macOS & Android operating systems. The advanced matching algorithm runs a deep scan on a hard drive to look for filenames, tags, and metadata while analyzing the file content. It can help eliminate all kinds of duplicate file formats like –JPG, GIF, PNG, Docx, pdf, text, audio, video, and other image files. Follow the link above for a better comparison of duplicate file finders for Windows and Mac.
Final Words
Manually finding and removing duplicate files from your computer can result in the deletion of one or more system files, causing a no boot situation. We recommend you download and install a good duplicate file finder to find and remove duplicate files with a single click. Keep your computer free of duplicate files and regain precious storage space.
---
Janny Thomas is a technical content writer. As from being a capable engineer, her technical knowledge and expertise in research, blended with an intimate passion to write made her love her profession to the core. She is an avid reader and had written to many blogs. She Always love to write on social media, apps and software.