Productivity is a term that every one of us has been hearing for ages. We've been hearing it since our school days when teachers asked us to be "productive" and turn in good work. The same goes for the workplace where employee productivity is a much talked of term in corporate culture.
Workplace productivity has always been a factor for businesses but it gained notice and popularity only after the invention of personal computers in the 1970s and the World Wide Web in the 1980s. These technology-driven solutions have picked up steam and replaced the traditional productivity tools altogether.
By the '90s, companies understood the need for better workplace productivity tools, and new technologies rolled out at a remarkable rate. Businesses started using Google's Suite of tools including calendar, email, voicemail, web development tools, and more.
We have come a long way since then ー other productivity tools like productivity tools like Office 365, Slack, Trello, Todoist, etc., have gained traction. Simply put, workplace productivity has now become a booming business benefitting the productivity tool developers and users alike.
With the advent of analytic tools, AI, AR, automation, contact management systems, VR, and other advanced cutting edge technologies, workplace productivity has taken another step forward. These advances facilitate engagement between companies and their customers, generate revenue, and above all, create and provide best-in-class products and services.
Modern-day technologies strive to deliver the best solutions to enable true productivity aligning with business goals and vision. Medium and small businesses have been seeking high-tech, innovative, and methodical solutions to enhance productivity at work.
In this article, I will walk you through three ways technology can increase workplace productivity, along with the best tools available to businesses. Read on!
1. AR-based technology
Worldwide productivity took a hit in the 2008-2016 period when a 1.1 percent annual productivity rate was recorded in comparison to 2.7 percent during the 2001-2007 period. Augmented Reality (AR) promises to boost this rate significantly.
You might be aware of AR technology through the Pokémon Go game or you might have seen Tony Stark experimenting with his Ironman suit. It makes the digital content appear like a part of the physical world. Once the purview of science fiction, AR is making further inroads into workplaces aiming to enhance worker's productivity, ensure workplace safety, and aid in skills training.
How does it work?
Augmented Reality laps virtual features over a real-world view with a blend of software and hardware.
Software
AR-based applications employ 3 fundamental principles to make the AR experience a reality.
Light estimation – virtual objects can be positioned in the same lighting conditions as that of the surroundings
Motion tracking – lets your device determine its relative position to the environment so that virtual objects can be placed at appropriate locations
Environment understanding – allows the device to better understand the topography of the surroundings in order to accurately position the virtual objects
Hardware
For AR to work efficiently, a device to project the virtual objects is required ー the smartphone being the most commonly used hardware equipment. The device must be compatible with AR supported sensors and processors. Below are the key hardware components to enable AR on your device:
Processor – the mastermind of your device that determines if your device is compatible with the high-end AR requirements
Graphic Processing Unit (GPU) – to synthesize a photorealistic image of the virtual objects
Sensors – to give the device a full-fledged understanding of the complexity of the surroundings (gyroscope, proximity sensor, depth sensor, accelerometer, among others)
Best AR-based tool to enhance workplace productivity
AR technology is growing at a faster rate than ever before. Aviation and automobile companies are already equipped with AR for visualizing navigation systems, ATC, maintenance, helmet-mounted display, and more. The following are the tools that companies can use to increase productivity at the workplace:
Re'Flekt uses AR and mixed-reality technology to help workers work productively. Operations, maintenance, and training enterprises can find this tool handy to use. The tool is compatible with all devices ー Android, iOS, Windows, and MS Hololens.
It virtually creates step-by-step instructions and product components, thus eliminating the need to repeatedly check the manuals. Certainly, technicians will be more confident in their abilities and more productive while executing service processes.
2. Self-service BI tools
Business Intelligence (BI) is a set of applications, architectures, processes, and technologies for the collection, integration, analysis, and presentation of business-related information. The aim of BI is to make better business decisions by converting the data into a material business report.
Self-service Business Intelligence (SSBI) enables workers to build their own data analysis model sans the inputs from developers. It enables the end-users of enterprise access to play around with their data with little to no technical knowledge. Consequently, the end-users can analyze the data, make decisions, propose plans, and predict results.
Another benefit of BI is in setting benchmarks for the companies. Organizations can gather information about top companies in the same domain and compare their business processes and performance metrics with their own. Based on the results, process changes can be made, and employee productivity can be boosted to meet the quality, cost, and time benchmarks.
Advantages of BI
The following are some of the advantages of using BI tools:
Minimal cost
Minimum technical exchange
User autonomy
Increased flexibility
Best SSBI-based tools to increase workplace productivity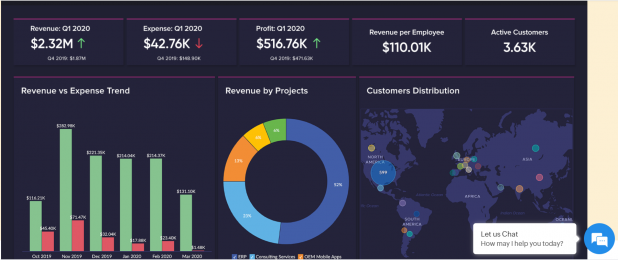 Zoho Reports is particularly useful for startups and medium businesses kickstarting their analytics and SSBI. It lets you visually analyze your data, generate data visualizations, and explore the hidden insights (convert raw data into actionable reports, track key business metrics, identify outliers, and more).
With Zoho Reports, you can connect not only to Zoho apps but also to any cloud-accessible database. You can upload data from MS Excel, CSV, HTML, JSON, XML, text files, and more. Additionally, data can also be fetched from Drive, Box, Dropbox, OneDrive, and Web URL feeds.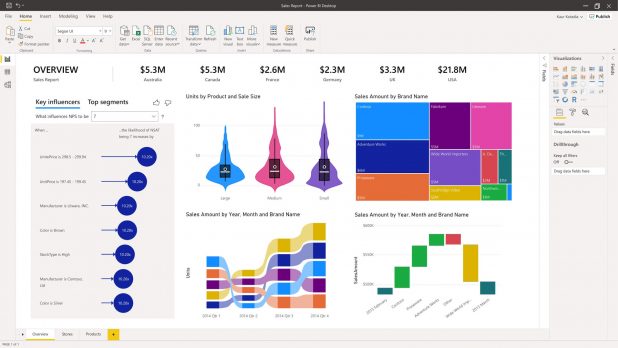 Power BI is an effortless and interactive data visualization tool that doesn't require users to have technical expertise in analytics. It is growing in leaps and bounds 一 thanks to the regular optimizations by a robust Microsoft community.
Data-driven decision making got a lot easier with 120+ free connectors including those from Azure and Microsoft. One of the remarkable features of Power BI is the ability to ask questions in real-time in the Q&A feature and get data visualizations in response. For instance, you can type "What were the sales in the previous quarter?" and Power BI will present the data on the go.
3. Time tracking tools
Time tracking software allows employees to manage their time efficiently. Workers can keep track of the time spent on projects or tasks.
It can either be used singly or in conjunction with accounting systems, billing systems, project management systems, etc.
The manual version of the time tracker is known as a timesheet where users can manually enter the time spent on tasks. Time recorders or time trackers automatically record the employee activity in the system.
Time tracking technology empowers the workforce to be more productive and accountable. The collected data is used by the HR departments to understand how employees spend their time and to also identify the time-wasters.
Best time tracking tools to enhance workplace productivity
Clockify is the most popular free time tracking and timesheet app. It allows teams to track work hours, see current status, track the tasks worked on by each employee, and more. Records of employee productivity, attendance, and billable hours are the three key takeaways from the app.
With the timekeeping feature, workers can track time for each project using a timer as well as allot time for tasks.

Toggl is an easy-to-use cloud-based time tracking software. The most appealing feature of Toggl is its time tracking device. With the click of the "Start" button, you can start tracking your time on projects and "Stop" when you finish.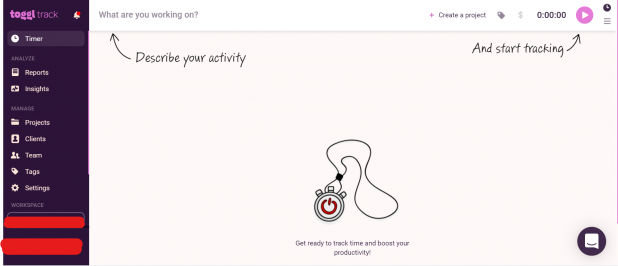 Toggl can be added as an extension to most devices and browsers 一 Android, iOS, Windows, Chrome, Edge, and Firefox. To enable the Toggl time tracker, you need to first create a Toggl account.
Winding Up
Measuring employee productivity can enable a company to reap many benefits. Not only does it help review employees' job performance, but it also plays a major role in analyzing their contribution to the company's objectives. Precise productivity measurements can get you a step closer to cost reduction and maximum business profits, recognition of team and individual achievements, identifying strengths and shortcomings, and above all, boosting employee morale.