We all know what Google Images is. Since its creation in 2001, we have used it for infinite number of purposes such as high school or university work, deciding if a place was worthy of our vacation, etc.
But did you know that Google Images has evolved a lot since then, and today can be an excellent tool for your business? In this post, I tell you all about it.
Birth and evolution of the Google image search engine
As surreal as it may sound, Google Images was created in 2001, thanks to Jennifer Lopez. That's right.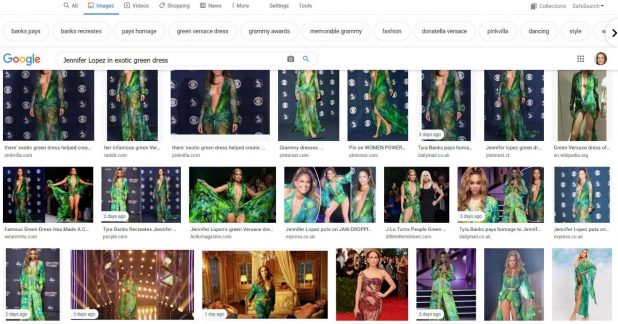 At an awards ceremony, the singer wore a Versace dress that went viral before the concept even existed. Google searches skyrocketed to a previously unknown level. Since only text results existed before, many people were slow to find what they were looking for: the image of Jennifer Lopez in that exotic green dress.
The result? A few months later, Google Images launched: a search tool for visual content. In 2001, Google had 250 million images indexed. In 2010, the number rose to 10 billion. In 2011, Google Images added a Search by Image feature, which allowed for reverse image searches directly in the image search-bar. This feature lets users browse for an image by drag & drop onto the search bar.
Search Google images
This popular tool has evolved over the years, adding small improvements that have represented a massive change in the way we find information.
Search filters were created to narrow down the results as much as possible (size of the image, color or black and white, publication date, type of file, and even the copyrights to use the image). In 2009, "Search for similar images" was implemented.
In 2012, the Google Images' search engine algorithm was updated to prevent pornographic images from appearing when non-pornographic search terms were used.
Google Image Search: what is it, and how does it work?
Google Image Search is a formula to find content from an image file without typing words: you simply need to add an image or image URL to the search engine. Google's algorithms will analyze it and compare it with the billions of indexed images in its database. As a result, you will get hundreds of the same or similar files with their corresponding metadata. As we all know, Google evolves and is continuously adding new features, so don't miss upcoming Google Search Engine updates in the next few years.
To carry out a Google search by image or reverse search (as the tool usually works oppositely), you must follow these simple steps:
In the search engine where you would typically enter the keyword, you will see three icons: a magnifying glass, a microphone for voice search, and a camera that belongs to the image search. Click on the camera.
Choose one of the two options: copy and paste the URL of the image you are interested in or upload a file from your computer.
Even simpler, there is an option to drag an image directly into the search bar. When you drop it, the tool will start to work and show all the results for the image being analyzed.
Search by Google image can be handy in our daily life. For example, when identifying a work of art, a person, a landscape, or a plant. But, did you know that the Google image search can also be beneficial for your business?
How image search can help your company
If you still can't imagine why Google Images can be essential in your business's growth, think about this: how many results appear in the search engine when you do a text search, and how many in the image search?
Exactly. Your page has more chances of appearing in the first pages of results in the Google Image version because it shows many more results. If you are thinking of attracting more organic traffic to your site, this tool is a must in your digital marketing strategy.
SEO and the authority of your page
If your goal is to bring the user through Google images to your page, it is essential to consider the search engine optimization of images contained on the site.
Typically, you want to make your content more attractive by accompanying it with photographs, infographics, illustrations. However, is your visual content SEO optimized? Take advantage of all the opportunities to add authority to your page by following these tips:
Choose a suitable tag title 
Since 2018, Google shows the title tag in image searches to provide context to its results and help convert clicks.
Image Google Search tag title
Create a good meta tag and a consistent URL structure for the image because Google relies on this and the file name for its algorithm analyses. Remember to rename the files with the keyword of your interest.
Use the alternative descriptive text (Alt text) to strengthen accessibility for people with visual impairment and also to give Google a final push in its recognition process.
Make sure that the images are as light as possible, but don't compromise on quality. Ideally, they should be less than 100 kb.
If you apply these suggestions, among others, you will see how the authority of your page grows, and your images begin to position themselves much better.
Get backlinks with Google image search
If your site's content has been indexed in Google Images, a reverse search is an ideal tool to find pages that may be using your photographs, illustrations, or computer graphics without mentioning you.
You only need to perform an image search with your original file, and you will see all the websites that are using that image. Do you see any page with authority that is not mentioning you as an author? Maybe they don't mention the source, perhaps they mention you without adding a link to your page, or maybe they even link to an intermediary page.
In the end, it doesn't matter what the reason is. If they haven't created a link to your page, you may be missing out on a good source of organic traffic to your site. Contact that site and ask them to add a backlink that mentions you as the image owner!