Tinder is revolutionizing one of the most important aspects of our human society: personal relationships and love. According to data, taken from various websites, it appears that at least 10 million matches occur on Tinder every day and millions of people use Tinder every day to send messages and find their soul mate. Tinder is a mobile application based mainly on geo-location, that is on the geographical position of the person, in fact it offers all the singles who are close to where we are currently.
But what if you live in an uncrowded place where there aren't enough people to get to know? Or, although singles are enough next to us, how could we increase the possibility of concluding more matches? Also because, let's face it, the famous phrase that appears on our screen "No new people nearby" is not exactly exciting. Well, if you have some money to spend, you can buy the Tinder Plus service which allows you to change your location on Tinder and thus moving (virtually) to another city allows you to increase the chances of a match. But if you're not willing to pay, and want to use this service for free, there are tricks that can be implemented. Fake GPS Tinder is not something impossible. How to change location on Tinder? Just keep reading!
Change GPS location on iPhone and Android
If you read some articles, in the various websites of the sector, you will notice that to overcome the area constraints imposed by the Tinder algorithm, everyone will suggest you to install fake GPS apps on your mobile device that allow you to simulate a change in GPS position. Indeed, these apps are fully functional, because if you set Fly GPS on Paris and enter a post on Facebook, then you will see that registering on Facebook will show you all the places in the Parisian capital closest to you.
On iPhone:
The first application we recommend is Dr.Fone – Virtual Location (iOS) because with this application you can change the iOS GPS location without needing to jailbreak your iPhone. You can simply download Dr.Fone on your PC. Install and launch. You will find an interface like below: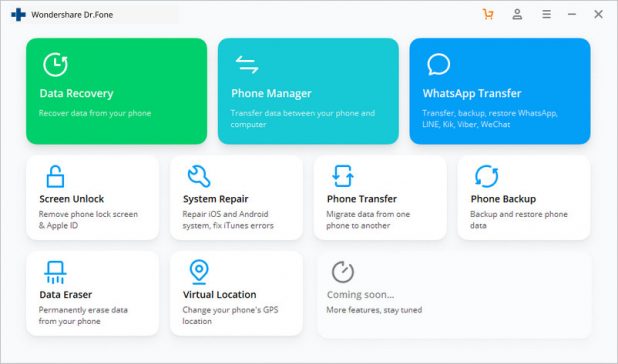 Click on 'Virtual Location' and you will be taken to a virtual map as follows: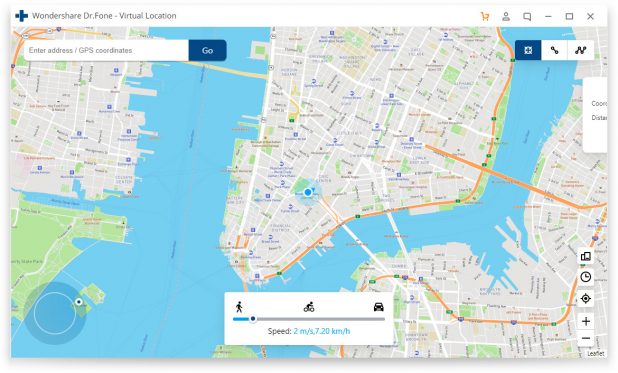 From the map you can change the iOS GPS location to any location in the world. Very easy! You just need to fill in the address you want in the search bar located at the top left corner of the screen. Click Go and a small pop-up box appears. Click 'Move Here' and you will switch your iOS GPS position immediately.
Use iMyFone AnyTo
After installing iMyFone AnyTo on your PC, it starts up. After connecting the iOS device via USB cable, unlock it and tap on Trust. At this point, a map will be loaded into the application from which you can access different modes. The teleportation mode in the upper right corner allows you to instantly move your location. Just search for the desired point in the maps or search for an address. Click Move and that's it!
On Android:
In principle, faking GPS location on Android is easier than on iPhone. You just need to download a GPS converter application, in this case Fake GPS. Here are the steps: – You downloaded Fake GPS from Google Play. Open it once installed. – Open 'Settings' on your phone. – Enable developer options. – Does your phone allow fake locations? If so, enable it. – Click on 'Choose fake location app'. – Go back to Settings and go to Location. Select Location mode and change it to Device only. – Open your Tinder account and go to Settings and Discovery. – You can now freely find dates in any location.
There are still other ways you can change your Tinder location, including using a VPN and changing your Facebook location. However, these two methods are not recommended for several reasons, such as privacy.
Conclusion: You don't need Tinder Plus to find date in any location you want. There are many methods depending on the device you are using. However, if you are using an iPhone, Dr.Fone – Virtual Location (iOS) is the most recommended because it does not require a jailbreak and provides more features than similar applications. Tinder change location has never been easier!