Finding the best Instagram marketing strategies and getting a better engagement rate is something that almost everyone is looking for.
When talking about running or promoting a business, we can't deny the importance of using Instagram and how it affects business growth.
Besides, there are a lot of successful businesses on Instagram that don't even have a website! They are just smart enough to use the best strategies and Instagram tools to enhance their growth on Instagram.
Fun facts about Instagram and businesses:
· There are at least25 million business profiles on Instagram
· 90% of Instagram users follow at least one business, and 83% of users say Instagram has helped them discover new products and services.
· There are 130 million Instagram users in the U.S.
· Instagram sees over one billion active monthly users and 500 million daily Instagram Stories.
· Instagram is the second most accessed network behind Facebook. Users browse for an average of 53 minutes per day.
Moreover, this statistic shows a forecast of the number of active Instagram users in the United States from 2019 to 2023. In 2023, the photo-sharing site is projected to reach 120.3 million monthly active users in the United States, up from 107.2 million users in 2019.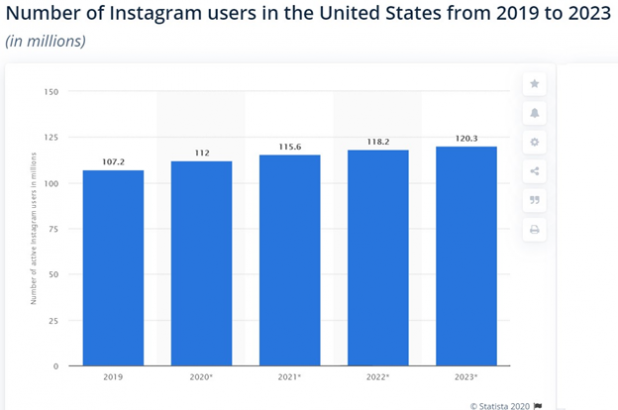 The annual advertising revenue of Instagram is steadily increasing. In 2019, Instagram accumulated 9.45 billion U.S. dollars in ad revenues in the United States. The social media platform, owned by Facebook, is projected to reach 18.16 billion U.S. dollars in annual ad sales in 2021.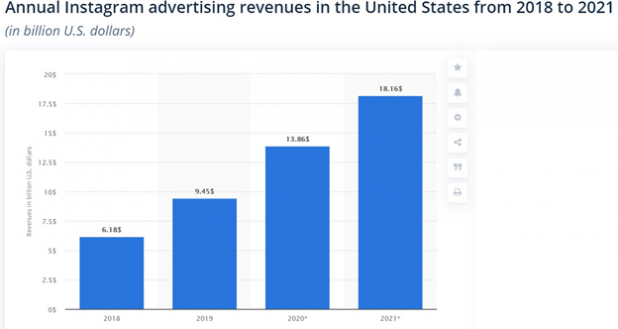 Another statistic presents the reasons for being on Instagram according to users in the United States as of the third quarter of 2019. According to the findings, 67 percent of respondents stated that they used Instagram to stay in contact with friends and family. A further 47 percent of respondents stated that they used Instagram for entertainment purposes.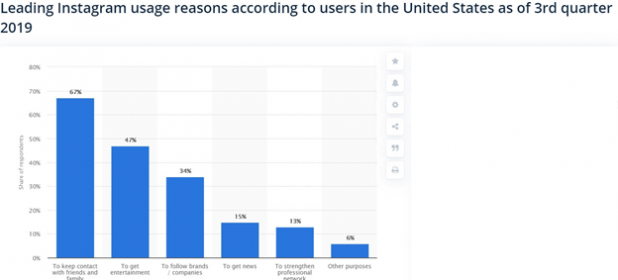 Benefits of using Instagram for a business
If there is a way to present your products visually, then you shouldn't ignore Instagram! Be creative about sharing eye-catching photos on Instagram and grab users' attention.
Here are some of the benefits of using Instagram for a business
· Attracts new customers
· Drives more website traffic
· Gains follower trust
· Increases brand awareness
· Helps to earn more money
· Converts followers to customers
· Enhances brand loyalty
Instagram marketing strategies and tips
Once you make up your mind to use Instagram for your business, you should set short term and long term goals. Generally, business goals are one or more of those noted below:
· Building brand awareness
· Selling products
· Gaining a lot of followers
· Connecting with people
· Being popular
· Showcasing products or services
· Building community
· Showcasing the company's culture and values
· Advertising to potential customers
· Sharing company news and updates
Don't work hard; work smart!
Running a business can be time-consuming, but you don't need to do it all yourself! Use Instagram tools to bolster your Instagram growth.
Happily, there are a lot of Instagram management tools and dedicated account managers that can assist you in getting real Instagram followers, scheduling posts and stories, finding top hashtags, monitoring your account, and more.
And, that's not all!
You shouldn't neglect Instagram features such as Instagram reels, IGTV, polls in the Story, and more!
Using all the available opportunities to promote your Instagram account will accelerate your account's growth and the number of your clients.
In addition, if you sell physical products, don't overlook the Instagram shop feature. The shop feature allows users to purchase products right from the Instagram feed.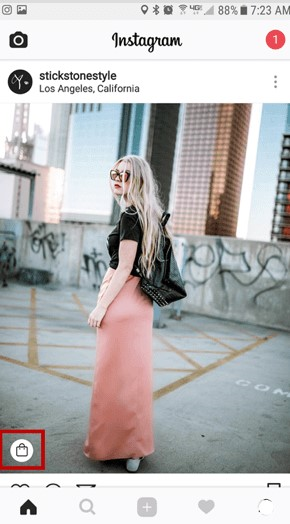 Get the full guide about the Instagram shop feature, and use the best of it.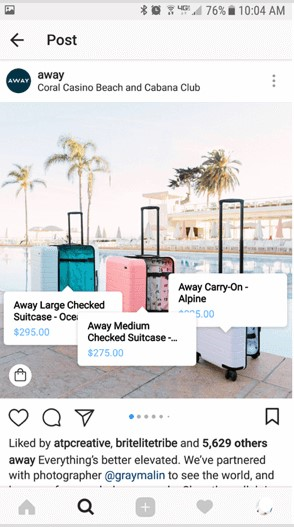 Use your Instagram bio to drive more traffic and sales
Instagram bio plays an important role in motivating new users to follow you or converting your current followers to customers.
Optimize your Instagram bio, and use the proper call to action to convert your followers.
Try to follow the tips below to optimize your Instagram bio:
· Use a proper profile picture which is sized appropriately
· Talk about your business and what it's about
· Include a link to your website or shop
· Add call to actions
· Use emojis and line breaks
· Share your email address or other contact methods
Beat Instagram's bio link limit
If you would like to share multiple links in your Instagram bio for your website, blog, online shop, email address, etc., the best option is to use an Instagram bio link tool. It allows you to add multiple links in one link, design the page, set your preferred theme, and more.
Linktree is a bio tool which offers great features, but is paid. If you are looking for a free tool, try My.URLs Bio. Then, you can tag your products.
Know your audience
Targeting everyone on Instagram is a big mistake! Everything is made for a purpose and someone special.
For example, if you are going to sell shoes for women such as heels, targeting boys and men may not be as effective as targeting girls and women.
Generally, it would help if you considered the following factors:
· Age range
· Gender
· Job title
· Location
· Motivations
You have the option to do it manually or leave it to an Instagram account manager.
Team up with other brands to host a giveaway
Everyone loves getting products for free which also presents an opportunity to show off your products to new users who in turn can introduce your products to their followers and friends.
You should consider several things when hosting a giveaway. For example, you can ask your followers to do all or some of the following:
· Follow your account
· Mention 3 of their friends on your giveaway post
· Share a story on their account and tag you
· Repost your giveaway post on their account
· Use your brand's hashtag on their Story or post
· Like your three last posts
Or, any other actions that come to mind. Here are examples of an Instagram giveaway
Instagram marketing tools
With a business account on Instagram, you can use the free Instagram tool, "Insight" which enables you to view statistics such as top locations, impressions, gender and age range of followers, the follower's most active time on Instagram, and more.
If you need more data about your Instagram account and your performance, there are a lot of Instagram analytic tools out there that can get you daily, weekly or monthly reports.
One Instagram marketing tool that almost everyone needs is a post and story scheduler to save time and energy and which allows you to post at the best time and maintain brand consistency.
Instagram marketing tips
A single simple action can double your growth on Instagram. Let's look at a few more Instagram marketing tips.
· Be active and consistent
· Set goals
· Use hashtags wisely
· Write catchy captions
· Share high-quality photos
· Respect your followers and customers
· Answer comments and direct messages
· Plan your posts and stories
· Track your growth
· Collaborate with other brands
· Share videos and IGTV
· Share eye-catching photos
· Optimize your profile
· Make the most of Instagram stories
· Offer discount codes
· Set up an Instagram shop
Pro tips for selling your products on Instagram
· Use attractive and high-quality photos and videos
· Share coupon or promotional codes
· Show your products in videos (tutorials, how-to, etc.)
· Use colors in your posts to make them attractive
· Be authentic
· Choose a style
· Share user-generated content
The last word
As one of the most popular platforms in the world, Instagram can make your wishes come true! Master the strategies to reach your goals and become popular locally or globally.
In addition, stay updated on Instagram tactics and algorithm changes.