Messaging applications, also known as messengers, have grown beyond their intended use of peer-to-peer communication and have forayed into the field of digital customer engagement. Nowadays, messaging apps are used as functional multi-tools to let users do anything–from online purchases to even booking a flight.
"Messaging is one of the few things that people do more than social networking." – Mark Zuckerberg
Chat applications like WeChat, WhatsApp, and KakaoTalk are more popular than social media platforms, making it even easier for businesses to enhance their live chat experience by migrating to these messengers. With the growth of conversational commerce, companies are extensively using messengers to handle customer service inquiries and improve customer experience.
Some of the benefits of using messaging apps for engaging customers include:
Messengers help brands reach a broader customer base.
Messengers can be integrated with third-party applications such as a CRM for making data-driven decisions when optimizing your CX strategy.
Additional benefits, such as privacy and security.
Here are our best tips to help you create and optimize your Customer Experience (CX) Strategy with the help of messengers.
Choose your messenger wisely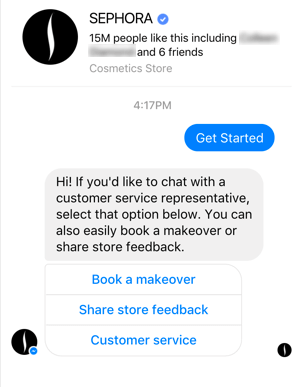 Choosing your messenger for conversational customer service depends on which application(s) your customer base frequents daily and customer demographics. An increasing number of businesses are adopting an Omni-Digital approach of reaching out to their customer base. This means that they utilize multiple digital channels for engaging with their customers.
Out of all the different channels, messaging apps are the most popular channel for engaging with the younger demographics. Based on where your customers live, their choice of platforms to communicate also differ. For example, any business that wishes to adopt a messaging app in their customer service should prioritize using the Facebook Messenger app for its North American customers while using the WeChat applications for its customers in China.
Design your Customer Experience (CX) with the messenger
When integrating messaging apps as a part of the customer service strategy, make sure you build an optimized customer experience. Customers are always expecting friendly and top-notch expertise when communicating with brands. That's why your choice of messenger should be able to handle the majority of the issues without redirecting to other channels.
The tone and language of the conversations should align with your brand identity and the products you sell. This brings clarity and consistency to such conversations.
Personalize the experience
The most significant advantage of providing customer service via messenger is the personalized touch businesses can provide their clients. With high competition in specific markets, it either personalizes or perishes.
For example, KLM Royal Dutch Airline uses WhatsApp for after-sale customer service. This means customers receive booking confirmations, digital boarding passes, and flight status on their WhatsApp account. KLM also provides customized 24/7 multi-language support for all their flyers.
Automate customer service
Chatbots are one of the main tools for engaging consumers through messaging apps. When implementing such a solution, businesses should keep in mind the technological limits of AI and the platform. Recent studies have found that most consumers prefer interacting with chatbots when checking the status of an order or doing product research.
Another thing to keep in mind is to limit the use case of chatbots to specific issues. This helps by providing an optimal experience where the AI is good at answering questions it has been designed for.
Provide a seamless experience
When building your customer experience, it is essential to remember that AI is still learning and has limitations. Chatbots are mainly used for automated responses and can't fully resolve all issues. Specific advanced problems require human interaction, making it imperative for your chatbot to recognize whether a consumer is looking for a transactional response or an emotional one.
Providing a seamless transition from the bot to a human agent is a critical characteristic of a great customer experience. Your AI solution should be smart enough to analyze customer intent and detect when a human agent should assist an issue without asking the customer explicitly.
Just like any other day-to-day business operation, brands must monitor specific KPIs or metrics to ensure that the experience offered by the messenger meets/surpasses their set customer expectations.
For instance, specific metrics to track and manage include:
Average response time. Consumers expect quick answers, meaning the average response time is a metric to be closely monitored.
Customer waiting time. Customer waiting times for an issue resolution should be limited to around 2–3 hours. For a World Class service, the response time is within an hour, with 15 minutes being the usual set target.
Customer satisfaction. This can be tracked and managed via short and simple surveys.
Volumes of messages per day. Monitoring and managing this metric can anticipate peaks and help businesses to prepare accordingly.
Wrapping up
More and more businesses are adopting instant messaging apps as part of engaging with customers digitally. To get the most out of such an experience, you must apply all these tips for an optimized Omni-digital solution that processes interactions efficiently.