Offering a free lead magnet in return for your website visitor's email address used to work like a charm.
Businesses were happy because they were generating leads and the leads were happy because they were receiving a valuable resource to consume.
With content overload becoming a real problem, generating inbound leads has become tougher and tougher. The result is that traffic and lead generation is the biggest marketing challenge 65% of businesses face.
However, you shouldn't feel discouraged. We recommend you combine outbound and inbound lead generation techniques to have the best of both worlds.
1. Content marketing
93% of B2B companies say content marketing generates more leads than traditional marketing strategies.
According to B2B Content Marketing 2020: Benchmarks, Budgets, and Trends Report, businesses use webinars & online events (16%) and eBooks & guides (13%) to secure leads. You have probably heard the myth that eBooks are dying but they aren't. Old formats work if you bring novelty to them and combine it with real value.
Let's consider an example. You probably think no one reads email newsletters these days. However, the question is how you deliver your promise and what your email messages teach.
Instead of sending the links to your recent blog posts, switch to email storytelling. Send stories that your subscribers can't read anywhere else. Or interview different authors and send their previously unpublished quotes to your subscribers. A unique approach will work even if the format itself seems outdated.
The success isn't in finding the best content format to generate leads; the success is in making your content offer unique, practical, and high-quality.
2. Social media marketing
Here we will focus on social networks, specifically LinkedIn and Facebook, and the ways they can bring quality traffic and leads to your website.
LinkedIn

You can generate leads through LinkedIn via different tactics, from finding business-related posts and engaging with them to publishing thought-leadership articles. However, if you want to scale the process, you should consider using a LinkedIn automation tool and reaching out to hundreds of prospects daily.
Tools like Octopus, Zopto, Linvo, Dux-Soup, Linked Fusion, and others help you to:
import LinkedIn members based on filtering options,
send hundreds of connection requests daily,
build messaging funnels and automate follow-ups,
endorse your 2nd and 3rd level connections for their skills,
access messaging templates, etc.
Similar tools might cost a few dollars monthly but they help you build a huge data frame and reach out to targeted prospects on a one-on-one basis.
Facebook
Instead of discussing theoretical tips here, we will talk about 2 ways you can use Facebook for lead generation with real-life, useful examples:
Influencer marketing
Facebook isn't just good for influencer marketing. The platform has specific features in place and requires the parties to disclose similar partnerships.
Mari Smith is a social media influencer and below you see her partnership with Boosted. It's a video maker app that B2B companies use as well. You also see the small note "Paid partnership" which means Mari Smith is paid to promote this tool. Mari Smith's followers are looking for fresh ways to boost their social media presence and Boosted's offer is aligns with their interests.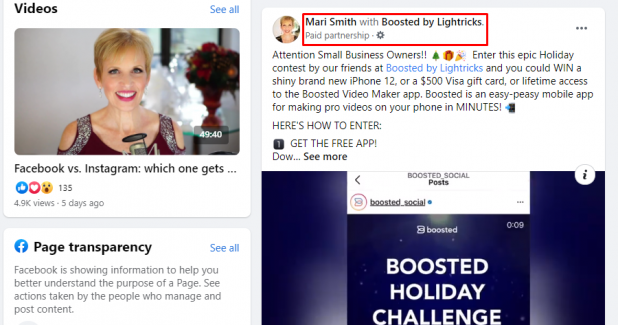 Events marketing

Facebook's other feature, Events, is another opportunity to generate leads for your small business. Delibr is a feature refinement tool and they have created a Facebook event to promote their free webinar.
To increase your webinar reach and generate more leads, make your video live and at least 10 minutes long. Facebook prioritizes videos over text and image-based posts. And, live videos rank even higher because people spend triple the amount of time watching a video when it's live.
3. Cold calling
People who say cold calling is dead, intrusive or expensive, probably haven't followed any cold calling best practices. 82% of buyers have accepted meetings with salespeople after a series of contacts beginning with sales cold calls.
Dialing random numbers isn't cold calling, it's a waste of time. Successful cold calls happen after the sales rep has already researched the candidates and their companies, is equipped with a guiding script and open-ended questions and has chosen the best time to phone.
Cold calling is one of the strategies B2B appointment setting services are specialized in. They research the leads before reaching out and qualify them during the call. Then, if they find the lead is interested in their client's product/service, they pass them to the client's sales team to close the deal.
Similar services will be perfect for you if you want to increase your sales quickly and want to pay based on results.
4. Cold emailing
Major mistakes businesses make while cold emailing is being too generic, not sending follow-up messages, and not running any tests.
If you are using weak subject lines, even the subscribers on your opt-in email list won't open your message. Subject lines, personalization, and preview texts decide whether your email gets seen or not.
Campaigns with 4-7 cold emails per recipient have a 27% open rate, as statistics show. And, every follow up is an opportunity to add more value to the recipient's inbox and motivate them not only to reply but also show interest by answering your open-ended questions.
Last but not least, you will never know until you test. Pick a small percentage of your leads and divide them into 2 or more groups. Reach out to them via different emails. After analyzing the stats you will know to which version users respond to more actively and use that one to reach out to your remaining leads.