To make the most of your advertising and marketing budget, you must be aware of the latest PPC campaign trends your competitors are following. The world of marketing and promotions is highly volatile. The context in which you are preparing your campaign keeps changing fast. Tracking your competitors' PPC ads equips you with timely and reliable knowledge about these fast-changing scenes.
From this overview, you will know what tools suit the best for competitor PPC ads collecting and other tasks related to PPC competitor analysis.
Why is it Essential to Find Competitors' PPC Ads
If there is any prevailing turbulence in the market, finding competitors' PPC ads can give you insight on how they are reacting to the changes. For any business, the emerging trends in the market often present themselves as future growth opportunities. To seize on those opportunities, marketers must keep an eye on what the competitors are promoting. Assessing the competitors' focus areas and finding out the commonalities in their promotions helps cut the clutter and make data-driven decisions rather than getting lost in the chaos.
It is rare for companies to come up with unique, trendsetting, and effective advertising campaigns. The majority of the great advertisements that we see around us are mashups of existing ideas. This phenomenon applies to every crucial segment of ad-making. It is applicable in creative executions, such as copywriting and graphics, and in areas of strategizing, such as targeting of ads, etc.
At the same time, one should also remember that tracking competitors' PPC ads do not only result in successful ads. As a marketer, you also get to see advertisements that have not worked well. As a result, you not only get an idea of what to do to make an effective advertisement, but you also get to see what should not be done. It saves a lot of time by eliminating the scope of testing.
To find competitors' ads, you can go to Google Search, enter the targeted keywords, and look through the listed ad copies—but this is time-consuming. A better approach is to make use of PPC tools for competitor analysis. You will find the best tools that will help you see your competitors' ad copies and provide you with additional competitor insights, such as the amount of paid traffic, missed keywords, ad budget, etc.
PromoNavi is a digital marketing platform that combines a variety of tools to help PPC advertisers improve their PPC performance and reduce time spent on routine tasks.
PromoNavi's competitor analysis tool, PPC reporting tool, Keyword Planner, Campaign Builder, and PPC Optimization tools allow you to make the most of your digital marketing efforts.
Features
With Promonavi's Competitor Analysis tool, you can export your competitors' adverts, such as Search, Display, Image, and HTML ads. To do this, enter your competitors' domains and run an analysis.

In seconds, you will get the full report with your competitors' insights. All the ad copies that competitors have been showing for the last 30 days are listed in the Competitors' Paid Ads section. You can move between tabs to look through the different types of ads, as well as download all the ads in XLSX.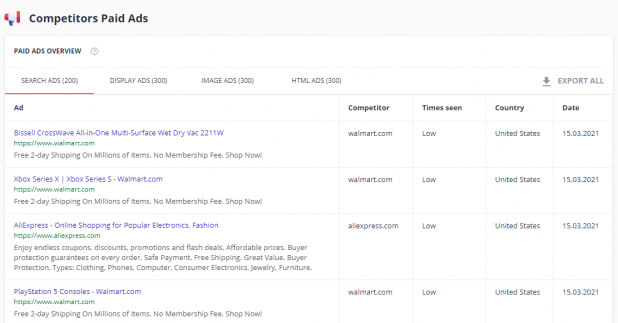 PromoNavi helps you understand the scope of your competitors' advertising by analyzing how much paid traffic they drive and how many keywords they target. With its help, you can dive into auction insights and understand whether you need to refine your bid strategy, uncover missing keywords to increase your audience reach, or build a campaign based on keywords the system has found.
One more feature is that you can subscribe to your competitors' PPC updates—as soon as they run new ads or target new keywords, you'll receive a notification. Thus, you'll stay up-to-date with your rivals' PPC changes and will be able to timely adjust your PPC strategy.
Pricing
Promonavi offers you a free 14-day trial which you are free to upgrade or cancel anytime you want.
If you decide to upgrade, there are two plans for you to choose from. The Business Plan, suitable for marketers and freelancers, costs $94/month. The Agency Plan, priced at $177/month, fits well to the needs of agencies and in-house PPC specialists. With this plan, you get unlimited access to PromoNavi features.
SimilarWeb's competitive analysis tools help you uncover competitors' strategies across diverse marketing channels and acquisition tactics.
Features
The PPC and digital campaign intelligence tools of SimilarWeb help you benchmark your search ads and display comparative creatives of your competitors to help you improve your paid marketing performance.
It also shows you the competitor brand's best-performing publishers and ad networks so that you can optimize your placement and targeting strategy.
With Similarweb's PPC and display campaign intelligence, you can better understand your share of paid search and display traffic. It also helps you understand and evaluate your investment using a host of industry metrics, such as bounce rate, visit duration, and pages per visit.
Apart from these PPC-focused features, Similarweb's competitive analysis tools also help you understand competitor's marketing mix strategies, their SEO and content strategies, and its affiliates' and referrals' strategies.
Pricing
The free version of SimilarWeb offers five results per metric along with one month of mobile app data and three months of web traffic data. SimilarWeb pricing starts at $199/month per month for the chosen product. The pricing of the premium package of SimilarWeb is subject to consultation.
Ahrefs Content Explorer helps you discover and analyze content ranking on top in your field of operation.
Features
If you want to find your PPC competitors' ads, you can enter your competitor's domain into the explorer to see how frequently they are publishing and republishing content. Using this feature, you will also see the volume of content competitors are publishing.
With Ahrefs Site Explorer service, you can find information on whether your competitors are buying PPC ads and the keywords they are using to bid. You get a full list of PPC keywords that your target website or URL is using.
Also, with Ahrefs content explorer, you can research over a billion web pages, complete with SEO and social metrics. It helps ascertain the value of organic traffic if acquired via PPC.
Apart from keywords, you can also identify websites that are similar to your competitors' sites. You can gauge the quality of their Linkedin profiles. The Ahrefs Site Explorer research also equips you with insights on whether your competitors are doing paid search advertising and where they funnel their paid traffic.
With Ahrefs organic traffic research, you can also identify the keywords that your competitors are ranking for in search advertising, along with information on how much traffic each keyword is bringing.
Pricing
Ahrefs has four price categories. The Lite and Standard package is priced at $99/month and $179/month. Both these packages offer trial services for $7. The Advanced and Agency packages are priced at $399/month and $999/month.
The Semrush PPC Advertising Toolkit helps you plan and analyze your Google Ads campaigns. They offer a variety of analyzer tools facilitating market analysis, keyword research, Ad tracking, and social media ad tracking.
Features
Semrush helps you know your main paid search competitors and monitor your competitors' GDN campaigns on desktop and mobile. It also analyzes the texts and banners your competitors are using. With the toolkit's PLA research facilities, you can unearth your biggest competitors on Google Shopping and know their pricing strategy.
The keyword gap analyzer of the toolkit helps you ascertain the keywords that your competitors target but not you. With position tracking features, you get to track your visibility against your key competitors. You can also discover the key competitors in your niche.
The interactive visual interface of your tool helps you see your competitors benchmarked against each other in the chart. Finally, the keyword-focused tools of the kit help you get CPC, volume, and competition level estimates in one report.
Pricing
Semrush has three plans: Pro, Guru, and Business priced at $119.95, $229.95, and $449.95/month.
Search Monitor offers a comprehensive service with both brand protection and competitive intelligence services combined. Using one platform, you can monitor SEM, SEO, PLA, shopping, and offer content.
Features
With Search Monitor, you can monitor ads in any location. You can discover your local competitors and take actions to protect your brand in the regions that are the most important to you.
The competitive intelligence service of Search Monitor helps you monitor multiple engines, gives you industry performance benchmarks, your market visibility score, and enables you to carry out high-frequency and no impact crawling.
The cross-device feature of your Search Monitor tool helps you monitor display ads both on your mobile and desktop.
Pricing
The display monitoring services of Search Monitor that help you learn where ads are running and what creatives are being used, are priced at $399/month per user. The enterprise-grade services have customized pricing for which you need to consult the company.
Campaign Watch helps you improve your marketing performance with actionable insights on competitors. It also allows you to monitor your competitors and keeps you alert in real-time.
Features
Campaign watch helps you evaluate your PPC competitors' landing page test results. Thus, you can differentiate your offer and increase your conversion rate.
With Campaign watch's services, you can quickly spot differences between A-B landing page testing and take rational decisions on which version is the most appropriate on desktop, as well as on mobile.
In Campaign watch's competitive intelligence dashboard, you can conveniently review the visibility metrics of your top competitors, their average positions, and the new ads or landing page offers they've introduced.
Pricing
You can contact Campaign Watch to know more about their pricing and schedule a demo.
Serpstat positions itself as the growth hacking tool for your content marketing, PPC, and other marketing needs.
Features
Apart from competitor research, it also offers services, such as rank tracking, backlink analysis, keywords research, and site audit.
With Serpstat's competitor research services, you can analyze all your competitors online. You can identify leaders in your niche.
Serpstat tools enable you to keep track of the latest visibility and keyword trends. It also helps you monitor the progress of your competitors.
One of the most enticing features of Serpstat is that it offers you the keyword map of your competitor's website.
The backlink analysis features of the Serpstat tool help keep track of your competitors' backlink strategies. You can also keep a record of your market share fluctuations with Serpstat's rank tracking facility.
Pricing
Serpstat has four price categories. Serpstat Lite and Standard are priced at $69 and $149/month. The advanced and enterprise versions cost $299 and $499/month.
WhatRunsWhere helps you access the accurate picture of the digital ad ecosystem with insights on winning strategies, the performance of competitors' ads, etc. It helps ensure that you continuously track your competitors in a constantly changing landscape.
Features
WhatRunsWhere helps you find out the top-performing creatives in your niche. You can locate and get insights on winning campaigns to enrich your strategy.
To benchmark your performance against your competitors, you can access best-in-class data for five of the largest online markets.
With WhatRunsWhere, you stay updated on the ins and outs of your competitors' display ad strategies. WhatRunsWhere also helps you understand the nuances of the key trends across multiple devices and marketing channels.
Pricing
The platform has three price categories. The basic plan, available for desktop and native channels, costs $299/month. The full-coverage plan that works on both mobile and desktop and native channels costs $399/month.
You can leverage Adbeat to not only see competitor ads and messaging but also analyze their sources of traffic, the publishers they are working with, etc.
Features
You can track the most profitable publisher of your competitor, its top-performing copies, and landing pages. You can schedule automated notifications to instantly know about your competitor's new campaign launch.
By comparing different competitive sets and overlay visualizations side by side, you can easily spot the differences between a successful campaign and an unsuccessful one.
You can use Adbeat's services across multiple devices, such as iPhone, iPad, Android, and Android tablet. It offers wide coverage spreading across the entire advertising landscape with coverage for native ad networks and pre-roll video ads.
Pricing
Adbeat has three pricing plans. The standard plan costs $249 per month, whereas the advanced plan costs $399.
Using Seranking, you can also get insights on your competitor's most profitable ads from data compiled from Google Ads marketing campaigns, competitive keyword ads, and monthly ad history.
Features
You can review pages and subdomains targeted in competitor campaigns to know which pages bring the most organic and paid visitors to a website.
Apart from identifying your PPC and SEO competitors, you can also review competitor distributions in organic searches and paid traffic.
The platform helps analyze keyword overlaps between your website and those of your rivals. You can also study the traffic and keyword competition between your domain and the domains of your competitors.
Pricing
The services of Seranking have three price-categories. The Optimum plan is priced at $31/month. The Plus plan costs $71/month, and the Enterprise plan costs $151/month.
To Wrap Up
Now you know about 10 tools that can help you to find your competitors' PPC ads and provide in-depth competitor analysis. Please keep in mind that these platforms are not similar. For example, PromoNavi is more than just a toolkit—primarily it is a digital marketing platform for PPC advertisers, marketers, and agencies that helps improve PPC performance. To leverage this platform, you should link your Google Ads or Facebook Ads account, and the system will provide you with profitable insights on how to improve your PPC performance. Moreover, you can make changes to your PPC accounts straight from the PromoNavi interface, saving time on routine actions.
Other types of platforms are classic toolkits, such as Semrush, Serpstat, Seranking, etc. You use them to uncover helpful insights, but these platforms don't provide you with recommendations on how to boost your PPC performance.
Whatever platform you choose, don't forget to carefully look through the options you are given for a specific pricing plan. There may be limitations on the number of lines in the report, the number of users or some features may be cut. Of course, you can upgrade your plan if needed, but it is better to know in advance what features you will get.