Customer preferences are evolving every day, and so is marketing. Nowadays, a good marketing strategy is a perfect blend of translating your brand's vision into valuable conversions through the right targeting, lead generation, measurable SEO, and community growth.
This article will explore the topic of co-marketing. We'll discuss how to run co-marketing campaigns that will generate conversions and build long-standing relationships with stakeholders and prospects.
What is Co-Marketing?
Co-marketing involves two or more brands working together to execute joint promotional campaigns as a team. Co-marketing is everywhere, and brands from across the verticals are tapping into its potential.
Let's simplify it with an example. Think of a company that manufactures furniture and another that does workplace interiors. The two brands could collaborate to deliver a unique range of office furniture or, even better, exciting work-from-home 'must-haves' because it's always good to hit the trend.
One of the most successful and wittiest co-marketing campaigns of 2021 (so far) has to be the Heinz and Weetabix collaboration. Yes, we all cringed at the sight of this food match, but it went viral for all the good reasons!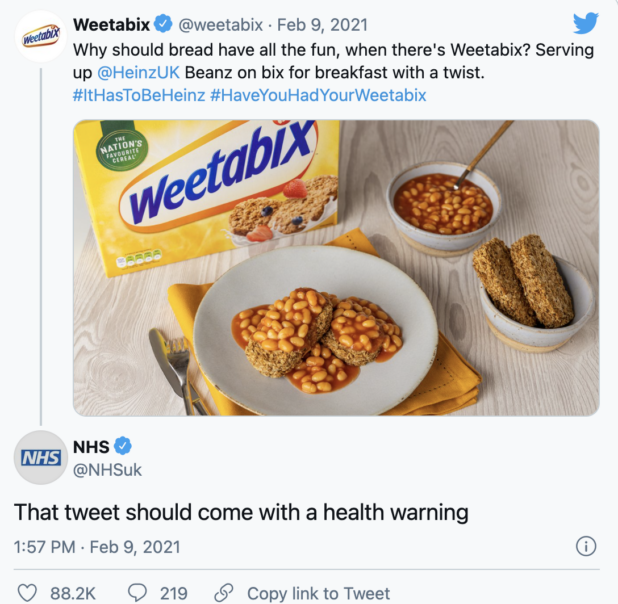 As a brand, co-marketing opportunities allow you to deliver unique content that promotes both parties. The best part is, co-marketing doesn't look aggressive or a forced marketing gimmick. The trick is to choose your partners wisely and design a campaign that's both relatable and relevant to your target audience.
What are the Benefits of Co-Marketing?
A study by PwC and IAB highlights how businesses are gradually shifting towards collaborative strategies over the past few years. Based on the research, brands spent over £554 million in 2017 on partnerships. That pretty much summarizes the importance of co-marketing.
But if you're still wondering what those specific benefits are, I'll enumerate them for you.
For one, leveraging new partnerships across various business verticals means having more talent working on the same project—yours and your partner's.
Additionally, partnering with another business allows you to tap into their customers, meaning wider reach and traction. With co-marketing, you also share the risk and increase your marketing capacity as you split a campaign budget with your partner.
How to Select a Co-Marketing Partner?
It is fair to say that choosing a co-marketing partner is very much similar to choosing a life partner, someone with whom you would share your work life. Check how your partner can complement your technical expertise or strengthen your resources and, in return, how you can be of value to them.
Finally, once you've made up your mind to close the deal, it's time to address the next big question—-How do you plan a perfect co-marketing campaign? A strategy that effectively tackles all the complications and gets you the best results. We've got some tips for you in the next segment to help you hit the right track.
How to Create Your Co-Marketing Campaign
We've established that co-marketing is a brilliant way to refresh your marketing approach altogether. We know that joining forces with a new firm is all about bringing together the best of both your worlds to create something unique and mutually beneficial. Here's a step-by-step guide to creating your co-marketing campaign.
1. Choose a Possible Partner and Pitch the Idea
Choose quality over quantity. Rather than carpet-pitching to a group of companies, do your research to handpick an influencer that matches your campaign objectives. It's best to get into the shoes of your potential partner and understand the challenges that you can offer to solve as a partner.
So, how exactly do you make your pitch? Well, it's simple, really. Just shoot your potential partner an email.
Always remember to be real and logical while pitching your brand story to the target stakeholders. It's crucial to ensure that your partner is a part of the big picture and you are aware of their goals as well.
In this example, the writer is looking to get access to a new product so they can write a review about it:
Hi [potential partner's name]!
I hope you're doing great. I'm [your name], and I write a blog [link to your blog], which has a monthly traffic of [impressive figure here]. I've long been a fan of your brand. I noticed you're planning to launch [name of product] soon, and I was hoping I could try it out so I could write a review about it. You'd get great exposure on my blog, which caters primarily to [potential partner's target audience]. My readers are genuinely interested in how [name of product] works and the benefits it can give them.
If that partnership interests you, do let me know so we can discuss the details.
Thank you!
[Your name]
P.S. I thought your interview with [name of interviewer] was really great.
Notice that the email is short. Your potential partners are very busy, so don't make the mistake of sending them a 24-paragraph email detailing who you are and what you do.
You can discuss the collaboration details in the next email if they respond favorably to your proposal. For example, if you sell online courses, highlight key points about your site and its reach rather than focus too much on the course content.
2. Set Mutual Goals
The next step is to decide on the mutual goals that you wish to accomplish with your partner. When you work towards similar things as a team, it helps your strategy be that much more effective.
While setting up your mutual targets, make sure to define measurable performance indicators so that you can analyze and track your progress. The good old SMART strategy is the best way to set your mutual goals.
You might remember the famous LEGOLAND and Volvo collaboration when the two giants joined forces to create an interesting marketing campaign around road safety. The pitch had one clear objective, to position Volvo as the "Official Car" of LEGOLAND and collaborate with theme parks to deploy a series of creative safety awareness events.
One thing that is particularly interesting about this partnership is its relevance quotient. Both the brands leveraged a timeless cause with a mass appeal and were highly relevant to their target audience.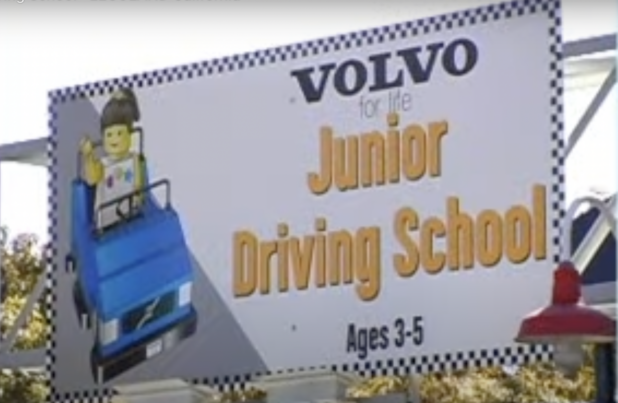 In co-marketing, it is important to hit the right cord that resonates with both parties. In the case of Volvo and LEGOLAND, the collaboration came as a natural extension as both the brands shared a common goal, nurturing responsible future leaders who care about road safety.
Their campaign goals were also well aligned with the SMART strategy. Here's how!
The two brands agreed on a number. The strategy targeted to touch base with 3- to 13-year-olds and aspired to drive at least 1.3 million annual visitors to the California theme parks within a year. Here we have a perfect goal strategy- everything in black and white based on realistic data findings and within quantifiable measures.
In a nutshell, before you kickstart your co-marketing campaign, let your partner know what's on your mind and understand their vision. In this manner, you will see how you can complement your partner's business and set up SMART business goals together.
3. Settle on the Topic Theme and Timeline
Once your goal strategy is in place, it's essential to structure your content plan accordingly. It's a great practice to create a standard worksheet stating all the key data points (topic, theme/message), roles, and responsibility for the entire team (from both the brands) to refer to and work seamlessly.
Next, assign your designated team members to initiate the content creation. Typically, it is good to split the content strategy between partners, meaning one party writes and the other designs, if the collaboration involves co-creating content.
Understanding your customer's standpoint and market research will help you deliver quality content and drive meaningful conversions. Today, content marketers deploy a variety of techniques to learn about their customer preferences.
While finalizing the content, don't forget to focus your energies on creating the next stage's assets—the promotions. Once the content is done and approved, you need to start populating the content, such as the shared landing page, emailers, social media posts, blogs, and event pages. Not to mention, working with multiple teams usually takes longer than a normal content creation process. Hence, planning will help you save time.
4. Create an Official Agreement
Like every partnership, a co-marketing strategy cannot be executed without an agreement between both parties. Therefore, it is advisable to have an official agreement right from the very beginning. This way, you have a document to refer to if any miscommunications happen. Here's a list of few things you should include in your agreement:
Goals: the shared objective you would like to achieve with your partner
Budget: the total amount you are set to spend on a campaign together
Timelines: the time frame in which you are planning to execute the campaign
Deliverables: the final outcome that you target to deliver from a particular campaign
Content dissemination platforms: the types of platforms you are focusing on to distribute the content like social media, emailers, etc.
Confidentiality clause: to document the information in confidence and protect it in accordance with the security measures within teams
In a nutshell, a partnership agreement clearly states all the steps that two parties will take to exchange products or services. This would include joint marketing, promotions, and legal information about the campaign. Once you have decided on the terms, you are all set to carry out your co-marketing strategy.
Bottom Line
Collaborating with a brand that matches your vision unravels immense opportunities for you to market your products and grow your community in a new landscape. But, of course, no co-marketing campaign is flawless, so when the campaign comes to an end, make sure to retrospect and review the results to learn from your experience.
A robust co-marketing campaign is all you need to create value for your audience and facilitate your brand's growth. The article covers all the necessary guidelines to deliver the same: Choose your potential partner and make your pitch, set mutual goals, settle on the topic theme and the timeline, and create an official agreement.
You just need to follow all the right steps for a successful marketing collaboration that yields results.