Product taxonomy/hierarchy refers to the classification system for products. It is a system of organizing products with similar characteristics. Creating a product taxonomy for your ecommerce site is important as it helps online visitors navigate the site.
Here are some tips for creating the ideal product hierarchy for your ecommerce website.
1. Understand Your Product
You should understand your products to properly categorize and organize them. A product-focused approach will help you create strong taxonomies.
You must know about the features and types of products on your ecommerce store. This will help you in properly organizing and categorizing the products that will create the best impact for your ecommerce website.
2. Demographic-based Taxonomies
You can also create categories based on demographic data. Consider creating separate categories for products targeted to male, females, single, married, and senior individuals. You can also create categories based on the age and income of the target market.
Find out what products are suitable for your target customers. The approach will help you organize and categorize the products to create effective taxonomies.
3. Location-based Taxonomies
Consider adapting your product categories based on locations. Customers in different locations may have specific preferences.
Consider different versions of the Nike.com website. The Switzerland version of the website has the 'Collections' category as shown below.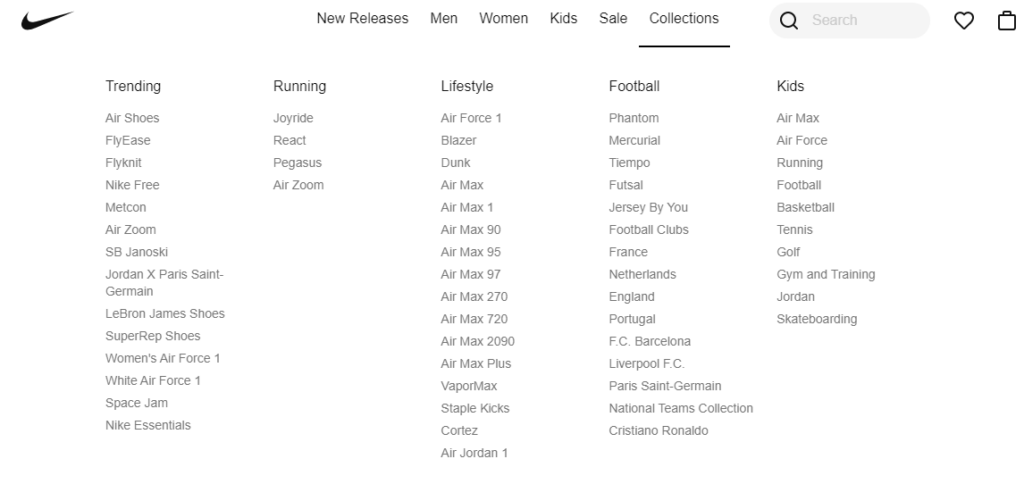 In contrast, the Australia and UK version of the website has a 'Back to School' category with entirely different products. 

You may create the same taxonomy for customers in specific regions. For instance, customers in the UK and France will probably have the same preferences. Optimizing the products as per geographic location will result in the best impact for your website.
4. Taxonomy Based on Behavioral Data
You can leverage online users' behavioral data to know which product taxonomy gives the best results. Consider using heat-maps, EEG, time spent on a page, bounce rates, and conversion rates to find out the behavior of online users.
Behavioral data will allow you to optimize your taxonomies for products. It will let you create a taxonomy based on products that are popular among customers.
5. Create One Category for Each Product
A common mistake when creating product taxonomy is to assign multiple categories to a product. This will create confusion for customers. Moreover, it will also create problems for you in stock management, reporting, and purchase orders.
An exception to this rule is when creating a category for products that are on sale. A recommended practice is to add a SALE button that directs customers to products that are offered on discounts.
6. Avoid Using 'Misc.' Category
Another common mistake is using the 'Misc.' or 'Other' category for products. Your customers are looking for a specific category of products. Creating a sub-category of products will be more helpful for online users.
Your goal should be to categorize each of the products on sale on your ecommerce store. You should not leave the customer confused by adding products to the 'Other' category.
7. Don't Create Too Many Categories
Another mistake is to create too many categories for products. Creating a lot of categories will appear confusing to online users. It will also make the website look messy which will create a negative user experience.
Consider creating no more than fifteen categories for your products. Remember that the aim of creating product taxonomies is to streamline the online customer journey. The goal should be to simplify navigating your website.
8. Move from General to Specific
Your product category tree should have a clear hierarchy. It should move from general to specific categories and not the other way around. For instance, if you sell shoes on your online store, you should not subordinate men and women categories below the shirts category.
You should consider online product taxonomy similar to the product placement on physical stores. The parent category of your ecommerce store is the aisle while the sub-category is the shelf where the products are placed.
9. Optimize for SEO
Consider adding keywords in Meta details of the product taxonomies. Adding relevant and targeted keywords to your taxonomies will help in search engine optimization (SEO) of the ecommerce site.
You can use tools such as Google Keyword Planner to find out high impression and relevant keywords. You must add keywords in headings, description, and meta tags. Moreover, you should also add keywords to the product URL.
The best practice when optimizing for SEO is to avoid overstuffing. For instance, the following is a keyword-stuffed URL.
https://best-shoes/classic-shows/affordable-shoes
You should aim to include only one keyword for each product category. Avoid keyword stuffing as it can lead to a penalty for your ecommerce site.
10. Test and Adapt Taxonomy
Experimentation is important when creating a product taxonomy for your ecommerce store. You should test and adapt the taxonomy continuously. Consider A-B testing of your site to find out which has the best impact. The approach will allow you to create effective taxonomies that bring the best results.
The process of testing and adapting should be continuous. As the organization grows, you will have to modify the taxonomy to meet the changed needs. This will ensure that the product taxonomy has the optimum results for your ecommerce website.
Bottom-line
Organizing and categorizing products will facilitate search and site navigation. People can easily find products they want to buy. Moreover, they will more likely make repeated purchases when products are properly categorized and organized. The above tips will help you create the ideal product hierarchy or taxonomy for your ecommerce store.
If you have trouble creating taxonomy or hierarchy for your online products, you should consider hiring professional copywriting services to create effective categories and product descriptions. Professional content specialists will optimize the taxonomy for SEO and customers. Content specialists will also guide you about what is inbound marketing and how to use product taxonomy to make your products visible online.