The past 2 years were wild indeed! For many brands, it was a very challenging time full of uncertainty. Trying to find the balance between promotion and sensitivity, especially in the first months, was near-on impossible.
However, the best brands managed to find their way pretty quickly. We've seen some awesome social media campaigns out there ever since the pandemic started.
As the months passed, we've had a chance to look back and learn from previous experiences.
Get inspired by these 4 amazing social media campaigns of COVID times!
Getty Museum's #MuseumChallenge
Dressing up as famous art? Count us in! The Getty Museum was probably the most successful art institution in mobilizing its audience. It has been challenging their followers to recreate famous works of art with objects and/or people they have around themselves.
The rules—according to the Getty Museum's Twitter account—were simple: Choose your favorite artwork. Then, find three things lying around your house, and recreate the artwork with those items. Share it.
The Getty Museum has received thousands of entries, ranging from classical and renaissance masterpieces to modern art. The results are amazing and are worth checking out when you have a free minute.
Why Getty's Museum Challenge Worked
It was a campaign that truly engaged—whether you were an observer or a participant. User-generated content (UGC) is always a hit with social media users because they feel the brand sincerely cares about them.
It establishes trust and social proof for brands and creates a community around their products and services.
And, it gave social media users something to do over a lockdown evening with Getty providing entertainment and distraction for art fans worldwide.
Buzzfeed Tasty's Saturday Night Seder
Let's talk about live videos for a minute.
This form of communication has reaped massive benefits for brands over the past months. It helps brands to communicate with their audiences in-the-moment and create a more human connection with their customers.
Buzzfeed Tasty (most commonly known for its delicious short and snappy recipe videos) tapped into the medium to encourage their audience to connect online when they couldn't connect with others in real life.
At the same time, they added another layer to the whole proceeding: charity. The Live Seder event brought together musicians, comedians, and celebrities as part of a fundraiser to help people who had been affected by the Covid-19 pandemic.
Thanks to this event, they have raised funds for the CDC Foundation COVID-19 Emergency Response Fund.
The event was promoted across several different social media platforms and aired Live on YouTube and Facebook at the same time.
Why Buzzfeed Tasty's Live Seder Event Worked
Live video was the perfect medium for reaching people while they were stuck at home. Not only did it make them feel a part of something, but Buzzfeed Tasty's audience could get involved in something bigger than themselves.
The brand knew that a live video would hit the spot with viewers—especially since video forms a crucial part of their everyday content strategy.
Hello's BC Explore BC Later Campaign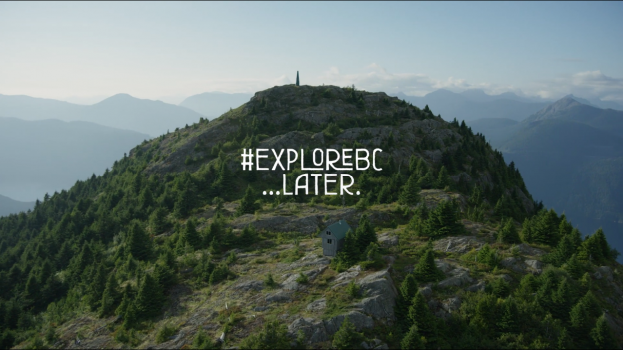 Tourism took a real hit during the COVID-19 pandemic.
Tourist boards around the world were flummoxed at how they could continue to raise awareness of their destinations without coming across as insensitive and tone-deaf.
Many simply did nothing.
But that wasn't an option for Hello BC.
Instead, the brand launched their #ExploreBCLater campaign that highlighted the need for social responsibility during trying times. It was a twist on their usual #ExploreBC hashtag that created a space for travelers to share their stories of BC and live vicariously through user images and videos.
As well as UGC, Hello BC also shared posts from industry partners and kept BC front of mind so that when travel restrictions are lifted, it's the first place people want to go.
Why Hello BC's #ExploreBCLater Campaign Worked
The pandemic was never going to be an easy time for tourism boards.
Promoting a destination that's not accessible is an almost impossible task, but Hello BC managed to get the tone just right. They continued to celebrate the beauty of BC through traveler pictures and industry partners to keep the love for BC alive.
And we had something to look forward to.
Guinness' Stay at Home Campaign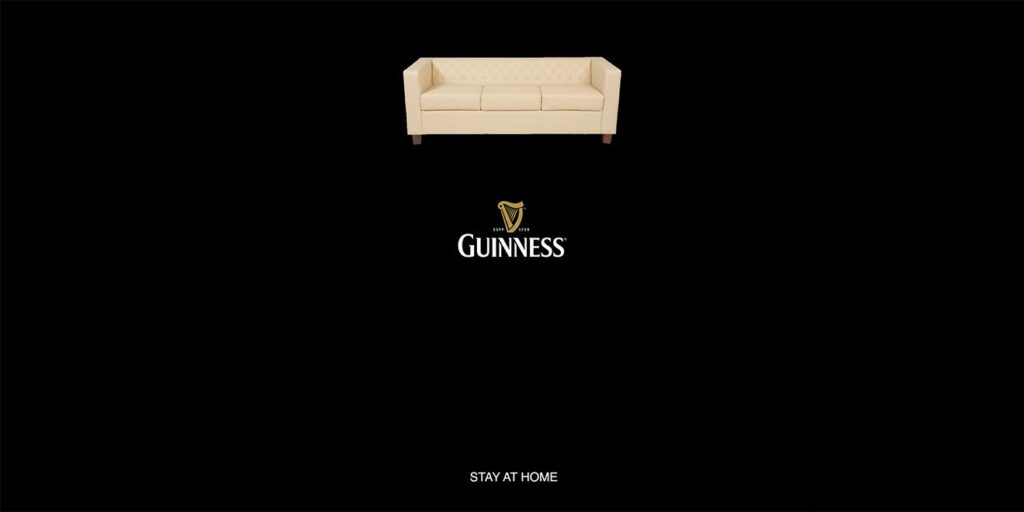 When the pandemic hit the world, we were all facing a huge amount of uncertainty.
However, many brands didn't let it paralyze them. Marketers were proactive and tried to use their talent to help spread hope, positivity and powerful messages. And Guinness was one of them.
Created by copywriter Luke O'Reilly, this concept Guinness ad is being praised online for its simple perfection.
It uses a technique called invisible branding which uses well-known images and replaces them with perfectly placed objects to create an optical illusion. Thanks to the illusion, your brain has to fill in the gaps.
In this case, the iconic pint of Guinness' foam head has been substituted with a sofa, in the signature creamy colour, of course. The middle is stamped with the old Guinness logo and harp icon, and a simple, well-positioned 'Stay at home' message at the bottom provides all your brain needs to complete the image.
Why Guinness' Campaign Worked
This ad is a very creative way of spreading the message 'Stay at home', fabulously combining humor and an important call to action delivered with sensitivity. It perfectly taps into the nation's mood during the pandemic and makes them feel connected.
Also, let's face it: such ads work because of years of investments in Guinness branding, awareness and engagement.
COVID Was a Challenge Accepted for Social Media Campaigns
The past 2 years were challenging years for most of us.
For a while, it was a minefield for brands that didn't want to come across as insensitive or playing the Covid card too much.
But we think the brands here got it just right. From Tasty's live videos to Guinness, this year might have been the most fruitful and creative year yet when it comes to social media campaigns.
Many brands also started using social media for social selling and moved from traditional ways of selling online. Ecommerce has become a vital part of the global retail framework too, yet the direct selling industry remains one of the best industries to stay profitable.
Examples used in this article show that in every difficulty lies opportunity.