A caricature is a kind of drawing where a person is drawn with exaggerated or overemphasized features while also oversimplifying other features. These drawings are usually found in editorials or magazines and are most likely based on well-known figures or celebrities.
What is an Example of a Caricature:
Based on the previous samples, caricatures include some overemphasized body parts of a person and use bold lines and colors. These body parts could be significant features that make a person well-known, such as their eyes, nose, lips, and the like.
How Does Caricature Work?
As previously mentioned, caricature works by emphasizing a person's distinguishable features. Besides, what's the point of making a caricature of a person if the drawing isn't recognizable, to begin with?
This is why it's a must to get the elements of the face right and emphasize significant features to get that caricature effect. To make your caricature successful, you can also capture the personality of the person you're trying to draw through various props and different styles.
Furthermore, caricatures don't have to be based on famous personalities. In fact, you can create a caricature of yourself or another person.
How to Draw a Caricature By Hand?
To draw a caricature by hand, you can go traditional using any pencil and paper to make your sketch. You can also draw a caricature through digital art by creating digital caricature through software such as Photoshop.
Disadvantages of Drawing Caricature by Hand
Of course, if you're not a skilled artist, to begin with, drawing a caricature from scratch will be a difficult task. It will take some practice to polish your drawing skills and get the output you desire, so constant practice is essential if you want to create a caricature that looks like you or the person you're trying to create a caricature of.
How do AI Caricature Makers work?
AI caricature makers work by using tools and techniques where machines produce caricatures based on how artists typically draw. For instance, a particular system would use hundreds or thousands of caricatures made by professionals to generate a caricature based on a single photo.
So, if you want to enjoy caricatures but can't make one on your own, it's highly recommended that you use free caricature maker apps that are available online.
3 Free Caricature Maker APPs for Caricature Lovers:
Of course, suppose you're not a naturally-skilled artist and still want to enjoy portraits of yourself, family, or friends in various caricature styles. In that case, you can commission an artist that draws caricatures for reasonable prices.
But if you don't have the money to commission an artist, you can also use free caricature apps available online. Below are some free caricature apps for every caricature lover out there, including steps on how to use them.
Caricaturer.io is a free caricature app that you can use online. You can get more than 60 caricature images generated by the app's AI technologies by simply uploading an image.
If you're interested in using this caricature maker, here are the simple steps you can use to turn your photos into caricatures.
How to convert a photo to caricature
Step 1: Start by visiting Caricaturer.io's website.
Step 2: Once the website is loaded, upload or drop any photo of your choice on the "Upload an Image" button.
Step 3: Now that you've loaded your chosen photo, you can click on the upload button to process various caricatures of your image. All you have to do is wait.
Step 4: Depending on your internet speed and other factors, waiting times for your processed caricatures can vary. So with that in mind, you can create an account in order to receive notifications about your photo, even if you're not on the website.
Step 5: Finally, when your caricatures are done processing, you can download them with the styles you prefer.
Step 6: If you want to download all the available caricatures produced by this site, you can sign up (if you haven't done so) for a ZIP download and take the necessary steps to create and verify your account. Once you've done that, you can download the ZIP file which will contain all 60+ caricatures of your photo.
Before and After effects:
Caricaturer.io provides you with a ton of cartoon effects, color styles, and backgrounds to choose from. Here's a sample set of caricatures from the website. Just look at all the fantastic caricatures you can choose from!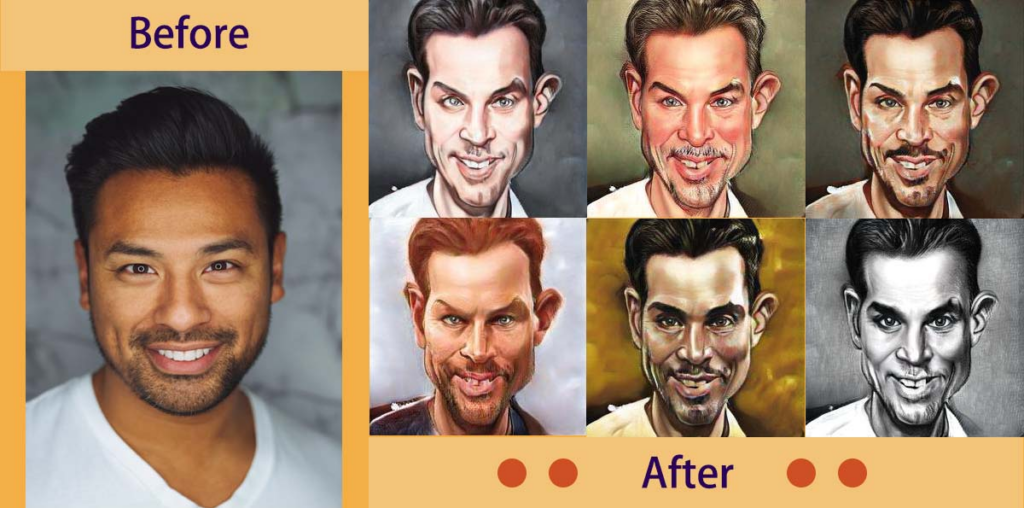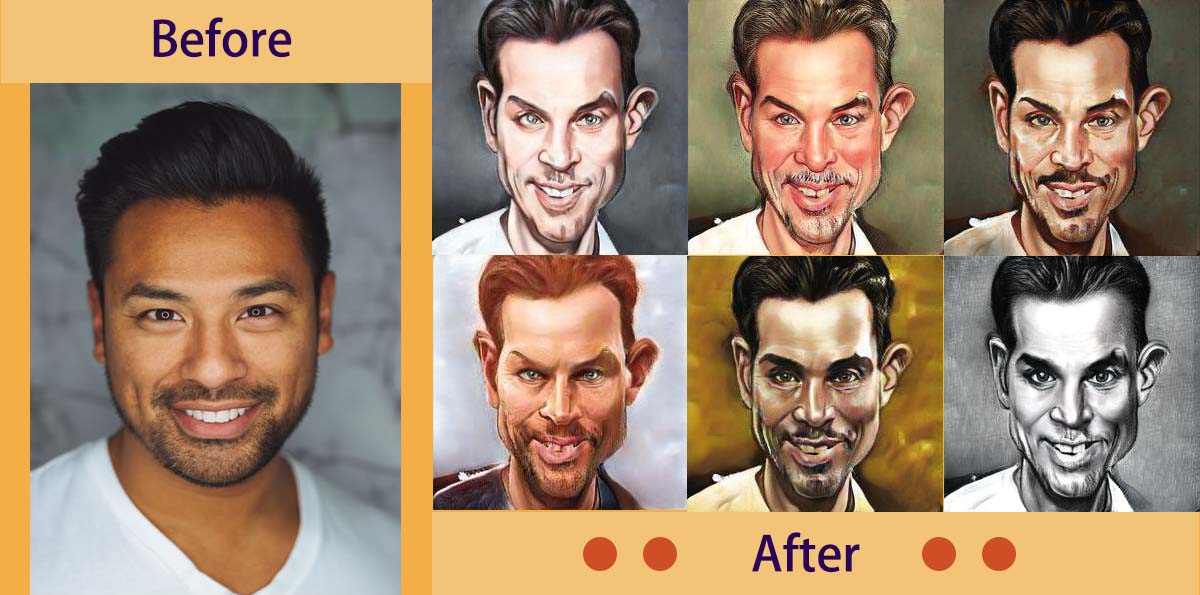 Overview of Photocartoon
Photocartoon.net is another free caricature maker that lets you turn your images into a cartoon or painting.
How to convert a photo to caricature
Step 1: To begin, go to Photocartoon's website at Photocartoon.net and upload your chosen photo from your computer or a URL.
Step 2: After uploading your chosen photo, click on the "Cartoonize Online" button to begin your image's "cartoonizing" process.
Step 3: Photocartoon will now provide you with several cartoon styles to choose from. To choose from different styles, go to the left side of the app to find the box containing the various cartoon styles that you can select for your desired output. You can scroll up or down to browse through several cartoon styles.
Step 4: Additionally, you can also include text in your photo and customize it with various fonts, colors, and sizes by locating the text box at the top-right.
Step 5: If you want to adjust the photo's brightness, contrast, saturation, and hue, you can go to the bottom-right portion of the site to find the Equalizer section. By default, the settings of each aspect are set to zero.
Step 6: Once you're satisfied with the result, scroll down to find the download button to save your caricature.
Before and After effects:
Here are some sample photos created by Photocartoon's app using different styles and adjusted brightness, saturation, contrast, and hue. Look at how the head is oversized from the drawing while still looking like the person in the given photo.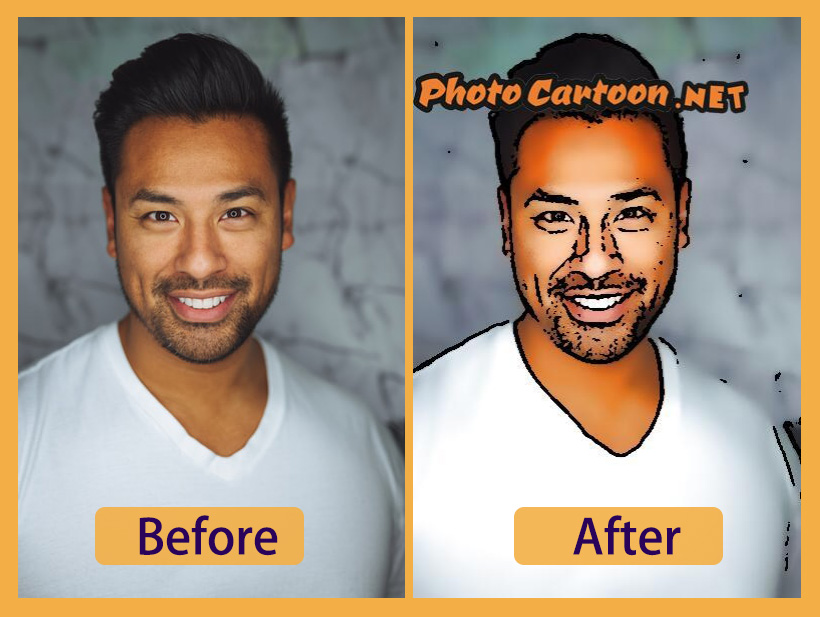 3. Toonme
Overview of Toonme
Toonme is another free caricature maker where you can convert your photo to a caricature online. And just like other previous apps we've discussed and used, it also makes use of AI technologies to turn all your photos into caricatures!
Here's a helpful guide down below on how you can use Toonme to create amazing caricatures of your images.
How to convert a photo to caricature
Step 1: Go to Toonme's website at toonme.com.
Step 2: Once the site is loaded, simply click on the upload button (the blue circle button with the "+" sign) to upload your photo for cartooning.
Step 3: You will now be directed to Toonme's photo lab. From here, you can select a variety of cartoon styles based on your preferences.
Step 4: When you're done choosing your preferred styles, click on the download button to save your created caricature.
Before and After effects:
Voila! Here are the generated caricatures from the Toonme website. Toonme also includes full-body caricature styles for you to try out, where the head is oversized, giving it that caricature effect characterized by such drawings.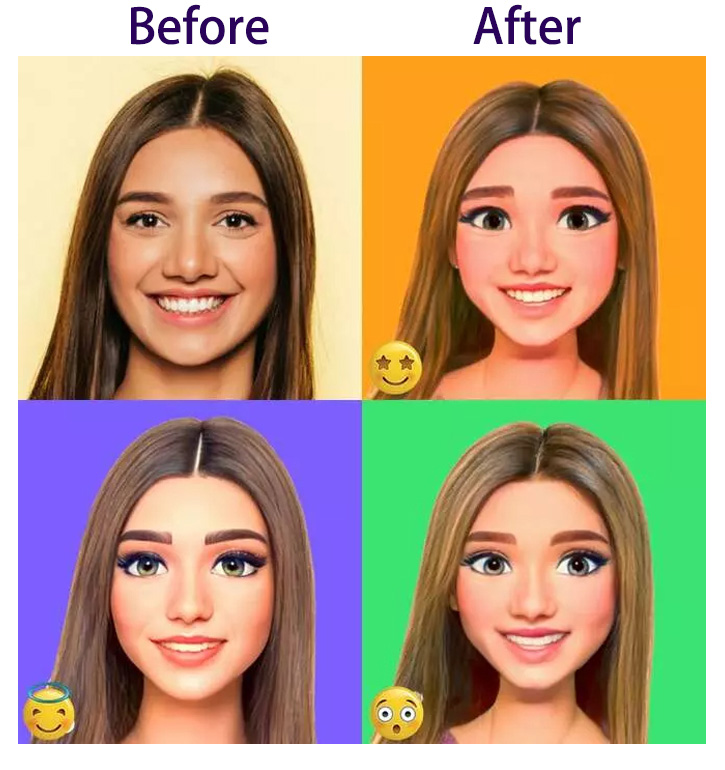 Which is The Best Caricature Maker: Caricaturer.io vs. Photocartoon vs. Toonme
Caricaturer.io wins due to its wide caricature styles produced for you in just a matter of minutes. Besides, all you have to do is upload your chosen photo and let the AI do its work. After some time, you will have over 60 caricatures to choose from and download the styles to your liking. And if you like them all, you can easily download all in one ZIP file.
One downside of using this caricature maker, however, is its speed. The site says that it only takes half a minute or more to finish the caricature-making process, but from my experience, it takes quite a while. This is most likely due to internet speed which can greatly affect the time needed to create all 60+ caricatures.
In addition, another turn-off about Caricaturer.io is its inability to cancel the current ongoing process. For instance, if you wanted to cancel the process and use another photo for caricatures, closing the website doesn't work. As previously mentioned, the process continues even after closing the site, so there is no way to cancel once you've started it.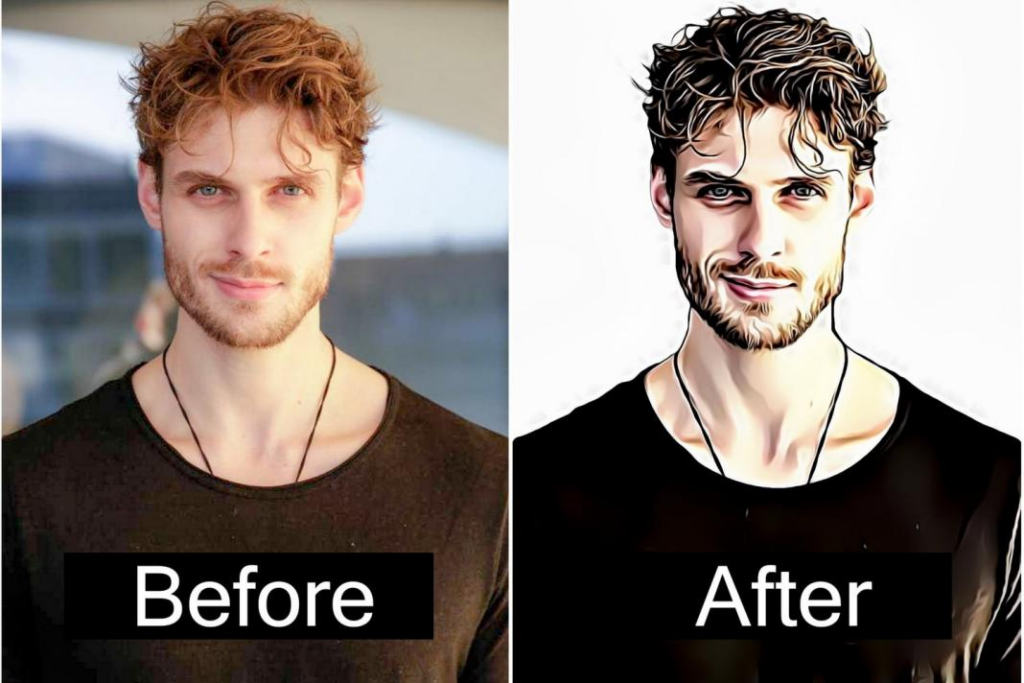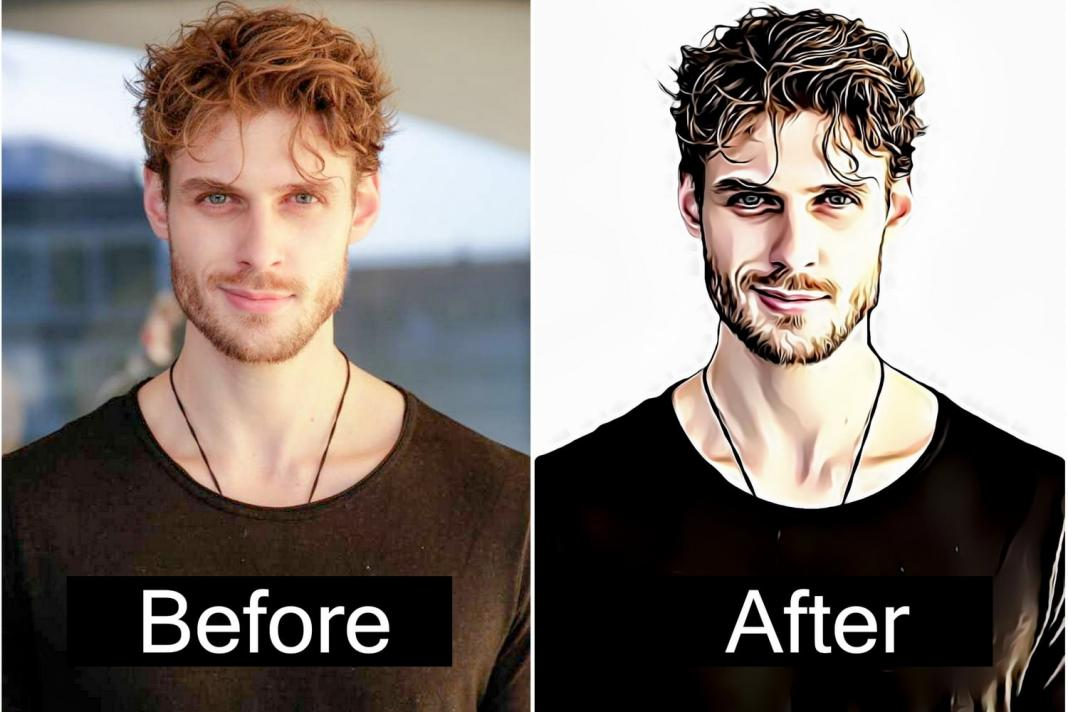 Photocartoon is Preferred
Photocartoon is preferred if you want to further customize your caricature by adding text and adjusting its brightness, contrast, and the like. Photocartoon also comes with several options for cartoon styles and other effects, so using it is easy and fun.
The downside to Photocartoon is its big watermark right on top of the photo which can look very disruptive. To download your caricature without a watermark, you have to purchase the full version of Photocartoon Pro.
Buying Photocartoon Pro will give you watermark-free images, allow you to download HD images, and let you produce unlimited caricatures. Photocartoon Pro, however, can only be used with the Windows operating system, so non-Windows users cannot enjoy the pro version's software perks.
Toonme is Preferred
Toonme is the caricature maker for you if you want several styles to choose from and to download a photo with a less disruptive watermark. Toonme is also easy to use and doesn't require prior editing knowledge to generate a caricature of a photo or two.
Besides its website, Toonme also comes in a free mobile app, so you can use it on your mobile devices. So whether you're an iOS user or on Android, this app is easily accessible by anyone who owns a device and has Wi-Fi.
Toonme's stumbling block compared to apps such as Photocartoon is its limited customization options on the website, unlike its downloadable application. Still, the app is free, so you can freely download and use the app and its features as much as you want.
Wrapping Up
Overall, drawing a caricature on your own requires a bit of skill and mastery before you can successfully create one for display, but thanks to free caricature maker apps such as the three above, you can access amazing caricatures free of charge.
It's amazing how far AI technology has come in our generation. Thanks to its capabilities, you can produce cartoonized versions of yourself. So, if you want to create a caricature of yourself or someone else, you can use the above caricature makers and produce your desired caricature in a few easy steps.