Undoubtedly Google reviews play a vital role for businesses. It helps them establish credibility in the market and assists them in building a great brand reputation. Similarly, WordPress also enjoys its own share of popularity. It is one of the best website-building platforms and comes in handy when someone decides to have an online presence.
Businesses often combine these two giants for their marketing purposes and embed Google review widget on the WordPress website. So if you are looking for the tools that help you in this cause, then your search ends here. This blog has listed the best WordPress plugins that provide you with Google review widget. It also provides a simplified embedding process to make it more manageable to embed Google reviews on the website. So without any further ado, let's learn about them. But before that, let's understand some basics about Google review widget.
Google Review widget – Basic Understanding
If you are hearing about the Google review widget for the first time. Then here is a little brief for you about it.
Google review widget is like a functional block on a website. This functional block displays the Google reviews on the website without any hassle. Moreover, displaying Google reviews using the Google review widget showcases them with ease without affecting website speed.
Various WordPress plugins in the market provide you with a dedicated Google review widget. By using these plugins you can easily embed Google review widget on WordPress. Therefore, it helps you to win the trust of your potential customers. The tools mentioned below are the most trusted and efficient WordPress plugins. So without any further ado, let's learn about them.
Best Plugins That Enables Users To Embed Google Review Widget On WordPress
As mentioned above, various WordPress plugins help you in this cause. But for your ease we have filtered some of the finest and best-rated plugins. You can find these plugins easily on the WordPress website, and as they offer a simple embedding solution, you can use them with ease.
1. Google Reviews Widget Plugin by Tagembed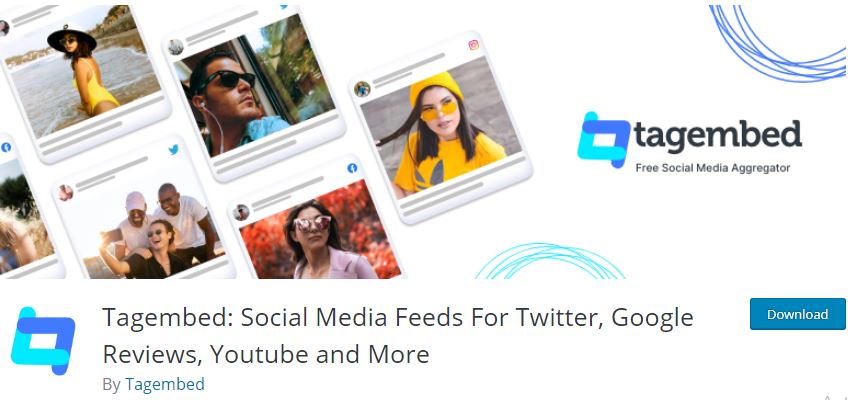 If we ask, what one quality do people look for in a plugin? Some might say its usefulness, some say the features a plugin provides, or some say it should be economical.
The Google reviews plugin by Tagembed is an all-rounder plugin that helps you collect, curate, customize, and display social feeds from 19+ social media platforms into your website. The plugin is effective, easy to use, and fits all marketing budgets.
The plugin provides a dedicated Google review widget. By following some basic and simple steps, you can embed Google reviews widget on the website and showcase your credibility to the world. In addition, the plugin has various features affiliated with it. Some of the major features are:
Key features:
Customization: Allows you to personalize your google review widget as per your requirements. It enables you to modify the widget by changing font style, font size and matching it as per your requirements.
Various themes and layout: Various themes and layouts options help users to choose the appropriate way to showcase their Google reviews. Also, a suitable theme and layout bring professionalism to your website and make it look more organized.
Moderation: The plugin allows you to remove all the reviews from the website feed that you think are irrelevant or mislead your consumers. You can remove them manually to choose to opt for a profanity filter. With a profanity filter, the plugin removes the content, automatically providing keywords.
Custom CSS, custom CTA button, and analytics are some of the other major features of this plugin.
2. Widget for Google Reviews by Trustindex.io

Widget for Google review by Trustindex.io boasts of providing you with an attractive and responsive Google review widget on WordPress in under 2 minutes. In addition, the tool is simple to use and has a user-friendly interface.
Even if you have a non-technical background or do not have coding knowledge, you can still use this plugin like a pro. It does not even require any specialists while in operation.
All thanks to this plugin. You can own a WordPress website that displays Google reviews by following some manageable steps.
Key features:
Personalization: When you add a widget to your website, it is important that it matches your website's look and feel. Otherwise, your website wouldn't look pleasing to your visitors. With the help of this feature, you can personalize the widget as per your need.
Moderation: Consumers often write the name of some other brand as a suggestion while writing a review of some other brand. You can eliminate the chance of showcasing that kind of review on a website while using this feature.
Auto-update: The widget displays the content as soon as it uploads on the source. There is no need to manually refresh the feed to get new reviews for your profile.
3. WP Google Review Slider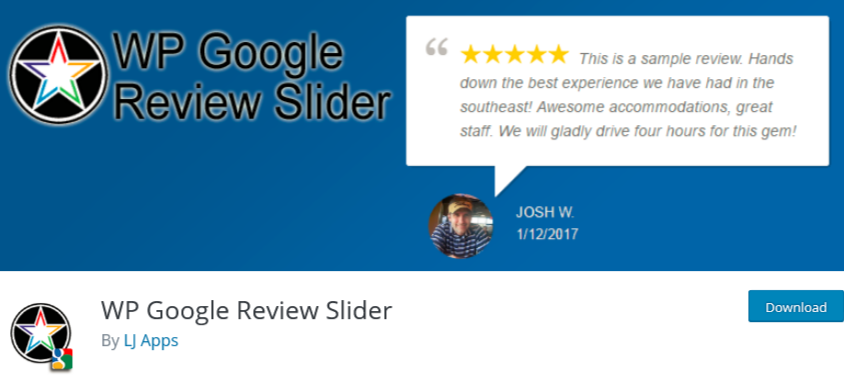 Sliders are a great method to showcase reviews, they take up less space, and provide needed information without affecting website speed. WP Google review slider helps you in this cause.
WP Google review slider is an exceptional Google review widget plugin. It helps you to embed Google review widget on WordPress website with ease. Alongside simplifying the embedding process it also offers various features such as:
Key features:
Various layouts as an option: the plugin provides various cool slider layouts that add beauty to your website. But if you are not into sliders, it also provides you with various other layouts to showcase Google reviews on the website.
Sorting review: the plugin provides you with authority to sort or filter reviews as needed. For example, if you are looking to sort reviews as per date, that means you want the latest review on top. You can use this feature.
Custom CSS, various template designs and more.
Over to You
WordPress plugin store has an ample plugin that offers you with Google review widget. This widget adds grace and functionality to your website. The plugins mentioned above are undoubtedly the best in the market. They help you embed the Google review widget on the WordPress website and provide some amazing features that make them ideal plugins.
So, what are you waiting for?
Go ahead, try them and choose the one that best suits your needs.