Instagram started as a social media platform to share your memories. Over the years, its potential has also been recognized by businesses. Instagram has more than 500 million active users everyday, and 80% of accounts follow at least one business on it. Those are some interesting numbers, aren't they? 
The message is clear — if you want your business to grow, you need to get on Instagram. It can be a great platform to showcase your products or services and build a loyal audience base. Instagram can really boost your brand awareness and visibility.
But for that, you need to ensure that you get your social media strategy right for Instagram. Instagram's algorithm is constantly changing, but it always favors accounts that get more engagement. 
If you get good engagement, Instagram will make sure you get more visibility. Your posts will be more likely to get featured on the Explore page if people are consistently liking and commenting on them. 
But how can you get more Instagram engagement? Let's take a look at a five ways that have helped some of the biggest brands grow their Instagram engagement. 
1. Post Creative and Good Quality Content
Good quality content is the key to increasing your Instagram engagement. If your content resonates with your target audience, they will automatically respond to it. Good content makes your business more memorable too. So you can expect likes and comments to follow.
Instagram is a medium that places a special emphasis on great visuals. You need to make sure you are posting images with vivid colors and thoughtful, engaging composition.
To make your photos stand out, editing is also crucial. If you aren't skilled in editing or you don't want to spend the time editing photos yourself, you can get professional help from apps like Mendr. They have certified pros available 24/7 who will edit your photos for you in a matter of minutes. Just  upload your photos to the app and request the edits you want. Your edited photo is delivered back to you quickly.  
Instagram Stories are also a great way to capture your audience's attention. Social media users have very short attention spans. So you need to make sure that you have an interesting hook in the first few seconds. Try to get as much action or movement in the beginning. This way you can get the audience interested so that they don't just scroll to the next post.
A part of creating quality content also involves the art of storytelling. Good content alone never sells anything. Your audience shouldn't feel like they are seeing promotional content when they looking at your posts. Instead, try to connect with them through compelling stories.
Microsoft's Instagram handles have some really interesting stories. Their posts tell the stories of their partners and show how Microsoft is helping them. Similarly, they also post on Instagram if one of their employees has achieved something noteworthy. This way, they give deeper insights into the company culture. 
2. Post at the Right Times
To increase your Instagram visibility, you need to post content consistently. To maximize your reach, you should post your content at the right times. You should analyze when your target audience is more likely to be active on Instagram. If you post during that time interval, you will have a better chance of getting more engagement.
Sprout Social conducted a study to find out the best times to post on social media channels. They found out that Thursday was the best day to post on Instagram, while Sunday was the worst. Their results are based on how people responded to posts of other brands. 
Your brand may or may not follow the general trend. If you want to know the best times to post for your brand, you can use the Preview app. It will tell you your best time and day to post and interact with your audience. 
This information can be really helpful if you are planning to conduct a big product launch or make any other special announcement. The right timing can help you reach out to a bigger audience and get better engagement. 
3. Use Relevant Hashtags
Hashtags are a great way to reach out to an audience who may not be following your account. If you are using the right hashtags, you will find an audience that is interested in your posts. 
For example, if you are posting related to Wimbledon, you should definitely use #Wimbledon in your posts. Along with it, use variations of the main term too. #Wimbledon2018, #WimbledonChampionship and #Wimbledonmatch are some of the related hashtags that you can use. 
However, generic terms should always be avoided. Terms like #tennis and #lawntennis are also related, but they are too broad. So they won't really attract users who are specifically searching for posts related to Wimbledon.
You should also check the search volume for each hashtag before using it. For trending events, the hashtag search volume is likely to reach the millions. But for other general posts, try to avoid generic hashtags with massive search volumes. Your post can easily get lost in the sea of posts that have used the same hashtags.
Instagram allows users to use as many as 30 hashtags per post. However, a survey by Sprout Social found that posts with nine hashtags get the most engagement.
You should keep a constant tab on your posts to see which hashtags are working well for you. Use them as often as you can in other posts. 
4. Host Contests
Hosting a contest on your Instagram account is an easy way to get more people to notice you. If you are giving away freebies or discounts, more people will be motivated to engage with you. To get your contest noticed, you should follow these tips:
Create a branded hashtag for your contest.
Encourage users to like, comment, and tag their friends on your posts to enter the contest.
Encourage users to use your brand's hashtag on their personal posts.
Give away your product as the prize.
Give discount codes to winners for future purchases.
Earthpix, an Instagram handle that focuses on travel, uses this strategy at regular intervals to grow their Instagram engagement. They partnered with other handles and asked users to follow them.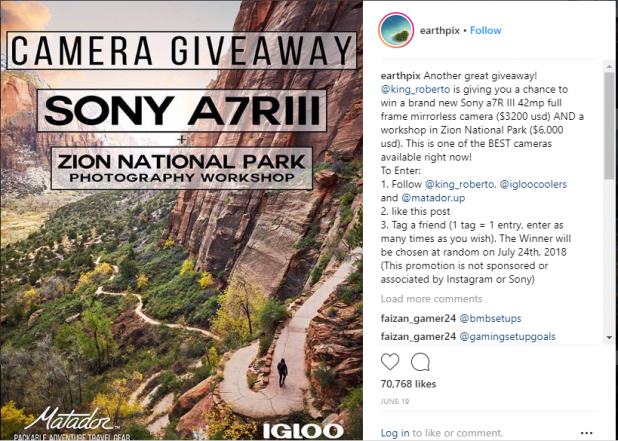 They also encouraged users to like and tag their friends in the post. This way they helped their partners get more followers while also increasing engagement on their own handle. Their post got more than 70,000 likes and 29,000 comments.
5. Encourage Users to Generate Content for You
The best way to advertise your product subtly is to get users to endorse you. Encourage users to post photos, videos, and GIFs with your branded hashtags. Encourage them to tag you in their captions and posts. This way, you can delve deeper into their network of friends.
You can also feature user-generated content on your Instagram handle. Getting featured on your page can be a motivating factor for people to endorse you. This way you can have a diverse mix of content on your Instagram.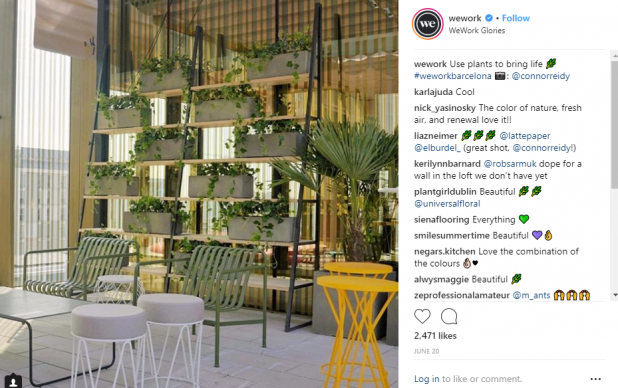 WeWork, a company that provides coworking spaces, features posts from their users on Instagram almost every day. By doing so, they have managed to build a community of Instagrammers who are interested in their content.
Conclusion
Getting your product and services noticed on Instagram is vital to grow a loyal audience for your brand on social media. It can help your brand gain more visibility and brand awareness over time. 
The key to ensuring that your Instagram handle is attracting potential customers is to drive more engagement. Getting Instagram engagement can be a time-consuming process, but with the right strategies you can achieve remarkable results.
Are there other strategies that have helped you get better engagement on Instagram? Please share your suggestions and experiences in the comments section below.