Multi-channel marketing has become inevitable. But some marketers end up suffocating the users by bombarding them with multiple messages, thus choking conversion funnels. While the marketing tools are embraced to drive conversion rate, they end up slaughtering each other. This article will show how you can end the war between your marketing tools and make them work together as a unit to increase conversions.
For good or for bad, we all are a part of a subscription economy. 4 out of 5 people across the UK have at least one subscription service and more than a quarter of them think they will be using more services in 5 years time. 
Marc Andreesen said in 2011 – "Software is eating the world" 
There are now 5,381 Marketing +Advertising solutions to be precise, which is 39% more than last year! 
Adoption of out of the box platforms is on the rise as well. Given the ease that platforms like Shopify, WordPress, Drupal developers across the world are now rolling out point solutions – which is great. With this, marketers are able to put up and scale their business without depending on their developers. It's not rocket science anymore; It's as easy as it can get. 
We are in an era when it takes less time to install plugins/ apps than it takes to make a cup of instant coffee. But what has become daunting, is managing those apps, as they end up colliding with each other. The end result? Bad user experience.
Are your marketing tools cannibalizing one another?
While all the apps claim the same outcome with their unique approach towards leveraging a channel, they seem like they are in combat. The apps end up driving users away, let alone nurturing them to make a purchase. 
Let see an example of a bad UX: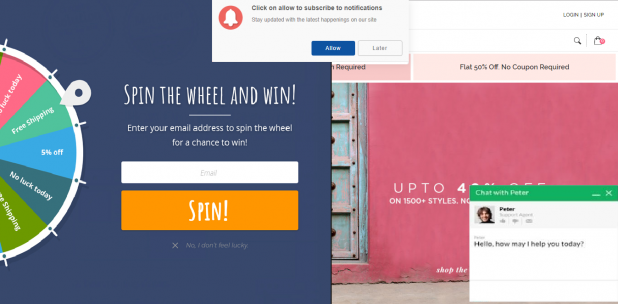 High Bounce Rate.
The brand logo, products are barely visible after 10 seconds, yet the marketer is running campaigns on Google and Facebook.
Imagine having an internet connection that works at a snail's pace. To top that up, when the page finally loads, you are plastered with prompts. And if you are browsing on your mobile phone, don't even get me started. At this point, it's not just that screen that is cluttered. I almost pulled my hair out once. *breathes deeply* 
But now, the human brain has become used to these abrupt prompts, that users end up denying permission without knowing what it was all about. What a pity! All that brainstorming of what app to choose, what copy is used, what the call to action should be, all goes down the drain in a second. 
That's why stacking your marketing apps is critical
In a relay race, runners pass the baton and take turns completing parts of the race course. It's with coordination and support that they are able to finish the race. Similarly, all the marketing tools need to work in sync – towards the ultimate goal. Only when marketing solutions/ tools are stacked one on top of another, will they be able to push the user through the funnel faster.
Only 14% of organizations say they are currently running coordinated marketing campaigns across all channels
Finally, it all boils down to a stellar UX. 88% of online consumers are less likely to return to a site after a bad experience. A bad user experience, makes them feel as if you do not genuinely want to help them but are forcing them to do the desired action. 68% of users give up because they think you don't care about them. 
Apps should be stacked in a manner that allows them to be complementary. What does that even mean? 
Let's break this down into actionables across the conversion funnels- 
Where is the user in the conversion funnel?
What do you want the user to do?

 

What is it that you need to inspire that action?

 

How should you go about doing this?
When should you do this?
How should you reach the user?
Discovery Phase – Browsing website for products
Setting up the right triggers for building marketing lists
For users to actually interact with the prompt, you need to give them time to settle down and not pounce on them when they visit. Yes, I get it. You need to grab their attention once they land on your page, but that doesn't mean that you show them everything you have got all at once. 
Importance of right time, right context
Don't hurry, prompt them at the right time – Once the user has gone through your store and knows what you sell, you can show them a permission prompt.
For example, let's say a user has landed on your store and then checks out the men's collection. After the user spends a considerable amount of time, a prompt can be pushed. This makes sure that the user is interested in your store and has spent some time browsing your products. There is a high chance of users subscribing when the timing is right.
Tell them why they should subscribe – Users need to be told what's in it for them if they subscribe. Just asking them to subscribe doesn't show them the value they will get out of it.
Taking the same example as above, you can tell the user that they can get a first-time discount, or that they will be notified when a new collection of menswear is added (if they are on the menswear collection), or when a product is back in stock and so on. 
Here is what a good user experience looks like: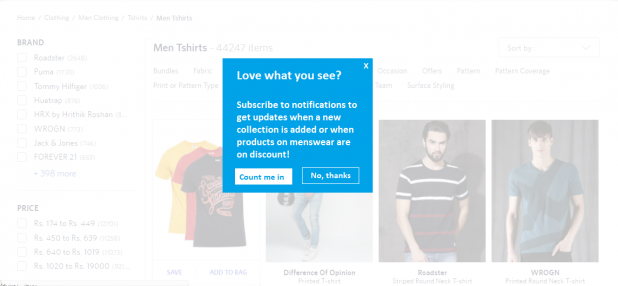 We recommend web push notifications to inform users about flash sales, since given their nature, they perform the best. For announcing a new collection and luring users to purchase, email has been shown to perform well. With email, users are able to get a sneak peek into the kind of products that have been added, helping them to know what they can expect if they visit the store. 
Consideration phase – Users show purchase intent
In this stage of the conversion funnel, users are contemplating or considering if they should go ahead with the purchase. For all you know they might even be checking out your competitor's store as well. But one thing that screams at this stage is a user's intent to purchase. 
In the consideration phase, users add items to the wish list, add items to the cart, opt for back in stock updates and so on. You need to reach out to them to make sure that they don't drop off from there. 
It has been observed that users usually respond better to web push notifications sent 30 mins after cart abandonment. Users can be given a discount coupon or tap on urgency in the second notification that is sent (we recommend a 1 hour gap). If the user still does not convert, an email with all the information can be sent out after 2 hours, followed by another email after 24 hours. 
Your message could contain the product they abandoned, reviews that other users have given the product and so on to convince them to buy the product. This ensures that users are constantly reminded of the product while it is still fresh in their minds, and while purchase intent is still high.
Conversion phase – Users are willing to purchase

 
Cart abandonment overlaps in this stage as well. You need to lure users into buying and convince them this is something that they should definitely buy. Post-purchase communication is something that not many marketers do. This part is critical. 
You need to reach out to them right when they complete the transaction. You need to acknowledge the transaction that they have made, give them a confirmation and also provide them with the delivery details. You also need to keep them in the loop about the status of their order. 
Here SMS can help in providing users with quick transaction details. They can be saved in the inbox making it easier to go back to. Emails can be used to provide detailed information about the product purchased, for review requests of the product once delivered, as well as for encouraging customer feedback. 
Leveraging these apps for your conversion funnel
What channel performs best for end conversions for one store might not work well for another, due to the varied nature of the stores. You need to find out which channel helps you in what stage of the funnel and double down on that. For this, you need to list down your goals, track what channels help you reach them. This makes sure that you don't end up rooting for other channels, where there isn't much scope. 
Listing down your conversion funnel goals and metrics
Your goals will again depend on the kind of product you are selling. If your products are high-end, you will see a longer buying cycle than from a store that sells, let's say eatables. But here is what you should definitely be tracking irrespective of the type of store –
User Engagement

 

Adds to Cart

 

Customers Reaching Checkout

 

Purchase Completions
You can then change the goal details, according to your store. For example, you can increase the number of pages per session or duration, to arrive at the right channel that helps you engage with users.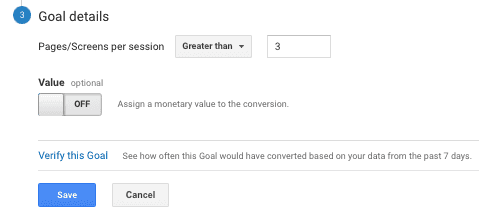 Track which channel performs best for which part of the funnel
Map a typical user journey for your business. Where do users come from? Identify the various touch-points and identify the channels to engage at these touch-points. This ensures that you don't send an email and a push notifications at the same time! 
To track which channel helps you at each stage, you need to create goals. See how you can create goals in Google Analytics. Once you define the goals, all you have to do is track them, to zero down on one channel. Here is how you can know which app you should be using to achieve specific goals:

With this, you can see which channels perform the best for the different goals that you have set. 
Integrated marketing approach
Identify groups of channels that work best together in the conversion funnel
Once you know which channel helps you in each stage, you can optimize your funnel accordingly. Channels can perform their role the best (in each stage of the funnel) and hand over the baton to complete the user journey. It is not only about which channel brought the conversions, but about which channels brought the users to the point of conversions as well. These assisting channels turn out to be the ones that nurture users and bring them one step closer to conversion.
Figuring out which channels are already working together
Here is how you can track assisted conversion on Google Analytics to understand the conversion path: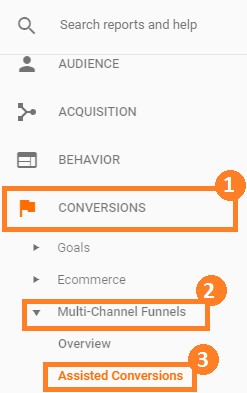 Know how to find out if a channel is an assisting channel or a converting channel in this detailed article. 
Optimizing your campaigns
Campaigns running on different channels for the same objective should be integrated to reap benefits. If you are running a cart abandonment campaign, and have observed that push notifications and email perform well for you, you need to make sure that both do not go out at the same time. You want to encourage them to buy, and not piss them off. You need to stack them one on top of another to make your campaign successful.
There are omnichannel platforms that help do all the legwork for you. All you have to do is find out what channels work best for you in a particular campaign and then stack them accordingly. 
Have you tried bouncing a tennis ball?
Probably we all have. It bounces up to its original height. But, have you put the tennis ball on top of a basketball and then dropped it from the same height? (I swear I am coming to something.) The result might give you goosebumps! 
The tennis ball bounces 10X its original height! I know. It seems crazy. Here's a video you might want to see.
Similarly, when your marketing channels are stacked one on top of the other, they end up creating a supernova effect. Try it out and tell us how it worked out in the comments.