Most businesses understand the concept of SEO and the value it brings. However, building a complete SEO strategy from scratch is no easy task. With the changing digital landscape, you need to modify your SEO strategy according to the latest developments. 
You need to organize your website's content and help Google understand what the user needs to see. By ranking for long-tail keywords, you can improve your website's search rankings. 
Let's take a look at how you can create your website's SEO strategy from scratch for 2019. 
1. Keyword Research
This is the first and most important step in creating an SEO strategy. Start by researching keywords that your audience is likely to search for. These are the keywords you need to target for your SEO. 
Once you've identified these keywords, you can use tools such as KWFinder to find more information about them. You can find their variations and see their search volumes as well as the difficulty of ranking for each. This way, you can narrow down a list of keywords that you need to target.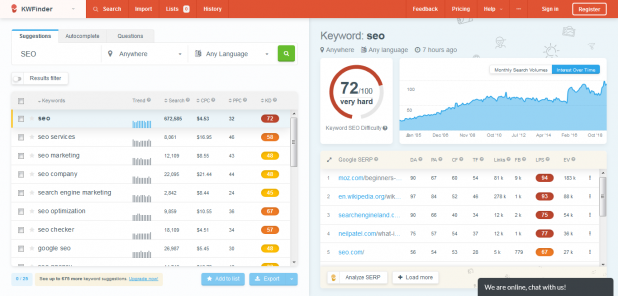 Once you have your list of keywords, you need to dig in a little further and find long-tail keywords. These are ideally sub-topics of the keywords that you've identified. Long-tail keywords help you rank for exactly the topic you've written about. 
For instance, if you create content around the keyword "SEO," you will find it difficult to rank for that exact keyword. Additionally, you may end up competing with your own pages in search results. 
Instead, using keywords like "how to create an SEO strategy" or "easy SEO hacks" can help you rank better in the SERPs.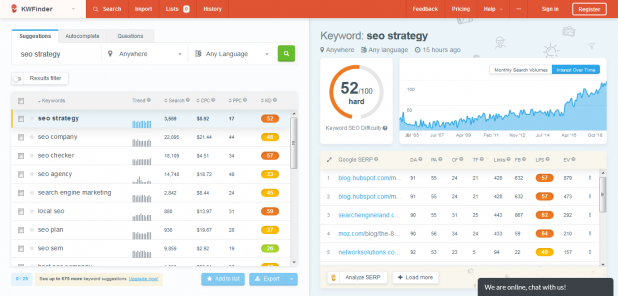 Such sub-topics will create a topic cluster. Google uses these topic clusters to connect people to relevant search results. 
2. Create Quality Content
Once you have your list of keywords and long-tail keywords, you need to start creating content around them. Content doesn't necessarily mean just articles. It can also be videos, webinars, infographics, and others. 
This content should be high-quality and should provide value to the readers/viewers. You also need to use the keywords in appropriate places where Google can find them. Add them to the headers, page titles, meta descriptions, and the URLs as well. 
Informative content which is written well will attract the attention of readers. You must also keep in mind that when you write your copy, that you do not overload it with keywords. Your articles should ideally have a keyword density of about 0.5-1%.
Write the copy for your readers and make sure that it satisfies user intent. This will help you rank better according to Google's RankBrain algorithm. 
The length of your blog posts matters as well and is taken into account by the search engines. Longer articles usually rank higher than ones which are shorter in length. 
3. Optimize Your Visual Content
SEO of textual content might be easy. However, you also need to optimize your visual content for the search engines. 
Unlike text, images and videos cannot be read by search engines. You need to tell the search engines what they contain. This can be done using proper titles and alt tags so that the search engines can read them. 
The alt text provides information to search engines regarding the content of your media files. Similarly, the title text can be used to further describe what exactly the content is about. 
Try adding the keywords to the alt and title text as they can make your content seem more relevant to Google. Images and videos can even catch the attention of people who're visiting your website. So, make sure you use high-quality content there as well. 
4. Build Backlinks
Google uses links between different pages and websites to figure out how they are connected. It is on the basis of these links that the search engine determines the authority of a website. A website's content is considered more valuable when other high-authority sources are linking to it. These links are called backlinks. 
The most simple version of backlinks is natural backlinks. They are the ones that are created without you putting in any extra effort. To get more backlinks, you can reach out to the webmasters of websites in your niche. You can then ask them to include your website's links in their content. 
Approach only those websites which have a high domain authority. Backlinks from these websites will add value to your SEO. You need to keep such SEO tactics in mind when you build links. To find the domain authority of a website, you can use the Moz Link Explorer.
Another great way of getting backlinks is by guest posting. You can write a high-quality guest post on another website and link it back to your website. This way, you'll not only improve your SEO but also get some valuable traffic. 
5. Utilize Social Media Well
SEO doesn't directly get affected by your brand's presence on social media. However, indirectly, social media does affect your SEO. When you post content on social media, it'll be seen by your followers and other people. 
Chances are that some of them may like your content and link your content to an article on their website. This way, you can easily get a natural backlink without much effort. Another added advantage of social media is that you can get valuable traffic on your website. 
When you post high-quality content regularly, people will start seeing you as an authority in your niche. This can not only increase your fan-following but can even increase engagement and traffic to your website. 
You should also regularly interact with your audience. This is because they are the very people who may share your content and increase your brand's reach. 
6. Measure Your Success
You need to continuously keep track of how well your SEO strategy is working. Track your progress on a daily, weekly, and monthly basis to figure out what's working and what's not.
You should analyze the daily organic traffic that you get from searches. Keep track of your backlinks and remove the ones which are broken. You should also check which keywords you're ranking for and which pages are ranking under each keyword. This way, you can find out how successful your SEO strategy is. 
Final Thoughts
As we enter 2019, the digital landscape is only getting more crowded. To stand apart from your competition, you need to plan and execute your SEO strategy to perfection. You need to target the right keywords and produce high-quality content regularly. Build as many quality backlinks from high authority websites as possible. This will ensure that you will rank higher in search results. 
Do you have any other tips to share for creating an SEO strategy for 2019? Let us know in the comments section below.