When done correctly, content marketing can generate amazing results for your brand. It's a cost-effective strategy which can help your brand gain visibility, expand your reach, and increase awareness.
In the case of B2B brands, 72% of marketers reported an increase in leads, and 51% of marketers reported an increase in sales with the help of content marketing. Whereas with B2C brands, 65% of marketers witnessed a growth in their generation of leads, and 58% of marketers saw an increase in their sales by using content marketing.
As you can see, regardless of whether your business is B2B or B2C, content marketing strategies can help you boost the ROI of your brand. 
This post will guide you with three effective and easy to implement ways to boost your content marketing ROI.
1. Humanize Your Brand
The way you present your brand to your target audience matters because it has a long-lasting impact on their minds. You need to establish connections with your target audience at a personal level, so, you need to create content accordingly.
However, make sure that you communicate your brand's values effectively. This will help you increase the awareness of your brand among your target audience and motivate them to visit and make a purchase. This, in turn, will help you generate more revenue for your brand.
To achieve this, you need to humanize your brand. To do so, you can share engaging stories, such as some behind-the-scenes snapshots of your business. Compelling stories also help you establish emotional connections with your target audience.
To create an impact on the minds of your audience, you need to figure out where to share your brand's stories. One of the best and easiest options is to share them on the social media platform where your target audience spends most of their time. 
For example, Intel leverages Instagram to share posts showing their engineers in action. This behind-the-scenes post of Intel gained more than 19K likes. Similarly, you can also share behind-the-scenes stories with your followers.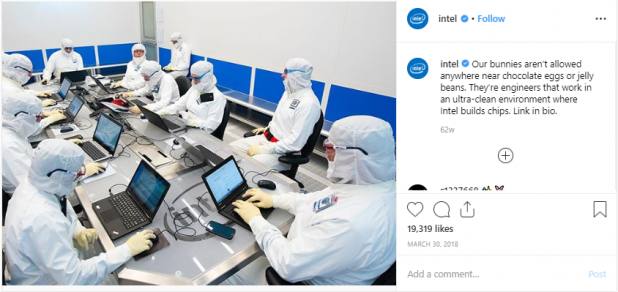 2. Leverage Influencer Marketing
Who else can be better than influencers to create an authentic, engaging, and relevant content for your brand? The creativity and genuineness of influencer-generated content can influence your target audience to make a purchase from your brand. That's why 89% of marketers collaborate with influencers.
You can combine influencer marketing and content marketing for the best of both worlds. 8 out of 10 brands set dedicated budgets for influencer marketing in 2019. Also, when compared to other marketing forms, influencer marketing is cost-effective. 43% of marketers prefer to use influencer marketing for this reason.
You can ask your influencer to write an honest review of your product or service. Also, influencers can organize or promote a giveaway or contest. 
Such tactics can generate high-quality and organic traffic to your website or landing page. This may encourage your target audience to visit your website and make a purchase. Thus, boosting your ROI.
However, to successfully incorporate influencer marketing into content marketing, you need to identify relevant influencers for your brand. There are platforms like influence.co which can help you connect with relevant influencers. It's a community for influencers, where they can show their work and connect with relevant brands.
Fiji Water collaborated with fitness enthusiast, Conrad Louis, to promote their product. The content showed that Fiji is committed to keeping your body hydrated during intense workout sessions.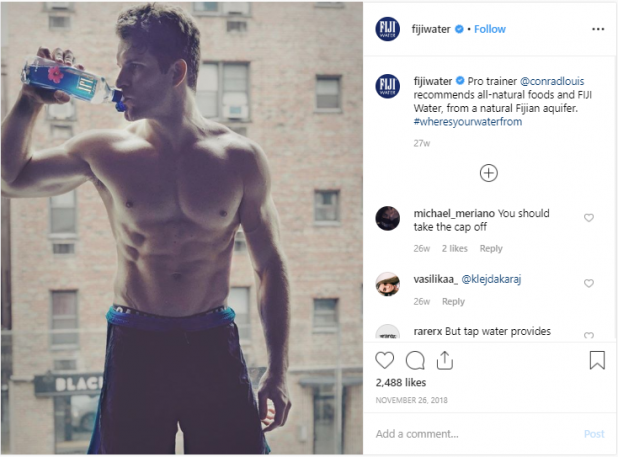 3. Promote Your Content on Social Media
Social media platforms like Facebook, Twitter, and Instagram are quite popular among brands. These social platforms help brands to not only promote their services and products but also to reach their target audiences.
The easy sharing buttons on these social media platforms enable the target audience to share the content with their networks. This, in turn, promotes and widens the reach of your brand. It also helps you build brand awareness amongst your target audience.
Social media platforms are effective when it comes to educating your target audience about your brand. Thus, motivating your target audience to make a purchase.
It also gives your customers an opportunity to share their opinions and reviews about your brand's services or products. Just remember to respond to their comments. This will help you strengthen your relationships with your current customers and it can help you gain the trust of your prospects.
It's highly recommended that you use the social platform where the majority of your target audience is present and spends most of their time. 
However, if you are new to social media, then you may start your content marketing on Facebook. According to State of Social 2018 report by Buffer, 96% of marketers use Facebook for their businesses.
For instance, Zara, a famous clothing brand, used Facebook to promote their all-new TRF collection, which is inspired by the 80s.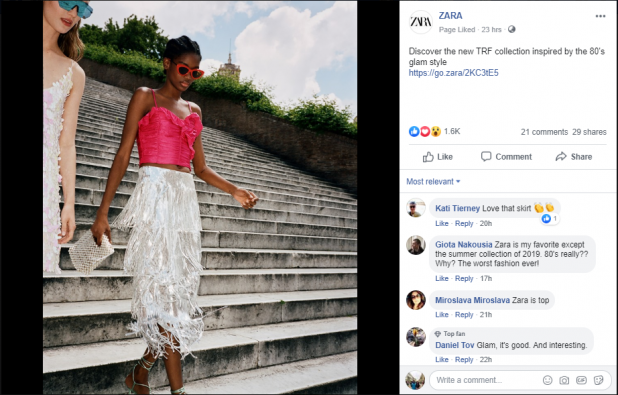 As you can see in the image above, the post gained more than 1.5K reactions in less than 24 hours. In the same way, you can also leverage the most suitable social media platform to promote your brand's product or services.
Final Thoughts
Content is king; let's make peace with it. Regardless of your niche, every brand needs to have a robust content marketing strategy. It will help you build a strong image, increase visibility, boost awareness, and increase engagement.
You can use the strategies mentioned above to generate high-quality leads and increase sales. Thus, helping you improve content marketing ROI. 
Do you know any other effective ways to boost content marketing ROI? If so, please share your thoughts in the comments.