Customer service experience is one of the major factors that influence people's buying behavior and loyalty toward a brand. In fact, a Zendesk study found that a good customer service experience would compel 62% of B2B customers and 42% of B2C customers to buy more from a brand. So by providing good customer service, you could turn more people into loyal customers. 
With that said, a bad customer service experience is even more influential on people's purchase behavior. 66% of B2B customers and 52% of B2C customers would stop buying from a brand if they received a bad customer service interaction. This makes it crucial to avoid customer service mistakes that could negatively affect customer experience.
So here are four of the worst customer service mistakes you should avoid at all cost.
1. Not Being Responsive Enough
Responsiveness is one of the top factors that influence people's customer service experiences. A Sprout Social study also found that responsiveness was the top brand action that would prompt consumers to buy something.
So if you're not responsive enough when customers come to you with an issue or question, you risk ruining their customer service experience. 
Long hold times, taking days to respond to emails, etc. are major causes of customer frustration. You should try avoiding these mistakes as much as possible. 
You can reduce long hold times by opening up other channels for customer service such as live chats, chatbot support, social media messaging, etc. Opening up other customer service channels also means you could significantly reduce the amount of email enquiries, which will be easier to manage. 
If you're low on resources, you don't necessarily have to hire more people to handle customer service either. Investing in a reliable chatbot solution will do the trick. 
For instance, Amadeus, a travel solutions provider, was able to deflect 70% of their customer support enquiries from traditional channels after investing in AgentBots', Aivo's chatbot.. Powered with machine learning technology, the chatbot managed to learn from every interaction, which improved the accuracy of its answers.
2. Confining Customers to a Single Channel
If you only have one channel to provide customer support, you're setting yourself up for disaster. When customers have limited options to get support, it could be a major cause for frustration. 
Let's say that you only provide phone support. This means you'll experience longer wait times and have a lot more frustrated customers because everyone is calling, regardless of the severity of their issue. 
You should deflect some of the enquiries to other channels and make customer support accessible through multiple options. 
In addition to calls and emails, set up chat support and social media support as well. But remember that social media support doesn't just end with responding to people's direct queries. You should also conduct regular social media monitoring to look for posts and comments where people are sharing their bad experiences. 
And even with chat support, give customers the option to use chatbots and live chats. You could start with chatbots to answer basic questions and then give customers the option to speak to an agent if their issue couldn't be resolved by the chatbot. 
You could also have live chat agents available for a specific duration every day, while chatbots take over when your agents are unavailable. 
On top of all this, you should also provide self-service options to your customers. Have FAQ pages available for some of the most common issues so people can get quick answers for minor problems. This can significantly reduce the amount of customer support enquiries, making them easier to manage regardless of the channel. 
For instance, Amazon offers answers to multiple self-help topics to resolve minor issues.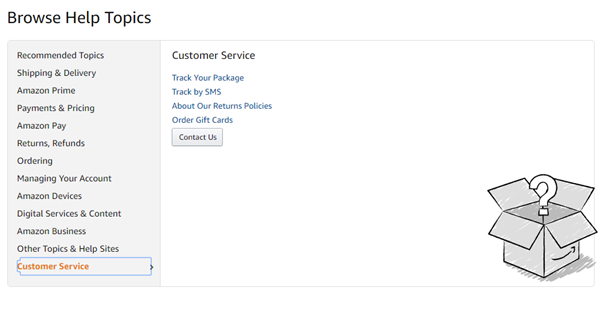 They also offer two options to contact customer service – through chat or by setting up a call.

When you choose the chat option, you get a chatbot asking you basic questions in case it can get resolved without speaking to an agent. Otherwise, it directs you to a live chat agent to handle the issue.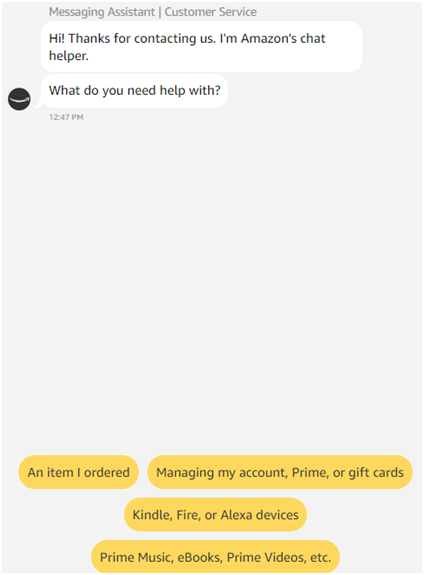 3. Failing to Streamline Your Documentation
Someone calls customer service to follow up about an ongoing issue. They've made the call a few times before and the issue has been logged by customer support. 
However, the caller has to explain the issue and relay the same information for the fifth time, even though the company has already logged the issue. You can imagine how frustrating this scenario would be.
This occurs because you don't have a proper system to unify all of your records and documentation. So customer service reps cannot access the necessary details at the right time, or they have to scour through multiple files to find the right one.
This makes it crucial for businesses to invest in a customer support platform that easily integrates with their CRMs so agents can quickly and easily access customer information. 
This will enable you to deliver more personalized customer service experiences. Platforms like Salesforce Essentials is a cost-effective solution for small businesses to unify all their customer info. This platform will allow you to manage all your customer support tickets in one place.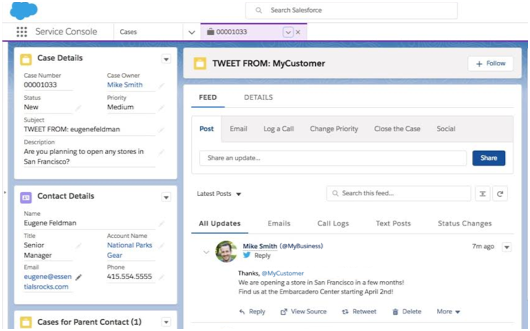 4. Failing to Invest in Your Customer Service Team
Not investing in your customer service team is easily one of the most harmful mistakes that you can make. 
Maybe you're not hiring enough people to handle customer support enquiries. Maybe you're not providing sufficient and ongoing training to your staff. Either way, this could build up and negatively impact the customer service experience you're providing. 
When you don't have enough staff to handle all of your enquiries, you'll have frustrated and overworked employees trying to deal with frustrated customers. 
Without sufficient training, your team may not know the right process to handle delicate situations such as irate customers. They may not even know what to say to avoid angering your customers or how vital their position is. 
So it's crucial to make an ongoing investment in your customer service team. Consult with team leads to understand the unique needs of your team members. 
Perhaps you need to hire more people to ease their burden. Perhaps their equipment is constantly acting up and preventing them from doing their job well. 
You should also organize regular refresher training sessions and show your employees some appreciation when they deserve it.
Final Thoughts
The quality of customer service you provide can make or break your business. Not only does it affect sales, but also customer loyalty. So make sure you find solutions to avoid the mistakes highlighted above and start providing better, more memorable customer service experiences.