Deck the halls with all your favorite gifts of 2020. It's the holiday season, which means it's time for presents. Gifts for your family and friends, gifts for your colleagues, gifts for yourself. December is the most business-friendly month for retail businesses and online eCommerce stores.
You know what I'm going to talk about today, you've read the title of the article. So, let's not waste any more time and get straight to the 10 amazing ways to boost your eCommerce sales in the Holiday season 2020.
1. Offer Holiday Discounts
People are already motivated to buy during the holidays. So, selling will not be a problem; the problem would be selling against the high competition. By offering huge discounts (also keeping high-profit margin) you're eCommerce store will be the most popular online destination to buy holiday gifts.
Remember that the present-day customer is very tech-savvy. It takes less than a minute to compare the same product on multiple eCommerce sites. So, you have to keep offering competitive rates on popular holiday items.
2. Steam Up Your Holiday Season Promotion
Bring Christmas to the desktops and mobiles of your users. Include the festive theme of the holidays into your promotion and eCommerce site design. You can decorate the nook and corners of your site with Christmas trees, elves, reindeers, etc.
Design your in-site banners to reflect the same Christmas spirit. Also, update or revamp your site's content to give the Christmas-y feeling and also increase the chance to rank on Google for holiday search terms.
You can also upgrade your eCommerce app and make it an instant app version that can directly open via a browser. The cost of developing an instant app varies depending on the features you include in it.
Another amazing idea is to host online Christmas games like spot Rudolph every 15 minutes and get an extra 5% discount on your purchase. By hosting such games, you encourage your customers to spend more time on your eCommerce site.
The more they stay, the higher your chances to sell more stuff.
3. Repitch Your Existing Customers
There is a very apt saying among salespersons, "It's always easy to sell someone whom you've already sold once." When you come to think of it, the statement is absolutely true. Instead of trying to convert a new customer for 1 hour, you can easily convince an old one to buy something else in half the time.
This approach also stands true for the online eCommerce businesses that cater to thousands or millions of customers. If you provided an excellent product and  fantastic service, then the user will happily give you more business.
You have an email ID, contact info of your existing customers. Use that and send them updates about new products and deals.
4. Include a Countdown for Offers
In any action movie, the countdown on the bomb creates a thrill and excitement in the audiences' hearts. But this scare tactic is not limited to just film. It's a common reaction to hurry and take quick decisions when you are under the influence of a reverse ticking clock.
We do the same thing in an exam, or rushing to get to a date on time, or waiting in a store line when it's closing time. The last example is what I'm interested in at this moment. The urgency to shop is the same online as it is offline in the holiday season.
So, by showing a countdown clock on a special deal, or free shipping, you can convert around a quarter of the visitors who are confused about whether to buy now or later.
5. Encourage Free Shipping
One of the top reasons that most site visitors abandon their online shopping cart is excessive or unexpected shipping costs added to the bill at check-out. Here is your golden chance to increases online sales this holiday season by offering free shipping on your products. You can set a limit like free shipping on orders above $200.
Giving this extra incentive or feature can be very lucrative for holiday sales. It may be the last thing that buyers found troublesome. So, by offering free shipping, you smooth out the last hiccup in the check-out process.
6. Display Your Top Selling Items up Front
In many ways, the online eCommerce store is quite similar to brick and mortar retail stores. Physical stores have a front wherein during the holiday season they display their best selling items, Seeing these items in the window, many buyers come in to shop.
Your eCommerce site's homepage is your virtual store's front. So, push back the items that are sold less and make room for your top-selling items on your home page. You can find the most selling and trending demanded products from Google Trends.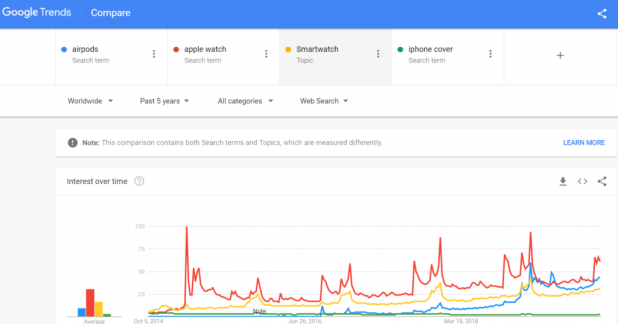 If your users decide to gift some kind of Apple accessory, you need to stock the right ones to sell more. 
According to Google Trends, iPhone covers are the least searched term in this category. Imagine if you had filled a large order of iPhone cases thinking that people would buy a lot – your stock would have been collecting dust.
So, stock and display your top products on your eCommerce website and app according to what is being searched on the internet at the time.
7. Boost Sales with Holiday Upselling & Cross-selling
Upselling and cross-selling are a few of the primary ways that eCommerce stores make money. Especially in holiday seasons like Christmas, Thanksgiving, and the 4th of July, upselling becomes a crucial factor in increasing sales.
Upselling is when you offer a better and more costlier option than what customers are seeing. For instance, if a customer is looking at a beard trimmer worth $50, you show him why a $65 trimmer should be what he's going for.
Cross-selling is when you buy a DSLR camera, and you get the suggestion to buy a tripod, camera cleaning kit, or lens cap. It's the process of selling more items based on your recent purchase history.
So, if a customer bought a $100 XBOX 360, you can suggest they buy a $17 hard disk for XBOX, a $15 headphone for gaming, and a pack of 3 XBOX games for $50. Now, if the user chooses to buy all of it, your sales for this single customer went from $100 to $182.
That's the power of upselling and cross-selling, and you better start it soon to get the most out of each sale. Cross-selling and upselling are not just limited to holidays; they are year-long sales tactics that you can apply to your site.
8. Display the Credibility of Your Products
Some visitors are hesitant to buy gifts online for two reasons. 
One is that they may not get the exact gift that they are looking for their loved ones and may end up buying something slightly different in terms of color, size, or any other preference. The other reason is covered in the next point. 
So, how can you assure your customers that they are buying exactly what they are looking for? Simple, give more details about the product. Today's customer is very smart and wants to learn everything there is to know about the product; the complete physical, technical, and aesthetic information.
You can increase the credibility of posted reviews by including images of the reviewers. Seeing a real face beside a product's review builds more trust in the mind of the customer. 
You can also increase the credibility of your entire site by contacting your security providing organization. Brands like McAfee Secure, Norton, PayPal verified, Trustwave, and SSL Value can certify that your eCommerce website is secure and has a green lock icon that shows visitors that your site is safe from fraudsters.
9. Provide Single-Day Delivery Option
The second reason why people hesitate to buy gifts online is that they may have been late in ordering, and online delivery may take a few days to get to them. By then the holidays may be over. The solution for this is for you to offer a same day or next day delivery option.
If you can promise that the order will be delivered within 24 hours, then the buyer can rest assured and order from your site.
The solution is simple; stock the top sold items in warehouses of your highest selling locations. This way, you don't have to ship them all the way from the manufacturing location to delivery but only pack and send from the warehouse of the same delivery region.
10. Use Past Data to Outsell Everyone
The most valuable currency in the digital world is not Dollar or Bitcoin; it's data. You must have the sales data from last year, study it and find out what sold and didn't sell last year in the holiday season.
By using all the information from last year, you can create a business plan with accurate promotional and logistics strategies. This way, you'll learn from your success and mistakes from the past year and profit the most while selling more than ever.
Stop Thinking & Start Selling
You have all the knowledge you need to boost your business this holiday season. Now it's time to sell. Christmas is the time when stores make 60% of their year's sale, so this season is your best chance to rake in the most money for the year.