I started my marketing career in small companies. Then I went on to work for even smaller, bootstrapped startups. 
The marketing budgets of all these companies were as tiny as it gets.
Then I moved on to open my own digital marketing agency and, more recently, another brand that offers copywriting and content writing services for tech startups, Copywritech. 
Why am I telling you all this?
To emphasize how marketing frugality has been my middle name for years.
If there ever was a way to do marketing or PR for free, I mastered it. And I still use that expertise today.
I still work with bootstrapped startups, so every penny counts when it comes to marketing spend.
Thus, my team and I use a vast array of free SEO tools, for both our content and the content we write for our clients.
Using these tools (along with a single paid one) we managed to help our clients rank for all the keywords they wanted. Check out a case study here to learn how a British company ranks on positions 1-3 through content created by Copywritech.
Now let's get to the matter at hand.
This is the list of the most frequently used free SEO tools in our agency.
Disclaimer: I strongly believe in not overspending on marketing or SEO tools. However, the tools below can only get you so far. So I recommend using them along with a paid tool – just one, you don't need a subscription to every tool out there.
1. The Google Suite
There are several tools here, all 100% but for brevity purposes.
a. Google Search Console
Tie it to your Google Analytics account to keep a close eye on what keywords you rank for and what can be improved. 
Pro tip: take a look at the keywords that rank on page three or lower. Check their respective pages. Can you improve existing content to have them rank higher? Or perhaps you need to create a new blog post or landing page altogether.
Either way, these keywords are real gold mines. They tell you that your website has the potential to rank for them; they just need a bit more work.
b. Google Search
No matter what I'm writing, I never open another tool before performing a Google search on the keyword I have in mind. Yes, the plain, old, simple and free Google search.
Of course, I'm interested in what ranks for that keyword but I'm more interested in the 'related searches' section.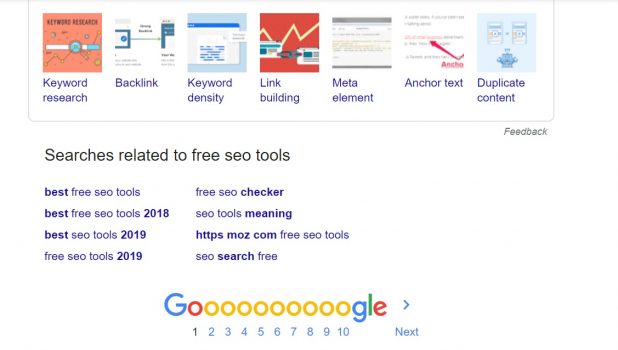 See all these keywords above? Any properly optimized text has to have them all (or most of them, some can be nonsensical and hard to insert without compromising readability).
Pro tip: the ideal blog post has all the keywords from the related searches section as subheadings. This way, you show Google that your text is the most comprehensive one on the topic – you've already covered every similar query people might be searching for.
c. Google Keyword Planner
Google Keyword Planner is designed for Google Ads. But this doesn't mean you can't use it as a free SEO tool.
Simply input your query into Google Keyword Planner and take a look at the suggestions and keyword volume. The grouping feature is also extremely useful if you plan to create topic clusters.
Pro tip: make search volume your last metric to check. You are looking for keywords that show intent, not short keywords that have no business value to your business.
This is a Chrome add-on that replaces Keywords Everywhere, a tool that also used to be free but it's now paid.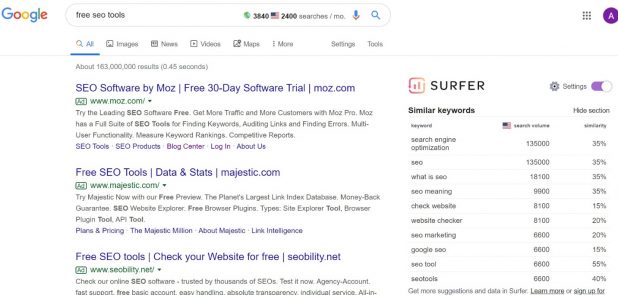 Remember what I said above about a simple Google search at the beginning of every writing project? Well, this simple search becomes more efficient with SEO Surfer.
You can see similar keywords and search volume at a glance.
Pro tip: you can also change the country you get the data for easily. They don't list all the countries out there but it's worth a look if local SEO is your game.
My favorite thing about this free tool is that it uses a wide array of data sources. You see, most tools out there (even the paid ones) use Google Keyword Planner as their source. And they package it nicer than Google.
But Answer the Public gathers data (questions people ask) from sources like forums and social media. It also delivers the data in a nice graph that showcases the most frequently asked questions related to your search: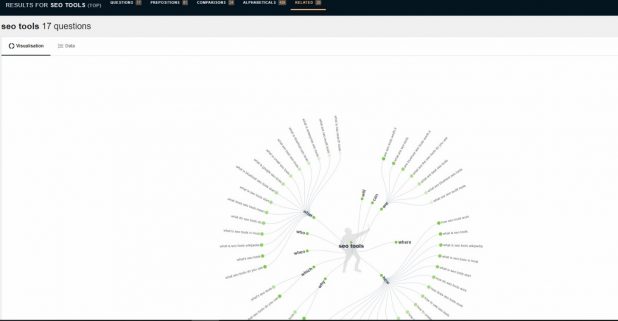 Pro tip: some searches also have the versus option. As in Windows versus Linux. It's pretty useful for comparison posts – you will definitely find some ideas you didn't think of before.
There are a lot of free LSI keywords generators out there. But LSI Graph works best for our team. Especially since its most recent improvements.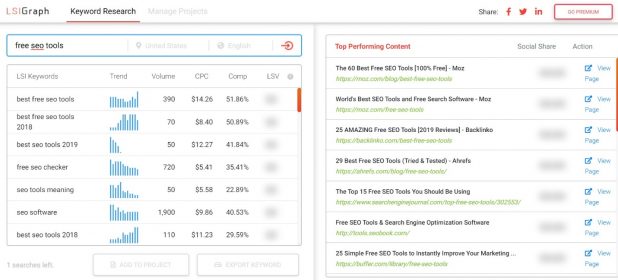 Aside from keyword suggestions, you also get some invaluable data that most tools ask you to pay for: trend, volume, CPC value and, most importantly, the top performing content for every keyword. 
Pro tip: use the Top Performing Content Section to realistically assess if you could rank better than the websites that already rank for your target keyword.
This is another Chrome add-on that's permanently installed on my computer. This nifty tool tells you, at a glance, everything you need to know about a website's SEO. You get an overall SEO score and a detailed view of how they calculated this score.
Pro tip: unlike most tools that simply judge you without any constructive feedback, WooRank also offers suggestions on exactly what you need to do to improve your rankings.
You know how most tools just tell you how competitive a keyword is? Yes, even paid tools do that.
Well, Can I Rank is way better. It tells you exactly if you stand a chance to rank for a certain keyword – where ranking means having your page in the first 20 results in Google.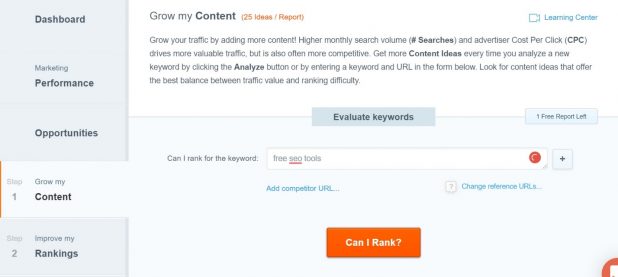 For it to work, you have to connect your website, of course. But you're bound to get some great insights.
Pro tip: the free version has a limited number of reports and searches that you can create. So, if you don't plan to upgrade, use them wisely and just for keywords that are very relevant to you.
7. Keyword Hero
If you were ever annoyed (and I'm sure you were!) by Google Analytics never telling you which keywords your organic traffic actually came from, there is a solution – Keyword Hero.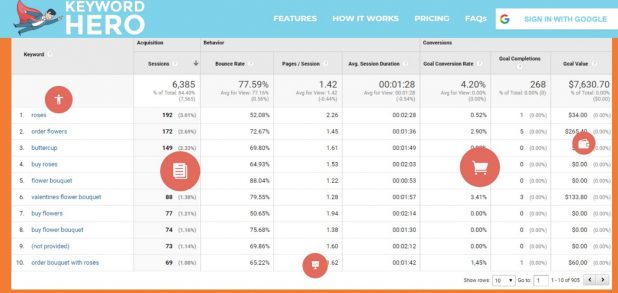 This free SEO tool reveals all the keywords your users searched for to land on your website. The free plan is limited, but it can help you find the top-performing keywords in terms of revenue.
Pro tip: use Keyword Hero with Google Search Console to reveal even more keyword gems.
Wrapping things up
Your content marketing strategy can't be effective without a thorough SEO plan. Use the tools above to get started but above all, use caution and common sense.
No tool can substitute your knowledge of the ideal customer, the topic they want to learn more about and the way they search online. Always keep that in mind for all your SEO tactics.
No time to use and compare all these tools? No worries! You can always let professionals handle everything for you, from keyword research to content writing. My team at Idunn has helped dozens of companies rank 100% through SEO content. Take a look at our copywriting and content writing services and let's talk!