Recently, I got into a discussion with a friend about various stock images websites. 
The conversation started with him raising the question, "What is the safest way to find free images for website content?" 
We had a constructive discussion, and I managed to clear up some of his misconceptions about stock images and informed him about relatively safe sources where he could find them. 
Since I love to blog, I decided to share my thoughts in writing. 
Is it Safe to Use Images from Free Photo Sites?
If you are looking to utilize images from free photo websites for your blog, it is generally safe. However, you must be careful when using them for commercial purposes.
The problem is that many of these sites do not have proper policing procedures and it isn't uncommon for someone to upload another person's work on one of these sites without permission. Now, if you end up using a stolen image for commercial use, you can face legal issues.
Also, you should try to avoid free images where faces of people are visible because they require a "model release." This is a legal document where people give consent to using their photos.
10 Best Free Stock Images Websites
Using stock images for your website doesn't need to be expensive, thanks to some great websites which provide high-quality photos for free. 
The websites I've chosen have a higher degree of trust as compared to other some other sites that may not have proper verification procedures.
Each free stock image source mentioned in this post has different licensing options and terms and conditions. These licenses can vary from one site to another.
Before using photos from these websites, I highly recommend checking out their licensing details and terms and conditions.
Let's dive right in and check out these free photo sites. 
Unsplash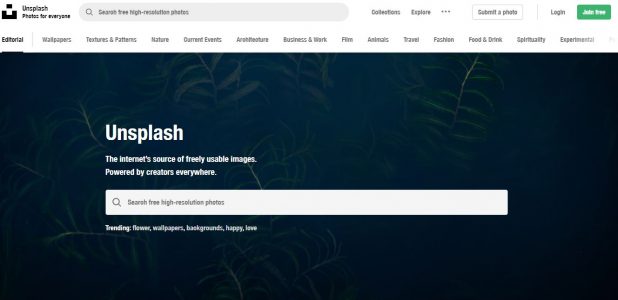 The first one on my list is Unsplash. It is a phenomenal source of free high-resolution images. This website continuously updates new images in different categories. 
You can find images on almost every topic and use them for personal and commercial use.
Unsplash contains attractive and high-quality images that don't require any attribution at all. 
It is also very generous with its licensing terms. They just request a credit for the site and author even though it's not mandatory. 
With a community of over 157K photographers, Unsplash provides a vast library of unique images, which are entirely free. 
Type of License:
Unsplash provides its custom license, which is identical to the Creative Commons License. It means you can copy, modify, and use the image personally and for commercial projects. 
Pixabay

If you are struggling to find an excellent website for images, don't fret because Pixabay has got you covered. 
Pixabay contains loads of high-quality images, which are safe to use without asking for approval or giving credit to the source/artist. 
It is a very user-friendly website and offers an extensive library of images.
Pixabay provides illustrations, vectors, and even full HD to 4k videos that you can use in your custom video teasers or ads. 
Type of License:
Pixabay uses the Creative Commons Zero license. These images are free to use for personal and commercial purposes.
Pexels

Up next is Pexels. It is another free source, which offers stunning images. Pexels is, without a doubt, a smart choice for designers. 
I have noticed that Pexels has a wider variety of images with different categories. However, it does lack in the illustration and vector department. 
This website provides flexible searching options. You can search using various filters like; activities, high resolution, locations, and emotions. 
While Pexels offers high-quality free stock images, there are still some images which require permission before usage. Some of those images include space photographs from NASA. 
Type of License:
The images available on Pexels are under Creative Commons Zero.
PikWizard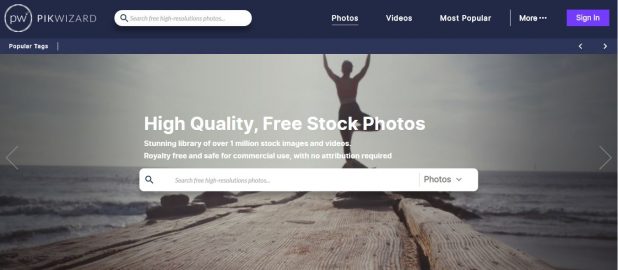 The next one on the list is PikWizard. It has a smart structure and easy-to-use interface which makes it another smart choice for free stock images. 
With a multi optional search bar, you can easily find specific images or videos. PikWizard provides high-quality images on multiple topics. 
The photos on this website come from several contributors, many of whom are stock media producers. 
It is absolutely worth checking out for your next project. 
Type of License:
PikWizard provides its custom license. The images are free to use for personal and commercial purposes. But they have a "sensitive use" clause, i.e., you can't resell its content. 
Life of Pix

Life of Pix is a great looking site that provides outstanding images for any project.
Instead of the tiled layout of most sites, the main page is more like a feed of fantastic photographs.
They also have a "photographer of the week" award, to make sure people who do excellent work are acknowledged regularly. 
In addition, they have a partner site, Life of Vids, which provides access to free high-resolution videos.
Type of License:
The website displays Public Domain images which means the photos are not subject to copyright because photographers voluntarily upload them. You can use these images personally and commercially, but the website prohibits mass distribution. 
Gratisography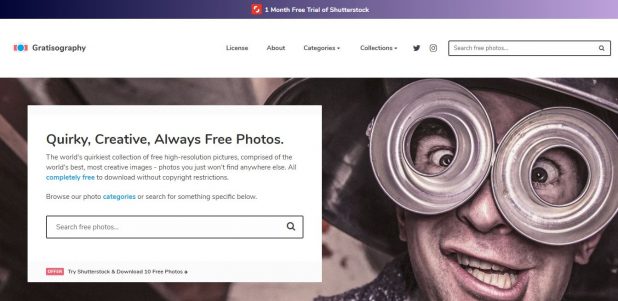 If you are looking for mesmerizing images, Gratisography might be your go to destination. 
Gratisography is a quirky looking site. In keeping with the theme, many images seem to fit the same modern, hipster, quirky style.
You can download high-quality images straight from the front page. You can also filter via genres, which include animals, nature, objects, people, urban, and whimsical.
Type of License:
Gratisography provides a custom license which is identical to Creative Commons Zero. You can use the images for commercial purposes, but it also has a "sensitive use" clause. 
Stockvault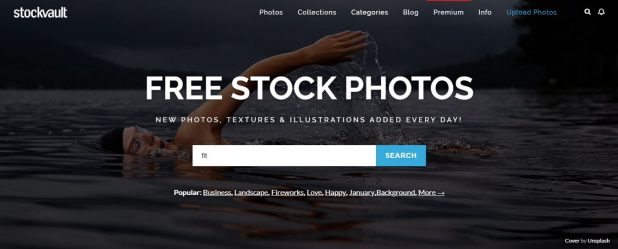 Stockvault has been providing fantastic free stock images since 2004. They offer over 138,000 ready to use, high-quality photos. 
Stockvault offers both free and paid stock images. It is a well-designed website which allows you to access pictures available in different categories quickly and efficiently.
One of the best things about this website is its blog section. They have a fantastic blog for each image category.
Their latest blog posts include "textures" images. These include dirty paper texture images, grunge, grunge rusted, and grunge duotone texture.  
Stockvault accepts and publishes only high-quality photos.
Type of License:
Stockvault offers images under three licensing options. Non-commercial license, commercial license & creative commons zero CC0. 
Picjumbo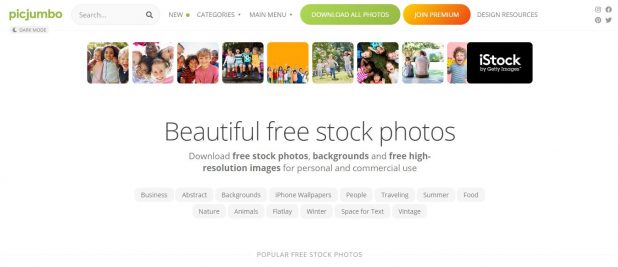 A charitable fellow named "Viktor Hanacek" runs Picjumbo. 
Picjumbo offers both free and paid stock images. With a premium account, you get access to never before released photographs as well as an additional 30 new photos per month.
These images cover multiple popular themes which are entirely free. 
Type of License:
Picjumbo offers images under Creative Commons Zero. You can use these images for commercial projects. Make sure to check out its "faq and terms" page before using images for commercial use.
Kaboompics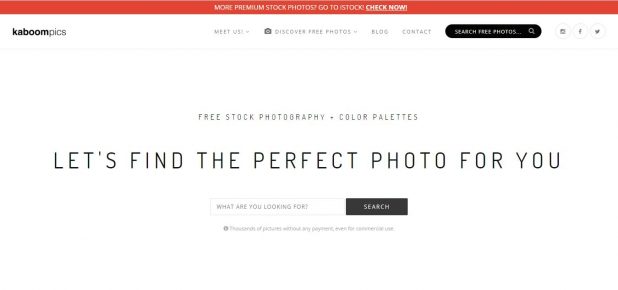 Kaboompics is an excellent website for free stock images. It makes the bold claim of expressing itself as a "Visual Explosion."
It is an incredible site and has an excellent, feature-rich search engine. The site provides free high-quality images with natural feel on multiple subjects.
It also provides the color palette for every image and you can download and use the palette as well. 
Type of License:
Kaboompics has a custom license, which grants permission to use images freely for commercial purposes. But you are not allowed to resell the photos. 
StockSnap.io

Stocksnap has a vast range of high-quality free stock images. You can search via image tags as well as using various filters such as trending, views, downloads, and favorites.
They also have their image editing and retouching software called Snappa that you can download and use for free.
The library is built based on user submissions, and all images are free to use.
Type of License:
They use Creative Commons Zero. StockSnap.io allows free usage for commercial and personal purposes. 
While there are plenty of sites to acquire free images, you should always pick the ones that are the most trustworthy. And prior to using images from these sites, don't forget to check out their licensing details and terms & conditions.