Blogs are a great way to connect with people. You may have come across many famous blogging sites like HubSpot etc. They have loads of information on almost everything. 
So, how do you start a blog of our own? 
Well, first you have to choose a niche and it's always a plus if you have a passion for it. Most Bloggers usually start by writing on a particular genre or a specific niche. 
Whatever your interests may be, it's important that you choose the right blogging platform that is suitable to your requirements.
You have various options to choose from and there are many blogging tools available to help you with creating fantastic articles.
In this post, I'll give you details of ten of the best blogging platforms with their pros and cons. 
Let's dive right in.
WordPress

First up on the list is WordPress. Introduced as a blogging platform, WordPress later evolved into a go-to CMS platform for every niche. No wonder that WordPress has a 60% share of the global CMS market and runs 35% of the internet.
For many reasons, WordPress is the most used blogging platform globally. WordPress is a free & open-source platform with flexible options to transform your website into an e-Commerce or Social Media platform, and whatnot.
There are 55k+ plugins & 3k+ themes available for WordPress which enhances the functionality of any website. Whether related to security, images, SEO, or any other aspect of your website, WordPress has plugins for everything.  
Using various page builders, you can design visually appealing web pages conveniently.
WordPress is ideal for both beginners and professional bloggers.
Pros:
Lots of plugins and themes to choose from
SEO friendly
Highly scalable according to the needs of your website
Cost-effective
User friendly
Easy to update
Responsive design
Customized themes
Highly flexible
Cons:
You need some coding skills to fully customize your website.

 

You have to choose a domain name and web hosting.

 

You have to ensure you are not using vulnerable plugins or themes that can compromise your site's security.
Blogger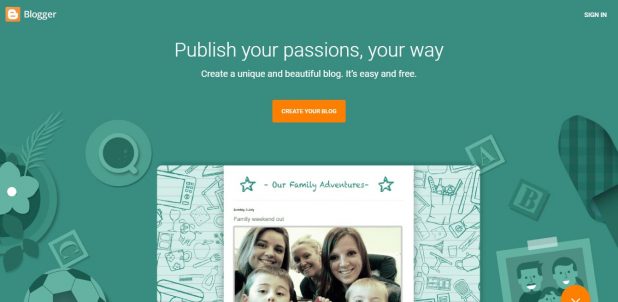 Known to be one of the best blogging platforms for beginners, Blogger has a vast collection of themes, which you can use for free.
It's a partially free blogging platform. You can get premium services for a fee. The user-friendly features and various options make it easy if you don't have coding knowledge. 
You have to pay for a custom domain name otherwise your domain address will be yourname.blogspot.com. If you want to earn, the platform allows you to place advertisements, but only if you are approved by Google AdSense. This rule applies even to a free plan.
Pros:
High-level security
Easy Management
Free blogging platform
Allows Ads
Anti-spam comment feature
Cons:
Blogger provides limited blogging tools and options.
There are a few design options.

 

No integration with third party apps and services.
SquareSpace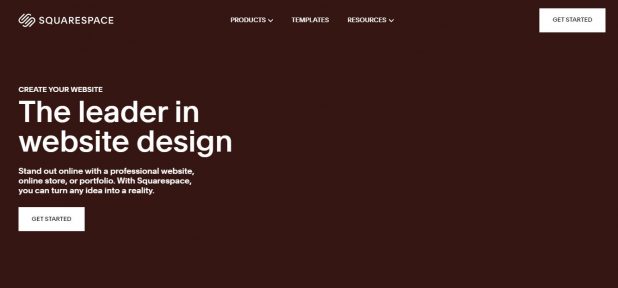 SquareSpace is quite a versatile blogging platform. You don't require coding skills to create a website. It is an amazing head start for beginners.
This platform offers a wide range of customization options so that you can create your website the way you want it to be. Though the platform doesn't allow 3rd party extensions, it is a perfect choice for small businesses that want to build their online presence with a simple to use platform.
Pros:
Simple to use

 

Convenient management
Variety of professional templates to choose from.
Custom domain and hosting included
Beginner-friendly
Built-in SSL encryption
Cons:
Limited number of pages and contributors are allowed in the free plan.

 

Limited marketing tools
You don't have access to 3rd party extensions
Wix

Launched in 2006, Wix is another popular blogging platform. It offers a wide range of templates for your blog.  Compared to WordPress, a  Wix site doesn't require regular maintenance.
You can easily create your website for free, but if you want to get a custom domain name, then you have to buy a premium plan.
This platform is user-friendly for both beginners and professionals. You can get started right after creating an account. The content you create with the platform is supported for portable devices like smartphones and tablets. You can't, however, change the template once it is selected.
Pros:
Easy to use interface
3rd party apps and templates are available to customize your site
Quick and easy to set up
Secure
24/7 support
SEO friendly
Cons:
Limited options & features in free account
You can't change a template once its selected
Difficult to migrate your website to another host
Weebly
Weebly comes in with an easy drag and drop interface that helps to build your website quickly and easily. You can create a professional-looking website by following a very few and easy steps. 
Weebly's free plan has limited customization options. However, you can still add customized keywords, titles, and Meta descriptions quite easily.
Pros:
Simple to use
You can preview the features before you publish
Drag and drop functionality
Integrates with Google analytics
SEO friendly
No coding or maintenance allowed
Cons:
Limited features in free account
Difficult to export your site
Limited third party integrations
Joomla

Similar to WordPress, Joomla is an open-source, free CMS platform for your business. As compared to the other platforms, it is slightly complicated. It can use Joomla extensions which are similar to WordPress Plugins.
This platform provides easy customization options and offers a lot of themes and plugins. You can easily edit any theme according to your requirements.
The best part is that it is a multilingual website, and you can publish your blog in different languages. 
By running your own advertisements, you can also make easy money.
Pros:
Very flexible and suitable for creating different types of websites

 

Numerous professional looking templates to choose from
You can make design changes easily
Cons:
No automatic updates
Not beginner friendly
You have to pay for support options
Requires knowledge of coding

 
Live Journal
Live Journal is an online community & social network. You can connect with others and share your thoughts with people. 
Live Journal is a blend of publishing blogs and social networking sites. You can create your profile and publish posts about your interests and photos similar to Facebook.
You can conveniently use this platform for publishing your blogs. It doesn't require any special payments.
Pros:
Anonymous publishing
Add features with a paid version
Simple to use
Customizable templates
Cons:
Advertisements in the free version
Basic themes
Basic features
No professional templates
Ghost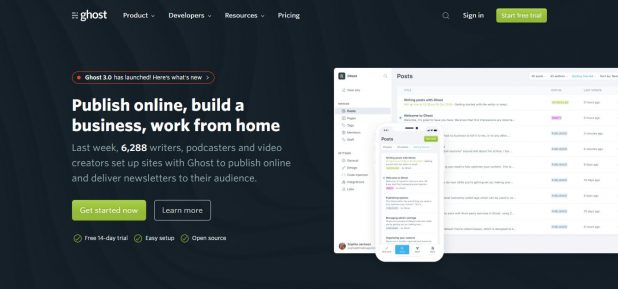 If you want a seamless authoring experience, then Ghost is a smart pick for you. It is an open-source blogging platform created in 2013. 
It provides a clean publishing experience without any hassle. It is easily customizable and has quite a simple user interface. 
Pros:
It is super fast because it is built on JavaScript
Free & simple to use
Built-in SEO and social media capabilities
Zero setup for hosted version
Cons:
Limited themes and plugins
Self-hosted version setup is difficult
The Pro version is expensive

 
TypePad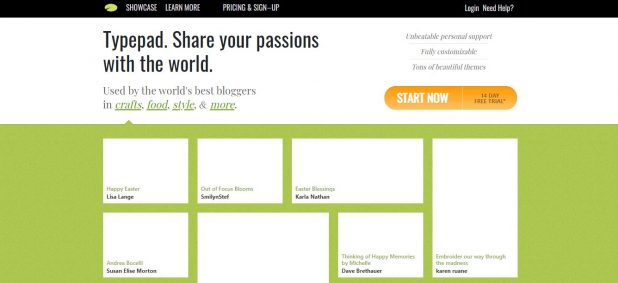 Developed in 2003, TypePad is one of the very first blogging platforms and provides an easy-to-use interface. You don't have to be experienced in creating a blog with TypePad.
Features like mobile support, photos, and multiple authors are included in this platform.
Pros:
Easy to use
Several social media integrations
Supports live audio and video podcast
200+ themes to choose from
Cons:
It is a paid platform with a 14 day free trial
Limited customization options
Restrictions on the number of blogs
Tumblr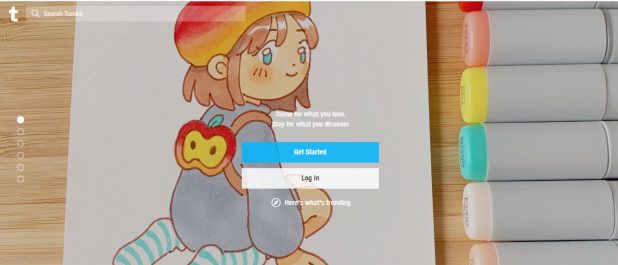 Tumblr is an easy to use blogging platform that was originally created for microblogging. It's also famous for its photo galleries. Tumblr is focused on a community of bloggers so you can share your own content and re-blog other people's content as well. 
You can easily post blogs, images, videos, audio clips without any complications. It's connected with social media platforms for easy sharing. 
Pros:
Free and Easy to use
Many design options
Easy to publish multimedia like videos, images, audio clips etc.
Cons:
Limited features
Creating a backup is difficult
Blogs are like power packets of information. If you compare blogs with research papers or research articles, you will find blogs to be more entertaining and shelling out more information in fewer words. 
All the above-noted platforms have proved their worth on the online market. I hope you enjoyed going through my list of the best blogging platforms.