Small businesses should not give up on the idea of using AI (artificial intelligence) and automation.
They may seem complicated and expensive but adopting them can help you accelerate the growth of your small business.
Need more convincing?
AI and automation are also among the top technological trends expected to have the greatest impact on businesses, regardless of the company size.
Do you want your business to lag behind?
Of course not.
Adopting AI and automation can help you improve your business processes and remain competitive.
But how?
Well, let's start with automation:
Leveraging automation enables you to take care of manual and mundane tasks that take up valuable time. It frees up some time for your employees, allowing them to focus on more challenging and complex tasks.
With the right automation tools, you can enhance productivity and reduce costs.
What about AI?
How does it help?
AI makes it possible for bots to have human-like conversations, improve with every interaction using machine learning, collect data, and provide valuable insights.
With AI-powered solutions, you can offer better customer service, give predictive product recommendations, and improve business operations.
Read on to learn more.
4 Ways in Which AI and Automation Can Help Your Small Business
AI and automation, if used together, can take your small business to new heights. They can help you increase productivity, minimize human error, adopt innovation, and reduce operational costs.
Here's what you can do by using AI and automation:
1. Offer Better Customer Service
AI-powered chatbots can help you take care of repetitive tasks. These pre-programmed automated bots can serve as your front-line customer agents. They can assist consumers 24/7 without taking breaks or leaves.
Leveraging the best AI-powered chatbots can help you minimize the time spent on customer communications. With the help of machine learning, these chatbots can self-learn and get smarter with every interaction. They can become more efficient in handling customer requests.
Some of the use cases of AI chatbots include booking flights, recommending products, ordering products, and answering questions.
Pizza Hut's customers, for example, can place their orders directly through social media. Their chatbot makes their products easily accessible to customers.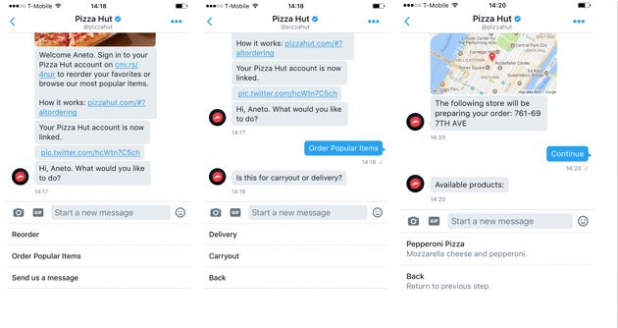 2. Automate Your Business Processes
Want to make your business processes more efficient?
Use AI and automation to create customized workflows and streamline processes with minimal input from your team. Leveraging these can help you ensure the completion of all important steps during each phase of a process.
Automating repetitive processes can allow your team to focus on other important tasks and processes such as delivering excellent customer experiences. They can get more time to prioritize their strengths and contribute more to the growth of your business.
What's more?
Automated workflows offer consistent outputs. They make it easy for you to collect data, implement changes, and optimize your strategies in real-time. They allow your team to innovate, prevent errors, and improve consistency.
3. Optimize Your Content Marketing Efforts
AI and automation help you improve your content marketing strategy.
You can use these technologies to collect and analyze customer data in less time and minimum effort. You can easily use this data to create better buyer personas and choose the best communication channels to engage your target audience.
With AI-powered tools, you can search for relevant keywords, topics, and hashtags to boost the reach of your content and campaigns.
You can create engaging content and analyze what types of posts brings you maximum traffic and engagement. You can identify the content pieces that actually help you move your potential customers through the sales funnel.
And the best part?
You can automate the distribution of your evergreen content.
Unless you've just started your blog, chances are that some of your blog posts may have brought you great traction and engagement.
While AI-powered marketing platforms can help you identify these posts, automation tools can help you revive this content and republish or share it. You can also reshare posts as per a set schedule.
Just because you wrote it months or years ago does not mean that you cannot share it anymore.
4. Boost Your Social Media Marketing Efforts
Many social media marketers use the power of AI and automation to effectively distribute and promote their content across channels.
You can use them to:
Schedule posts across networks.
Get recommendations of content that can improve your social media campaign ROI.
Send messages to customers and reply to their questions via bots on web chat and other messaging platforms.
Distribute content to the right people at the right times.
Monitor and listen to what your audience says about your brand and products.
Run engaging social campaigns across channels.
Analyze competitors' strategies, strengths, and weaknesses.
And the best part?
Using AI and automation can help you manage all of your social media activities in one place. That's why the leading social media agencies use AI-powered marketing and automation platforms to improve efficacy.
With the right set of tools, you can keep an eye on information flow, send drafts for clients' approval, and track the progress of your tasks. Some tools also help with rescheduling, duplicating content, and evaluating the performance of your posts across channels.
Are You Ready to Use AI and Automation to Grow Your Small Business?
AI and automation offer a number of benefits for small businesses.
They can help you improve your efficiency that could lead to improved productivity and higher profits. Your team gets more time to interact with customers and find solutions to complex problems.
What's more?
AI and automation help you connect better with your target audience. You can provide them with relevant content and guide them through the sales funnel. These engaging interactions can lead to better customer experiences, increased purchases, and customer loyalty.
What do you think?
Are AI and automation something you will start using for your small business?