There are thousands of different affiliate marketing programs that you can join, but almost every affiliate marketer knows the importance of comparing different affiliate programs and finding the best one. If you are going to utilize all of your affiliate marketing expertise and resources for a particular affiliate program, you need to make sure that you choose the right one. 
Hosting is one of the best options available to affiliate marketers right now. SaaS and PaaS products are all the rage right now, and you will do well to join an affiliate program of a company operating in this sector. We came across one such company, Cloudways, and were pleasantly surprised with their program. In this review, we shall talk about their affiliate marketing program and what sets it apart. 
Understanding Cloudways
If you are new to the hosting sector, you might have heard about them. Cloudways is a managed cloud hosting provider that gives users a convenient platform to manage their servers and web apps from. They handle deployment, routine maintenance, and other tasks, thus freeing your time to focus on your company.
They work with five of the world's leading cloud infrastructure providers, namely Amazon Web Services, Google Cloud Platform, Vultr, Digital Ocean, and Linode. The reason why it's so popular is simply because it takes away all the trouble from the user and lets them focus on the one thing that matters: improving user experience. 
What About Their Affiliate Program?
The number one reason why we like the Cloudways affiliate program is because the company has tried to make it as "affiliate-friendly" as possible. There are so many affiliate programs out there that completely fail to understand what an affiliate marketer really wants. 
You won't face such issues here. The company has gone the extra mile to make sure that their platform is as friendly as it can be for an affiliate marketer to get started with. You get access to a dedicated affiliate support section and a custom portal designed exclusively for affiliate marketers.
You can contact the Cloudways team if you have a problem; their live chat is always active. There's also a pretty lengthy FAQ section that covers just about everything, and their blog is updated on a regular basis with new information and strategies on how to make the best of your affiliate marketing efforts. 
All of this will make it easy for you to explain the many benefits of cloud hosting to potential referrals. When you sign up, a dedicated affiliate manager will be assigned to your account. Your affiliate manager will give you advice on how to optimize different campaigns and will also impart knowledge on ways to maximize your earnings. 
In addition, one strong reason to promote Cloudways as an affiliate is the availability of relevant graphics at all times. Usually, the company runs seasonal campaigns, and you can find a bunch of resources within your affiliate panel that you can use in order to maximize your marketing endeavors and get the best results. 
To top it all off, the web hosting affiliate program has some of the best commission rates you will find anywhere. As an affiliate marketer, you have plenty of plus points that you can market. For instance, the company offers multiple support levels to their customers.
Understanding the Commission Structure
Cloudways gives you a choice of three commission structures, which are listed below:
Now, let's talk about each of these.
Slab Mode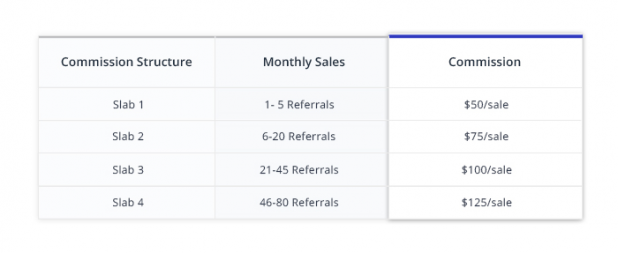 As you can see, the slab model scales upwards depending upon the number of referrals that you get. The table above shows how your earnings will grow. It is of the greatest benefit to performance marketers, online entrepreneurs, and influencers. 
Performance marketers can make use of advertising networks by running PPC campaigns on Google or through ads on Facebook. As advertising costs increase, the slab model will continue to give performance marketers an excellent return on their investment.
Influencers also benefit from this model because they can track which posts are generating the maximum revenue and keep track of their earnings. Because influencers play such an important role in providing information and have a dedicated following, they can promote the program to generate more revenue.
Consultants, coaches, and other online entrepreneurs will also do well with the slab model because they can easily package it with their own courses and offerings. It's an excellent way for online entrepreneurs to get more referrals and increase their income.
Hybrid Model

The hybrid model is the suitable choice for people who need to maintain a sustainable income stream in the long run. As you can see, it gives a $30 upfront bonus on each referral, and then for as long as the customer continues to subscribe to Cloudways, you will get 7% commission on their monthly invoice. The more services your referral uses, the more money you will make.
Custom Structure

Then, you have the custom structure. This is designed for the ambitious lot, who feel that they can generate a lot of referrals each month. Primarily, this is for aggressive marketers who know what they are doing. The company offers the highest rates in this model for affiliates.
What type of affiliates can benefit the most from promoting Cloudways?
The Cloudways Affiliate Program has a bit of something for everyone. Here are just a few people who will greatly benefit from the marketing program. 
Digital Agencies

 
Digital agencies will benefit greatly from the Cloudways marketing program because they usually have a large number of clients. Digital agencies can simply bundle the hosting package with the many other services that they offer. Apart from selling other services, they can also generate additional revenue on the side. 
Bloggers
Using an affiliate program such as Cloudways makes it easy for bloggers to scale up their earnings. Bloggers can take part in promotional activities and market the hosting provided by Cloudways on their platform.
Developers and Freelancers
Developers and freelancers usually work with multiple clients across various platforms. As a blogger or a developer, you can always recommend the Cloudways hosting to a client, which allows you to generate more referrals. Simple platforms like Upwork and Fiverr, both of which are quite popular amongst freelancers, are an ideal choice for freelancers to promote their services, and earn money on the side through Cloudways.
The Affiliate Panel Overview
Now that you have a better understanding of who benefits the most from this affiliate program, it's time to focus on the key details. When you sign up to the affiliate network, you will gain access to an affiliate panel. The affiliate panel is minimalistic, and stylishly designed to put everything at your disposal. You can go to Reports for a better understanding of your promotional efforts while evaluating your Ad Channels. Here's how the panel looks: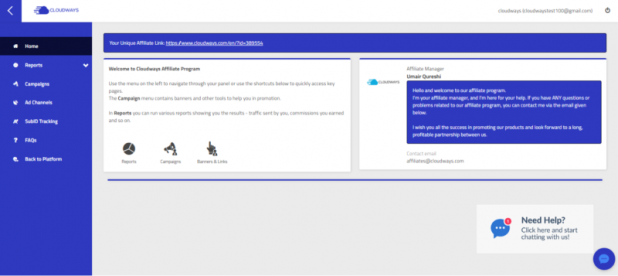 If you are interested in signing up to the affiliate program on Cloudways, just click here. You will be assigned a unique affiliate link, given at the top of the affiliate panel:

Reports Tab
The Reports tab gives you a real-time view of your performance and allows you to figure out what you are doing wrong and get a better understanding of your marketing program. You will see something like this:

The Reports tab has the Quick Stats option, which shows you your current stats for the day. You can also see stats from the previous day, or for the entire month. It provides a brief summary of key stats like your Click to Sales ratio, your Earnings per click, and the average commission you have earned.
The Commissions report is a live dashboard that gives you information about new and existing signups. You can export data and also apply your own custom filters.
Third, you have the Trends tab. This allows you to analyze clicks, impressions, commissions, and trends through a very simple format. 
Finally, there's the Payouts tab. It shows you the number of unpaid and paid commissions.
Campaign Tab
The campaign tab allows you to access a bunch of resources released by the marketing department, making it easy for you to customize your site using Cloudways' promotional material. There are specific banners for each campaign that the company is running, along with the latest product offerings.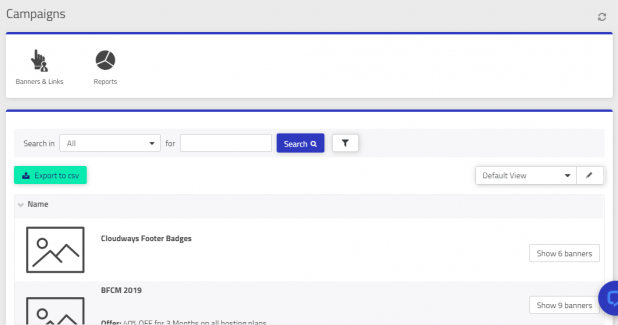 SubID Tracking Feature
Then, you have the SubID tracking feature. Affiliates can use this to monitor multiple ad channels and evaluate the amount of traffic that they are getting. Two custom parameters can also be appended, which will make it easy for you to determine which channel is performing best.


Final Thoughts
The Cloudways Affiliate Marketing Program is easily one of the best affiliate marketing programs in the hosting industry. It's very well-managed, easily accessible, and very easy to promote. If you want to join it, just check their landing page. The company has even released an extensive guide that you can check out before joining. Or, if you have any questions or need more information, you can just mail them at affiliates@cloudways.com for more information.