Ads power most of the Internet. In fact, more than half of the advertising spend is expected to be absorbed by the Internet. As more and more advertisers and marketers are trying to reach their target audience via online advertising, the effectiveness of display ads (the most popular online advertising format) have decreased substantially. When it comes to display ads, a CTR of more than 0.5% is considered good today. 
This directly impacts the CPM (money) advertisers are willing to pay to place an ad on a site. The higher the CTR, the better the ROI for advertisers and the better the return for publishers. But the trends clearly show that CTRs aren't getting any better and users are accustomed to ignoring ads on pages. 
If you are a website owner (publisher), you typically rely on ads to run your business. While sponsorships or direct deals can go up to some extent, display ads from monetization platforms still account for a huge portion of the revenue. 
So, what can be done to maximize revenue? Is there anything you can do to improve the effectiveness of your ads? Yes, there is. By focusing on the right ad sizes and delivering a clutter-free user experience, you can increase overall revenue. 
When we say 'focusing', we are talking about optimization activities. From viewability to ad placements, a publisher can ensure the right ad sizes are placed to increase time-in-view, and thus, CTR and CPM. 
The next question is 'what are the ad sizes that a publisher should focus on?'. To answer this question, at Automatad, we studied over 2 billion ad display impressions. In this post, we'll list the best ad sizes and other actionable insights. Shall we begin?
Most-in-demand: Desktop
When it comes to desktop, you can focus on just four ad sizes — 728×90, 160×600, 300×250, and 300×600. All of them together account for ~ 80% of all ad impressions on desktop. Rather than cluttering the pages with different ad sizes, you can just prioritize these sizes and identify the ad placements that can increase the time-in-view.
For instance, you can place a leaderboard (728×90) at the top of the page, just before the start of an article/page content. 160×600 and 300×600 can fit into your sidebar. Pro tip: Make the ads sticky so that it stays in-view for a longer period of time. Since they aren't in the content, the user experience won't be hampered.
| | |
| --- | --- |
| Ad Size (delivered) | % of Total Impressions |
| 728×90 | 25.68 |
| 160×600 | 21.61 |
| 300×250 | 21.52 |
| 300×600 | 13.24 |
Most-in-demand: Mobile
As you know, mobile screens can't accommodate larger ad units like desktops. So, you would expect medium ad sizes to be in demand. But what's surprising is that a single ad size 320×50 (also known as mobile leaderboard) accounts for close to 50% of the total ad impressions served on mobile devices. 
The next best is, 300×250. 300×250 ads account for more than 40% of total mobile ad impressions. So, you just can optimize viewability and time in view for these two sizes to maximize your revenue. Considering the huge demand, you will be able to make a substantial impact by increasing the viewability of these two ad units by just 10%.
| | |
| --- | --- |
| Ad Size (delivered) | % of Total Revenue |
| 320×50 | 48.64 |
| 300×250 | 41.19 |
Demand and CTR leads to higher eCPM
Regardless of the device, mobile or desktop, we can see from the data that larger ad units lead to better CTR, which in turn, leads to higher CPM. Not surprisingly, CTR and CPM are directly related. The better the CTR, the higher the eCPM, except for low demand ad sizes.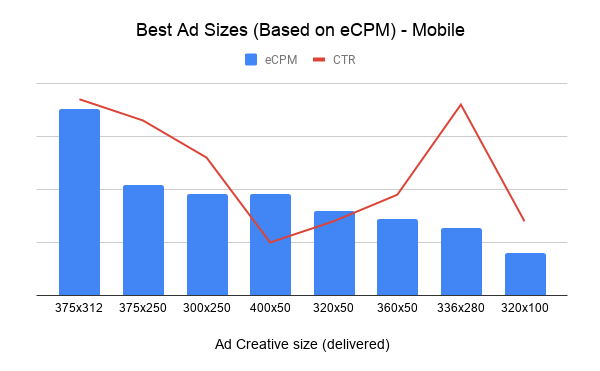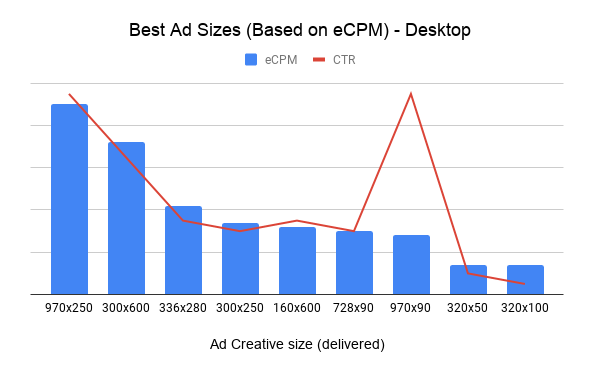 In other words, publishers need to focus on the sizes that have better CTR and higher demand among advertisers. For instance, let's consider the ad size 970×90. It's a larger unit with higher CTR, as you can see in the chart above. 
But eCPM is far less than for the other large ads. Reason? Lack of demand. Advertisers bidding for 970×90 is far less and that's why it accounts for just ~1% of the total impressions. So, the ideal approach is to consider both CTR and demand (% of the total impressions) when selecting the ad sizes to optimize. 
Conclusion:
You might have been using these ad sizes already. The goal of the study is to help you understand the significance of the ad sizes — that is, to show how choosing a different ad size can impact your bottom line. If you have overlooked any sizes, leverage them now. 
Based on the data, it is better to focus on the units with higher demand and better eCPM and those include — 300×250 and 320×50 for mobile and 728×90, 300×600, and 300×250 for desktop.