Tools help you determine the right keywords for your content, identify website issues, track your SEO performance, and spy on your competitors' strategies. 
There are various good SEO tools like SEMrush, Moz, and Ahrefs that can help you improve your website's ranking in search engines. However, most of them are paid tools, and to use them you need to pay a recurring fee, which is expensive. The charge varies from tool to tool, but even the lowest plan will cost you $99 for doing basic SEO like keyword research and a site audit. 
That's where Ubersuggest can help. From keyword analysis to competitor research and site audit, Ubersuggest provides in-depth information about your target domain for free. This makes Ubersuggest the best alternative to expensive SEO tools. 
Let's take a look at an in-depth review of Ubersuggest and understand why you should be using it. 
An Overview of Ubersuggest
Ubersuggest is a freemium SEO tool that provides a detailed analysis of keywords and websites. It also enables you to check your site's traffic history, best-performing pages, and keywords. 
Talking about keywords, Ubersuggest provides insights into the monthly search volume, SEO difficulty, paid difficulty, and related keyword ideas. You can check if there are any technical SEO issues with your website and get recommendations for how to fix them. 
Unique Features of Ubersuggest
There's more to Ubersuggest than just offering keyword research and site audit.  
Here are some features that make Ubersuggest the best SEO tool in the market:
Generates tons of keyword ideas for free.

 

You can find the top ranking keywords and pages of any website. This is essential as it allows you to spy on your competitors.

 

It helps you generate unique content ideas revolving around your primary or secondary keyword.

 

You can check how many people click on the search results for any given keyword.

 

It displays the age range of people searching for your target keywords. This is helpful when you want to target a specific age group.

 

Ubersuggest shows the organic traffic of any website for the last twelve months.

 

You can analyze your or your competitor's backlink profile. It includes the domain authority and page score of the site linking to you.

 

Has a Google Chrome extension that provides crucial details related to keywords like search volume, SEO difficulty, and related phrases right on your browser.

 
How to Use Ubersuggest?
The reason I like Ubersuggest the most is because of its ease of use. All you need to do is enter your seed keyword or website URL and it will then provide you with all the details you need to optimize your website. 
Here's how you can use Ubersuggest. 
Keyword Research
To do keyword research, enter a broad term in the tool. For Instance, I searched for a keyword "bags," on Ubersuggest, this is what the tool returned. It includes the average monthly searches for the keyword, SEO difficulty (SD), paid difficulty (PD), and cost-per-click (CPC).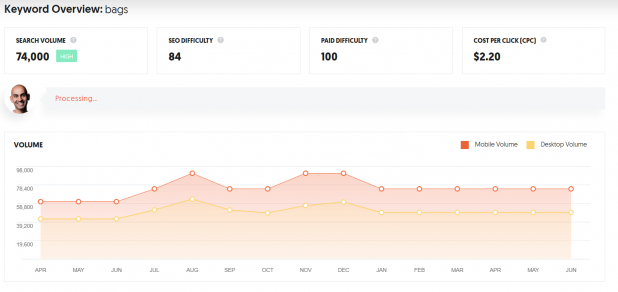 Ubersuggest also provides information related to the devices used to search for the keyword "bags." 
Scroll down, and you will see details like, how many people on search results for your desired keyword and the searchers' age range.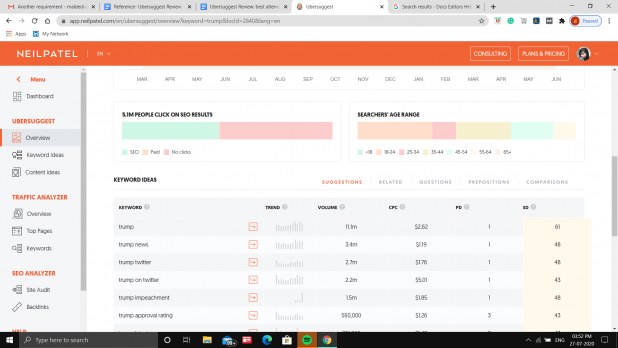 Scrolling further, you'll find keyword ideas. You can check for question keywords, prepositions, and comparisons related to your key phrase. 

Content Idea Generation
To find topics that you should be creating content on, click on "Content Ideas." The tool will show you the top-performing posts related to your seed keyword. 

Use the "Filters" feature to sort content based on the number of Facebook and Pinterest shares. You can also add and exclude multiple keywords to narrow down the results.  
Domain Analysis
To conduct a domain analysis, all you need to do is enter your or your competitor's URL and click on the search button. Ubersuggest will return with the target website's organic monthly traffic (and last 12 months history), domain score, number of keywords, and backlinks.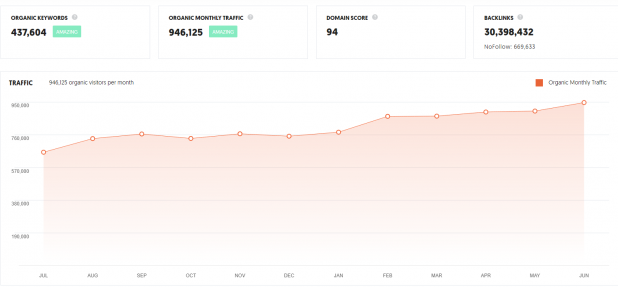 You can check how many keywords the website ranks for and at which position. For example, as you can see in the below image, the domain (hubspot.com) ranks in position 1-3 for 22,975 keywords and 4-10 for 36,578 keywords. Since Ubersuggest shows the keyword ranking over time, you can easily determine if your SEO strategies are working. 

As you scroll down, you can see the keywords the website is ranking for, its monthly search volume, the average position, estimated traffic, and SEO difficulty.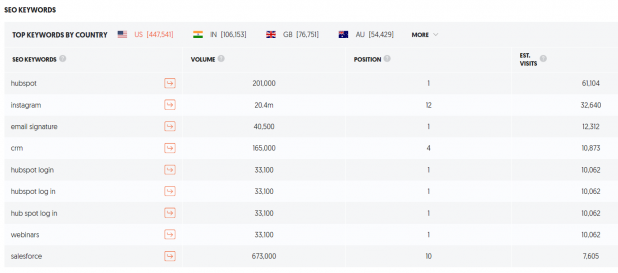 Site Audit
When it comes to site audit, Ubersuggest shows you how many technical SEO errors are on your website. It categorizes the issues based on their impact on your SEO, enabling you to focus on the most important ones first. 
To conduct a site audit, click on "Site Audit" at the bottom of the menu. You will then see something like this. Begin by fixing the critical errors as they have the maximum impact on your SEO. 

It also shows your site speed for different devices. Depending on the time taken to load your website, Ubersuggest indicates if it is excellent, good, fair, or poor. Anything except "excellent" means you need to improve your site speed. You can also check first contentful paint, first meaningful paint, time to interactive, input latency, and speed index.

Backlink Analysis
Ubersuggest also allows you to conduct a backlink analysis to determine how robust your link profile is. Click on "Backlinks" below "Site Audit." It will show your domain score, total backlinks, number of referring domains, and traffic. You can also check whether the number of backlinks has increased or decreased over time.

You can see how many backlinks are gained and lost each day for any website. This is beneficial as it helps you determine if you are losing more links than you are acquiring.

You can then check the source page title and URL, the referring website's domain score, page score, link type, and anchor text. This helps you keep spammy links out, and anchor texts are relevant to the page being linked to.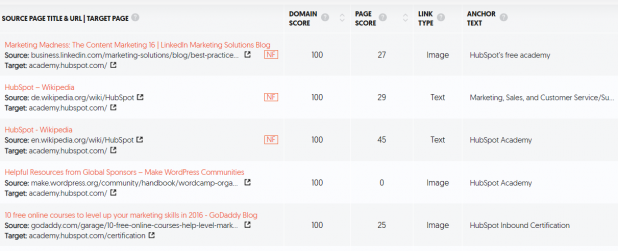 If this seems too much for you, then you have not seen the Ubersuggest Chrome extension. Just add it to your browser, and you can check the keyword volume and suggestions right on Google. 
For example, I searched for "cloud computing" on Google. Ubersuggest showed the average monthly searches (33,100) and CPC ($29.45) right on the search box. On the right side of search results, Ubersuggest shows keyword suggestions.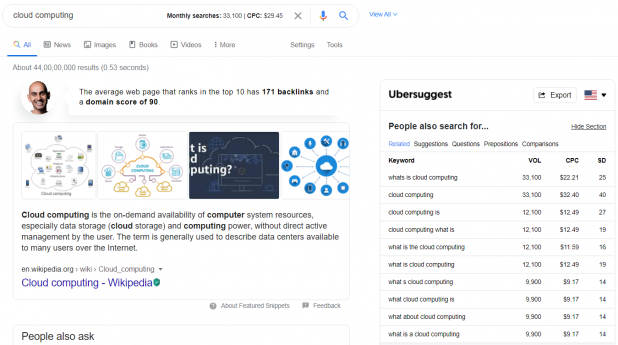 What I liked the most about Ubersuggest Chrome extension is that it shows the domain score and the average number of backlinks required to rank on the first page for that specific keyword. 
For the top ten results, you can see their domain score, traffic, the number of backlinks that URL has, and social shares.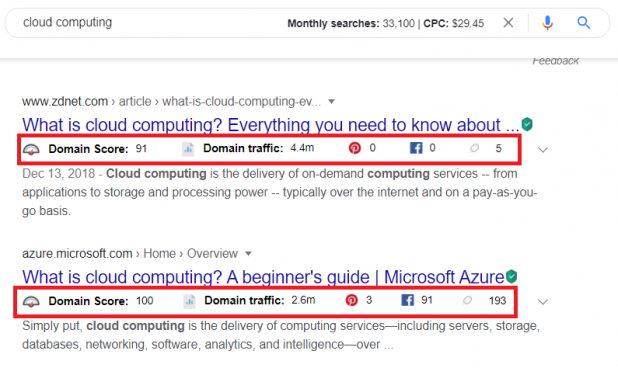 Scroll to the bottom of the search engine results page, you will see "searches related to [your keyword]." Ubersuggest displays average search volume, CPC, and SEO difficulty for those terms as well. This is essential as it helps find highly-relevant related keywords that you should be using in your SEO campaigns. 
As you can see in the below image Ubersuggest displays average search volume, CPC, and SEO difficulty for the searches related to cloud computing.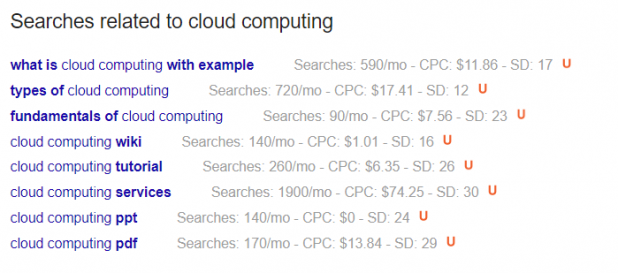 Why Choose Ubersuggest Over Other SEO Tools?
As mentioned above, Ubersuggest is a beginner-friendly tool. Unlike other SEO tools, it doesn't require you to go through a learning curve to understand how it works. 
Here are some more reasons you should choose Ubersuggest over other SEO tools. 
From keyword research and content idea generation to site audit and backlink analysis, everything is available for free with a daily search limit.

 

Provides ideas for new blog posts based on what has performed well in the past on social media.

 

It is not just a keyword research tool. Ubersuggest offers insights into the demographics of the searchers as well, including their age group and the device they use to search the keyword.

 

You don't have to consider several sets of tools to perform different research and analysis. You will get all the basic information in a fraction of a second in one place.

 

The Ubersuggest Chrome extension offers all the necessary information as you use Google. This prevents the hassle of visiting the tool for little tasks like keyword research.

 

You can set up daily rank tracking for up to 20 keywords for free.

 

Enables you to stay on top of your competitors' SEO practices.

 
Ubersuggest Pricing
Ubersuggest offers the necessary SEO features for free with a daily search limit. This means you don't have to spend even a single dollar to generate keyword and content ideas, conduct domain analysis, or do site audits. 
Nevertheless, if you wish to generate a hundred reports per day or analyze around 300 keywords per day, you have to pick up a premium plan.
The paid plans from Ubersuggest are divided into three categories :
Individual Plan starts at $29 per month.

 

Business Plan starts at $49 per month.

 

Agency Plan starts at $99 per month.
If you are a growing business with limited resources, I recommend choosing a premium plan. Apart from generating additional reports, you get access to SEO training and support, where you will learn the latest techniques to increase traffic. 
There are biweekly coaching calls where Neil and the Ubersuggest team will answer your questions. You also get access to worksheets and templates to apply your learnings. 
Conclusion
Whether you are just starting with SEO or want a quick analysis of keywords and your website, Ubersuggest is a perfect choice. If you are short of time, just add the Ubersuggest Chrome extension to your browser, and you will get all the relevant information. Have you used Ubersuggest? How was your experience with it? Let me know in the comments!