In 2015 I launched my first digital marketing agency with $150 (hosting and domain fee). I named it Idunn and I gave it a big mission: to attract clients mainly through SEO.
It took a while to get there. We had a constant stream of leads after the first year and after we fixed our content strategy mistakes. I wrote more about attracting and converting blog readers into paying customers here. 
I was recently reminded of the importance of an on-point SEO strategy precisely by a lead we generated through SEO.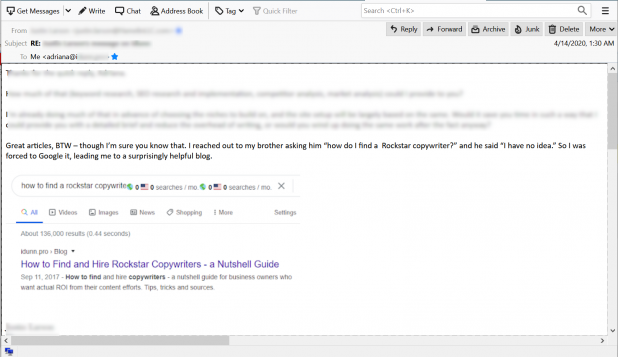 As you can see, this is an article from 2017 and it's STILL producing results in 2020! That's what I call long-lasting ROI.
This article underlines the building blocks of an SEO strategy that actually helps you SELL, not just rank. Let's dive right in!
1. Excellent content is 90% of a successful SEO lead generation strategy
In less than two lines, the client in the email screenshot above mentions the quality of our writing twice. In fact, this is precisely why they reached out. You can't really sell writing services if your writing is meh.
The Google Search Quality Evaluator Guidelines are updated frequently. A lot of things change in that PDF but there's one major constant: the emphasis placed on quality. After all, quality is right there in the name.
There are a lot of factors at play when it comes to how high your content can rank – site speed, UX, backlinks, and mobile responsiveness are just a few of them. But all of them matter very little in comparison to the quality of your writing.
Even if you do manage to rank a page with badly written content, there will be few leads generated by it. People might click on it but they'll hit the return button faster than you can say "can I have your email address?"
In 2020, people no longer tolerate average content. You have to be excellent at it or choose another strategy to sell your products or services.
Bottom line: if you can't produce excellent content, it's better to outsource it to professionals. Poorly written articles and web copy won't help your lead generation efforts.
2. Keyword research is paramount
Every article we put out on Idunn or Copywritech, my second digital marketing agency, is well thought out and well-planned. The keyword research takes up a good chunk of the entire research process.
Why?
Because we don't want to just rank for certain keywords. We want to write articles that bring in clients. 
Our formula for this is finding the intersection between our ideal client's pain points, our expertise and the services we offer.
As I explained in the article linked in the intro, some of our early articles fell short of their scope. We wrote about writing at length and we ranked high. We had a lot of readers. But most of them were other copywriters or content writers trying to hone their craft, not potential clients.
We had to change our strategy. So we started to work backwards. Starting from the client's needs not from what we were most comfortable writing about. 
Remember the screenshot above? Our lead searched for how to find a rockstar copywriter. That's as niche as keywords come. We rank on the first spot for it but there are only 136,000 results and the tool our lead uses shows 0 (ZERO!) search volume. 
Why did we use it anyway?
Because search volume matters VERY little. What matters more is user intent. You see, we needed clients who need copywriters. We don't need thousands of them every month — we're a boutique agency. But we do need a steady stream.
So even the most obscure of keywords can yield amazing leads. Yes, people use phrases like "rockstar" in their searches. 
Bottom line: don't shy away from a keyword just because it has a low search volume. In fact, that may be your ticket to higher rankings and excellent lead generation. Remember: you don't have to attract anyone, just the people who are very likely to buy your services.
3. Start earning backlinks early on
This is one of the worse mistakes I made when I first launched Idunn. I was focused solely on our on-site content and invested very little time in getting backlinks.
Be smarter than I was five years ago and start getting those links early on.
How, you ask?
Well, first of all, stay clear of shady PBN networks. Those do more harm than good.
Do it the right way:
Publish GREAT, STELLAR content (see point #1). People will want to link to that on their own. Bonus points for your own research reports and case studies – those two types of content earn backlinks very easily.
Write guest posts. Just like I'm doing here. Choose websites that are relevant to your industry and pitch your article ideas. That helps with both links and getting clients. Every time one of my articles appears on a website that's not mine, my inbox gets flooded with inquiries. And here's an even more successful story: Leo Widrich, the Buffer founder, managed to put his tool on the map by writing no less than 150 guest posts in 10 months. That got them their first 100,000 users!
Use HARO. Short for Help a Reporter Out, HARO is a community of journalists and experts in every possible industry. The system is quite simple: a reporter that needs a quote from a professional in a certain niche asks a question. You can answer it (if you have the expertise). In return, your name will be mentioned in the article and you'll get a backlink to your website. How easy is that? Do note, though, that it takes some time and perseverance to get your quotes accepted – it probably won't happen the very first time you try.
Do email outreach. Did you mention a certain big shot in your industry in your latest article? Send it to them via email and ask if they could link to it in one of theirs or at least share it on social media. See anyone mention your brand in an article who forgot to link to it? Send an email and ask them to do so. You'll be surprised at how nice and willing to help most people are.
4. SEO can't do it alone
My agencies sell SEO writing services and I'd love to tell you that if you hire us, you won't need to invest in anything else but SEO writing. But that would be a blatant lie.
Yes, SEO is a great way to generate leads. Still, you have to work on the rest of the funnel too. A lot of people will come to your website to read your amazing content via search engines. But most of them will leave and will not come back anytime soon.
This is why you need to focus on capturing their email addresses and sending them newsletters and other email campaigns. 
And this is just one thing. A great social media strategy also plays an important part in lead generation and so does PR. Even PPC ads can support SEO lead generation.
Take the example of one of our clients, a leader in the iPaaS industry. We helped them generate 50% more leads through the content we wrote for them. But they didn't just post it and forget about it.
They emailed every article to their subscribers and they had a great social media presence, too, on top of their other ongoing efforts.
Wrapping things up
Much like any other tactic, SEO is a piece of the bigger marketing puzzle. If done right, it can be your main lead generation engine. For us, it's what brings more than 95% of our leads. 
But you also have to figure out lead conversion and all the other steps of the marketing funnel. SEO alone can't do all the work.
Need help with SEO writing that's proven to generate leads and sales? My team and I can help! Take a look at our content writing and copywriting services and let's talk!