Where would brands be without social media, Instagram, and, more specifically, Instagram tools?
Simple. Nowhere near where they are today!
Social media and platforms like Instagram have single-handedly propelled businesses and brands to unimaginable heights in terms of driving their popularity and giving them a larger-than-life platform to market their products and services to a borderless world.
The Facebook-owned photo and video sharing platform accounts for over 50 percent of internet users, which makes it a natural go-to digital marketing tool for all marketers.
But despite its growing popularity among social media users, brands still need all the help they can get to ensure their Instagram posts reach the right audience and ultimately convert.
That's where Instagram tools like Onlypult come in.
Most marketers understand that there are vast marketing benefits that they can gain from Instagram. However, most businesses are still grappling with how to get real followers for Instagram not knowing that there are unique Instagram tools that they can leverage to achieve this goal.
7 Must-Have Instagram Tools That Every Marketer Needs to Use Today
1. Kicksta for Growth
Seventy percent of over 300 million Americans are active on social media with the average daily time spent on various platforms per user standing at 2 hours and 4 minutes.
This is just one of the reasons why real Instagram followers are super important for marketers and business owners.
Some marketers are guilty of using a trial-and-error approach when it comes to Instagram growth strategies. Many of those strategies promise you hundreds of new followers every day if you stick to their advice. But the reality is that most of them don't work as expected.
Would you like to remove the guesswork in achieving Instagram growth? Then Kicksta is your best weapon.
Kicksta is the most powerful organic growth tool for Instagram. This tool uses cutting edge artificial intelligence technology to get you real organic followers for Instagram. When you use Kicksta, you get a series of benefits, such as: competitor analysis (finally, the answer to how your competitors are using Instagram!), reports and more.
This information gives you accurate insights about what your competitors' followers like about their page. Armed with this valuable intel, your digital marketing team can then develop or enhance the brand's Instagram strategy to surpass their competitors.
Doing so may also lead to attracting some of your competitors' followers since you'll be addressing their needs. Pretty neat, right?
Kicksta helps you auto-engage your followers. The number one mistake that marketers repeatedly make is that they don't engage with their audience. This can discourage your followers, causing them to leave in favor of other brands.
The secret to more Instagram followers is active engagement. Luckily for you, Kicksta can help you boost your engagement by liking posts on your behalf. How cool and time-saving is that?
This active engagement will expand your reach and save you the time of having to handle Instagram growth on your own.
2. Instagram Insights for Analytics
The key to Instagram success lies in analytics. This entails tracking your progress, evaluating your target audience, and spotting trends. We live in a fast-paced, data-driven world.
Analytics offers you access to valuable data about your target audience.
Instagram Insights is arguably one of the best analytics tools to use as part of your Instagram strategy. This tool has an effective built-in analytics tool that marketers can readily use to get a glimpse of how their photos and videos are doing. Although this tool does not offer you detailed information, it is still valuable as it gives you a quick look at your performance.
Instagram Insights gives you information about your reach, the number of profile visits, the number of likes, comments, and your engagement level. Marketers can use this tool to figure out the next steps to increase their reach and boost engagement based on how previous posts performed.
3. Owlmetrics for Insights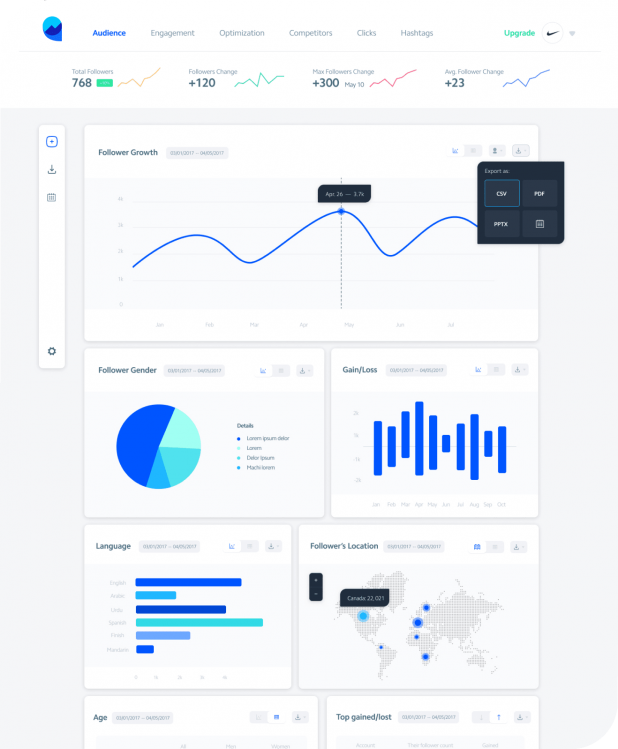 Owlmetrics is an Instagram analytics tool that you can use alongside Instagram Insights. This tool is excellent as it offers you real-time analytics for your account. Owlmetrics tracks all critical data points, from follower growth to click-through rates, engagement, and competitor analysis.
Owlmetrics also gives you actionable information that will, in turn, help you to grow your Instagram account organically. Its real-time analytics will help your digital marketing team to easily identify the best time to post, the most engaging photo or video to use and effectively measure your audience growth.
That's not all.
With Owlmetrics, you can also get to know your new followers and who unfollowed and even learn more about follower gender and geo distribution.
4. Buffer for Scheduling Posts
Buffer is the most popular social media management app in the market. This app is seamlessly integrated with Instagram. This means that you can create, schedule and post content directly from its dashboard to your Instagram account.
With Buffer, you can visually plan and schedule stories from your smartphone or any other digital device. This app will send you a mobile notification once your scheduled content goes live. Buffer also has reporting tools, but they are limited.
Buffer also helps you create, save, and organize hashtags to use in your post. You can experiment with different hashtags or re-use your top-performing captions. The app helps you build a library of options and comes with a hashtag manager to help you save time creating content. Buffer is great at boosting your efforts towards driving authentic engagement and expanding your reach.
5. Taggbox for Curated Content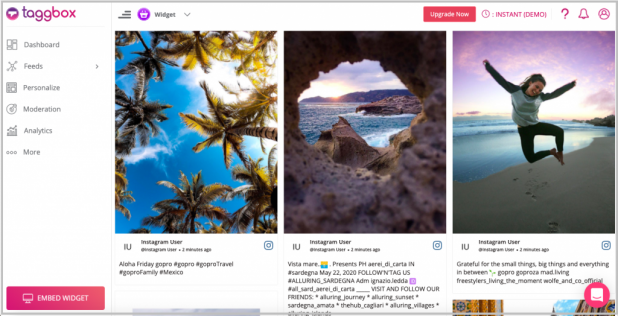 Taggbox is a premium Instagram marketing tool that helps you curate user-generated content for successful social media marketing. This handy platform is not just an Instagram aggregator tool but a social media wall tool as well.
As an aggregator tool, Taggbox allows you to embed your Instagram feed across any platform or website. You can embed both branded hashtags and user-generated content. This strategy allows your Instagram page to gain more exposure.
Taggbox also helps you run contests or Instagram campaigns smoothly. You can access, update and control your Instagram account from anywhere. Furthermore, this tool comes with plenty of cool designs, themes and colors that your team can experiment with.
With Taggbox, you get to create highly responsive designs that can fit any screen: smartphones, laptops, streaming TV screens, projectors, and many more.
6. Crowdfire for Tracking Follows and Unfollows
Crowdfire is a handy tool for managing Instagram activity. For instance, you can track users that unfollowed you or users who follow you, but you don't follow them back. Overall this is an excellent tool for managing your Instagram followers. Of course, it can also help you get more followers.
Crowdfire also offers you smart recommendations of users who may be interested in your brand. This makes it a valuable tool for updates on Instagram users. You can use it for marketing your social content to Instagram users that may already be interested in it. It's just like receiving a database of warm leads! Also, you can mass-follow or mass-unfollow users.
If you want efficiency in follower management, then Crowdfire is the best tool for the job.
7. Instasize for Editing
Since Instagram is a photo/video-driven social media platform, Instasize will come in handy to ensure that you stay on top of your game. If you want an engaging Instagram account, then this is it.
In order to get the desired impact from your Instagram account then your videos and photos need to look great.
Getting your Instagram image to stand out can be somewhat difficult. What's worse is that no one has the time to check the brightness of the image, or the shadows and highlights. This is why you need Instasize.
To save time, Instasize offers over 130 professional-grade photographer-inspired filters to choose from. You are most likely to find a filter that suits your brand language.
Standing out from your competitors on Instagram is no easy feat. However, these seven handy Instagram tools are your best bet towards gaining real followers on Instagram. These tools are easy to use and are available on iOS, Android, or desktop computers. So put an end to the stress of marketing on Instagram and easily create a great experience for your followers with these seven Instagram tools.