Podcasts are all the rage in this era. In fact, a study published by FastCompany states that there are over 525,000 active shows and over 18.5 million episodes available today. Hence, a lot of companies are starting business podcasts to leverage their marketing strategy. 
In addition to this, there are a plethora of platforms like SoundCloud and iTunes that offer multiple features to create a stellar podcast. If you're planning to start your own podcast, you're likely to choose one of these platforms.
However, what if you realised that these platforms, while great with features and options, are not always effective when it comes to building a loyal audience? 
If you want to build a podcast, you should consider building a dedicated webpage to 'host' your podcast for a plethora of reasons. 
A podcast website can be set up quickly which provides a number of advantages. The correct foundation for building is what you need to get started. Selecting the right platform such as WordPress can ease your work and allow you access to a lot of valuable resources.
In this article we're going to quickly explore why it's a good decision to create a website for your podcast. Then we'll discuss three reasons why WordPress is the perfect medium for podcasts. So, let's dive in!
Why You Should Consider Creating a Podcast Website
If you are able to host your podcast on a dedicated platform such as SoundCloud, that's great. However, on these platforms, there are a plethora of podcasts that users can easily access that may distract them from yours. And, it's important to ensure users aren't distracted while listening to your podcast. Anyway, a study found that 19% of listeners increase the speed (listen faster). 
Moreover, there are less options to market your podcast effectively. 
Hence, for a variety of reasons, building a website dedicated to your podcast is wise. You can for instance:
Entice an even bigger crowd via search engine traffic.
Offer your dedicated customers with a spot to view new shows.
Offer listeners a quick way to get in touch with you.
Share about yourself and your podcast info.
Include additional material, such as a web page or maybe even a blog, to complement your podcast.
Of course, it may feel like a lot of effort to bring together a whole website for your podcast. Luckily, if you're using the appropriate tools, it is actually an extremely simple task.
3 Reasons WordPress is the Most Beneficial Platform for Your Podcasting Site
For your podcast site, the first and most critical choice you'll make is what platform to develop it on. This decision will determine how simple it is to set up the platform, what characteristics you have access to, and so much more.
Though a variety of choices are available, the standout alternative is WordPress. This free, open-source Content Management System ( CMS) is the best for your podcast home. Let's discuss the top three reasons of why this is true.
1. You can use a dedicated podcast theme to build your site
For several types of pages, WordPress is a great forum. There is a wealth of software you can use to build your platform to suit your exact specifications such as plugins and themes. 
Add-ons that you can import and run on your WordPress website are themes. In brief, all they do is determine the look of the website. They have several interface options, menus, headers, footers, and so on.
Thousands of themes with a broad variety of purposes are available, including many quality themes designed to help you build a website for a podcast.
For a comprehensive example, you can check out Satchmo:
From the initial concept, this theme is developed to meet the needs of podcasters. It contains plenty of formats, page templates, and design elements to help you manage your content.
Moreover, it offers embedded media assistance as well as convenient podcast-related functionality, including an episode slider.
Selecting a podcast theme such as this one makes it easier to create a platform that looks great and is beneficial. WordPress itself makes this an easy choice for podcasters.
2. You will have access via plugins to several valuable podcasting functions
Although themes modify the appearance of your website, plugins are created to incorporate additional content and functionality.
There are WordPress plugins for almost any feature, whether it's attaching a basic feedback form to the website or converting it into a completely functioning online shop.
There are a variety of plugins for podcasting as well. Although a good theme might add some useful features, one or even more plugins can enhance the functionality of your site. Moreover, a good plugin will help you easily record your first podcast and make you sound impeccable! 
A plugin worth a closer look is Seriously Simple Podcasting.
This tool is helpful and easy to use, but provides a lot in terms of functionality. It provides a fully customized media player, as well as features that allow you to run several podcasts on your website, capture listener statistics, and much more.
PowerPress is another good choice if you're looking for something more complicated.
It offers a fully optimised media player, the option to capture subscribers, and assistance for several podcasts.
It is also programmed to make things easier for prospective listeners to explore your podcasts through search engines such as Google.
Most importantly, these and related plugins seamlessly fit with the podcasting styles we have discussed before, so you don't have to think about performance issues. You can use a blend of WordPress themes and plugins to develop the ideal podcast site.
3. The app is easy to use and has lots of social engagement
Chances are you aren't an accomplished web developer if podcasting is your prime objective. 
If you're looking to build a blog, WordPress is among the biggest go-to platforms.
The WordPress interface is built to be easy to learn and enables newcomers to use it straight away, whether or not they have any web development or coding experience.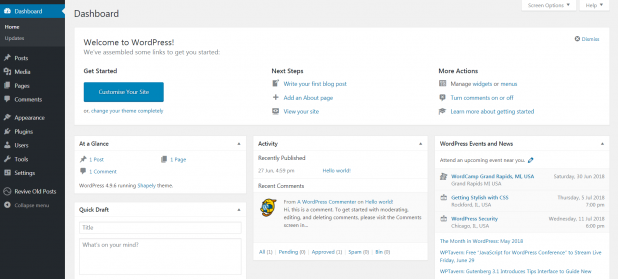 It takes just a couple of minutes to install and configure a website, and the admin dashboard is very well-organized and quick to navigate. 
Plus, the open-source nature of WordPress ensures that it's supported and managed by a large group.
This means that there are many people eager to help you understand and fix issues. Here are a few of the services from which you can benefit:
WordPress Codex, which contains easy details and tutorials.
WordPress Comprehensive Classes, like WordPress 101.
WordPress's frequently-updated sites, such as WPBeginner and WPKube.
Plus, discussion forums in which you can discuss all the questions you want.
With the aid of these resources, you will have a professionally equipped and attention-grabbing podcast site in no time!
Conclusion
With WordPress you can't really go wrong when it comes to creating a webpage for your podcast. The platform is simple to use but provides the sophistication and capacity you need to build a genuinely excellent website.
WordPress, if customised correctly, is among the best CMS platforms. To increase the performance of your WordPress blog, there are several guides available on the internet. 
Although there are many reasons to build your podcast site with WordPress, the three below are the most significant:
You can develop your website using a devoted podcast theme
You have access to valuable podcasting tools through plugins
The CMS is easy to use and has plenty of group support