So you have your website running and that is great! However you can't put your feet up just yet. Now you need to optimise your online presence to ensure that people easily find you on search engines. More importantly, people local to your business.
Simply put Local SEO is when your business efforts are focused on organically ranking for local searches. Local search examples include;
'Car parks near me'
'Car Parks in West London'
'Long stay car park around heathrow'
This means your business can promote its products and services to consumers the very instant they are searching for them online. Search engines, like Google, want to verify that the business you claim to own is authentic and actually providing customers with real time information about who you are, what you offer and where your physical address is. It is advisable to include;
business logo
hours of operation.

Tip: If your business is affected by Covid 19, update your hours of operation or add more details to your description. The updates will show on your Business Profile on Google Search and Maps.

acceptable payment methods,
product or service being offered,
inviting images related to your business.
Comprehensive and Updated Business Profile
The business name, address, phone number, NAP should be readily available, consistent on your website and on all third-party platforms where your business is listed or mentioned since they make up the heart of your digital presence in local search.
Having correct, comprehensive and up-to-date business information on your Google profile is vital and the most effective way to ensure the best possible ranking.
By using the Google my Business tool you can:
Signup and review your business information
Add or claim your business profile
Reach more customers with an online ad
Fact: According to Google, 46% of searches have a 'local intent'. For mobile users the likelihood of a local search resulting in an in-store visit increases 35%.
Execute the best local SEO strategy to ensure high click through rate, delightful user experiences, high conversions and essentially top rankings! Super local user experiences entail high rankings when people search for products and services in your town or city.
Here is a live example of local search results based on a location based query – 'DIY stores'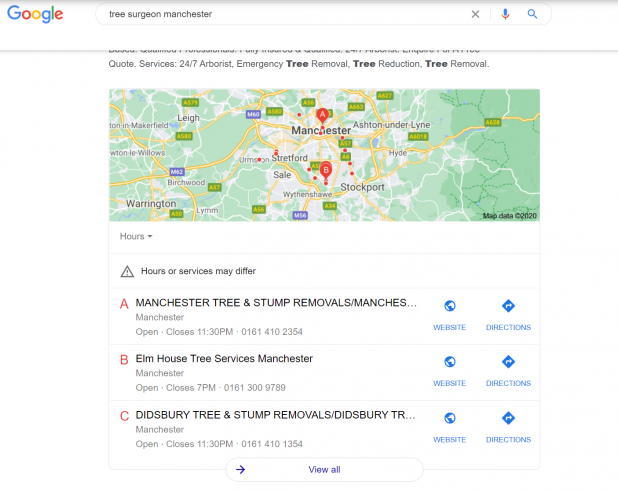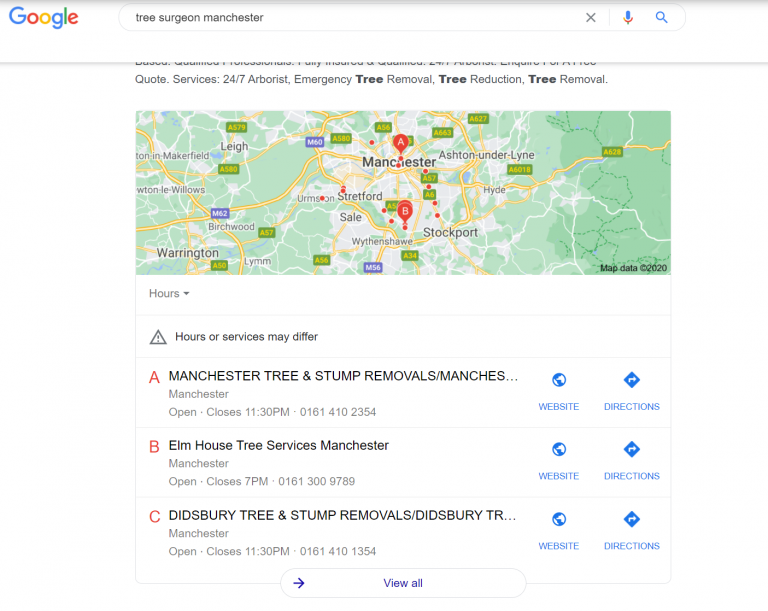 For the example below, I typed in the phrase 'tree surgeon manchester'. This is what comes up based from Google my business and what is known as a 'map pack'.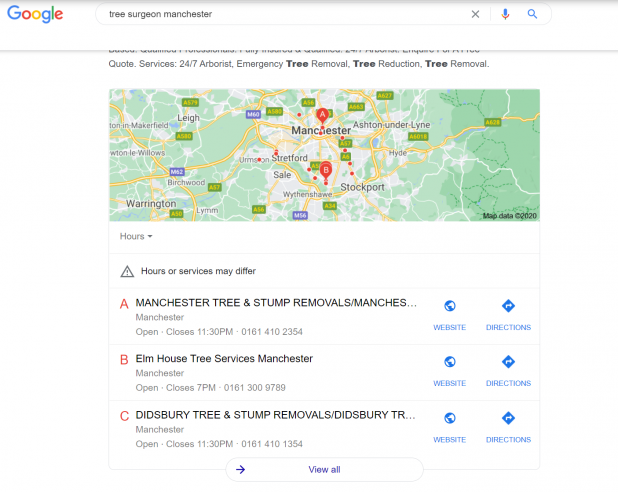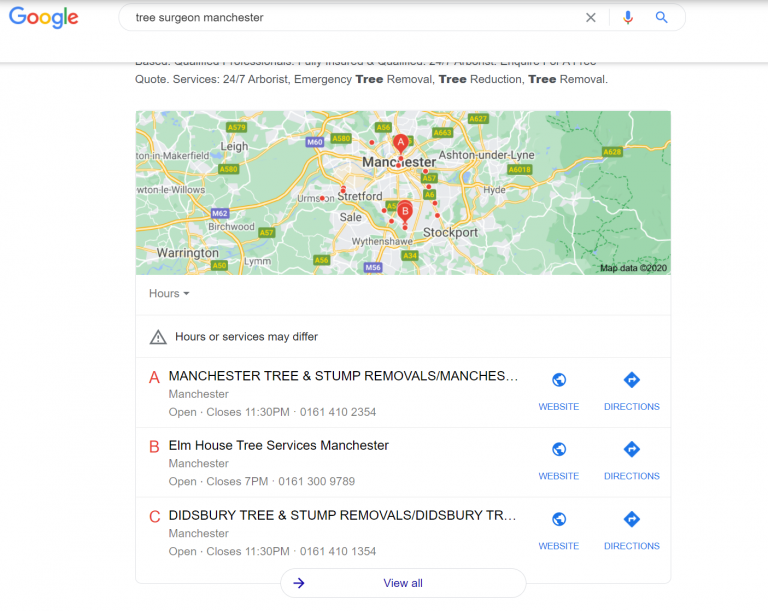 Is your website crawlable at all times?
What good is it if Google is able to find your business but cannot actually crawl your webpages, index and rank them? Ensure that you continue auditing and fixing crawl issues and always be ready to connect with shoppers.
Optimize URLs, title tags, headers, meta description, meta tags, navigation and content
Localise everything! Google can be told the language that you want your content to be in using the 'html Lang attribute'. You can also use the 'Href Lang tag' if you have different versions of the same page in different languages. Also use language specific URLs or domain names (IDN).
Ensure that your domain is not ranking for wrong searches and markets. For example a user that does not speak English will bounce from your English written website causing a bad user experience. Domain Misalignments can be checked using the Ahrefs tool.
What a bad user experience it would be if potential customers visit your website and the content on the website is mentioning physical locations in America!
Tip: Emulate any location by changing your Internet protocol (IP) address using VPN or chrome dev tools to check your SERP.
When it comes to content for local SEO, super localise! Lets face it, the hard fact is, as a small business you cannot compete with big, authoritative and trustworthy websites on a user search for 'best running shoes'. However, you do stand a far better chance of organically ranking higher in search results if your content revolves around 'best running shoes in Ealing' .
Examples of content for local SEO may include:
Specific local landing pages: city, regional, or country.
Frequently Asked Questions
Local Promotions and Specials
Local Events and Activities
Weather updates
Local News updates
Customer case studies
Stories around reviews
Tips and guides on town or city knowledge
'How to' Videos (Recommended that videos have transcripts and discrete sections i.e. 'before, execution and 'after' This in turn encourages search engines to feature snippets of the video on SERPs.
Tip: Use Google Trends and Twitter to find popular topics trending in your area that you can use for your content.
Inbound Links
Internal links are necessary because they help search engines and users determine which pages are useful and relevant. Visitors engage with your content longer and have a quality user experience. Remember a page that isn't linked internally will not be crawled which means the search engine won't index or rank that page in search results.
Citations
Besides creating great content and an awesome website, get other people or local websites to mention or link with your site as a go to resource.
Let your site be associated with a specific topic. Offsite mentions or citations from other authoritative sites in your field will breed trust and boost local search rankings.
Reviews
It is important to harness the power of authentic online reviews because these increasingly inform a purchasing decision and impact Google Rankings.
Encourage your customers to review your business online, respond to all reviews and comments, and share great reviews on social platforms to boost sales and gain insights. Build content through stories, videos or case studies around good reviews. Example diy.com engages its users by encouraging them to create their dream bathrooms online using  B&Q Bathroom Planner, thereby sharing in their customer journey. Great for case study content!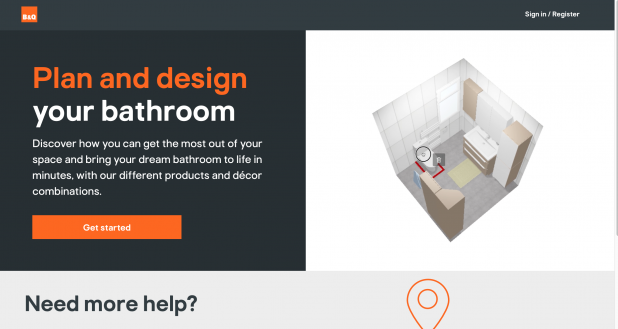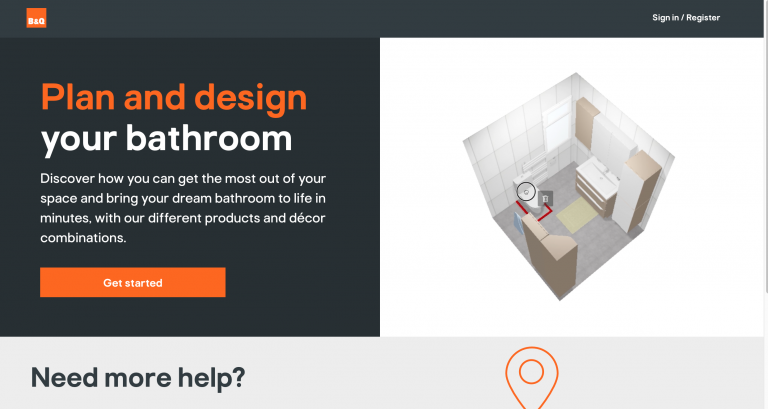 Ensure your website is mobile-friendly.
One of the most important google ranking factors is mobile first indexing. This means your website must be optimized for mobile users. Mobile searches have exceeded desktop searches and that means most of your local searches are from mobile phones.
Use the Google mobile friendly test as well as the Page Speed Insights test to analyse the core working of your site on both mobile and desktop devices. When building out new sections on your site, always put mobile search first!