Voice search has become a trend and more people are using digital assistants and their smartphones to do voice searches every single day. It is 2021 now and the prediction for 2020 was that voice search would exceed 50% of all searches. Statistics show some interesting data about voice search. But most importantly, it is growing and we expect more promising statistics for voice search in 2021.
How Big is Voice Search?
Voice search is much bigger than you think and the stats below back my statement:
About one-third of Americans use voice search, and with a projected increase of 9.7%, this number will reach 122 million users in 2021.
Perficient says that 55% of users use voice search to ask questions.
According to Google, 55% of teens and 41% of adults use voice search daily.
36% of people (adults) talk to their phones while watching TV.
23% of people use voice search in the kitchen while cooking.
According to QuoraCreative, 20% of grocery orders are voice-based and it is expected that voice-based shopping will grow to $40B in 2022.
These figures show how important it is to optimize for voice search in the SEO industry or as an e-commerce business. As an online marketer, you cannot ignore voice search popularity.
Why Do People Use Voice search?
The best thing that people like about voice search is that it is easy to use, simple and you get the answer in audio format. It is multi-tasking. You can focus on other things when searching for something with your digital assistant or smartphone. This Google report shows some interesting facts about when and where people use voice search.
These statistics show that voice search popularity is due to its ease. It is difficult for people to search by text during exercise. They enjoy asking digital assistants for help when cooking something. They don't want to touch their devices during this time.
What is the Difference between Voice Search Optimization and Text Search Optimization
To make things clear, voice search is not like text search. For text search, you can get valuable data like keyword monthly searches, keyword monthly searches for different countries, and the difficulty to rank for the keyword. This data makes it easier for you to decide what keyword you should target for higher rankings.
On the other hand, voice search has no keyword data. Google does not provide us with the volume of voice searches. And this makes it difficult to decide which keywords are best to target.
Let's look more closely to better understand the differences. If you are searching for the same keyword in text and voice search, Google will show the exact same results for both. For example, if I type "best affiliate marketing websites" in Google search and then search for the same keyword by voice, the result will be the same for both queries. So where do the search results differ?
The answer is, people do not search by voice in the same way. They use different ways to find things with voice search. Voice search totally changes:
When people search
How people search
What they search for
A user would not use voice to search for "content marketing" but would more likely ask ' what is content marketing?" or "what are the best affiliate marketing websites?". Voice search often tends to be long-form questions.
How to Optimize Content for Voice Search?
You don't need to be an SEO expert or hire someone to do voice search optimization. There are very few things to optimize for voice search. The good news is there a lot of things that you need to do for basic search engine optimization. Voice search optimization is all about a few small but smart steps that you should take.
Answer the questions in Your Content
Most Voice search queries are about asking questions such as getting information about a historic place, checking a menu in a restaurant, or finding a service with a "near me" search. So the first step is to find the questions in your niche for which you can create content.
1. Know the Question in Your Niche
To answer the question, the first step is to know the questions that your target audience has. You can use Google as a tool to find these questions by typing your main keyword in the search bar. In the second step, just add what, why, and how before the main keyword and you will see all the questions that people ask on Google. For example, if you are in the weight loss niche, you can find questions like this: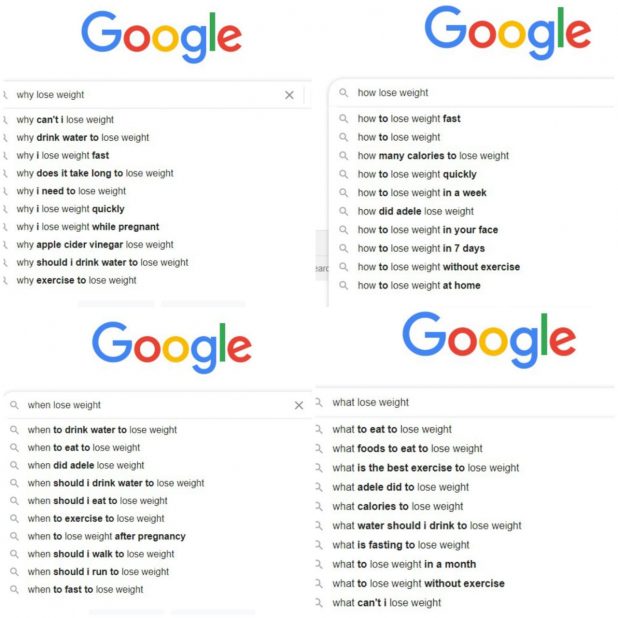 Now you have a better idea of what your customers ask about losing weight. You can answer these questions in your content to rank high on voice search results. Answer the public is another free tool that shows all the questions that people ask on search engines. I call it "the question search engine".
Mostly, optimizing for voice search means optimizing for questions. The more perfectly you optimize for questions, the better your voice search rankings. There are a few things to consider when writing answers.
2. Keep Your Answers Short
A study by Brian Dean found that the average Google home answer is 29 words long. Conclusion? Google prefers short and sweet answers. So keep your answers short to improve your chances of ranking high.
3. Write Grammatically Correct Answers
Use proper English, simple words, and grammatically correct answers. While Google does not claim "Grammatical Correctness" to be a ranking factor, it is important for user experience which is key for your site's bounce rate.
4. Use Natural Language
Voice search questions are conversational and longer. To get Google's attention, avoid using complicated words and technical language. Be straightforward and to the point. Conversational answers are more likely to get higher rankings on voice search results.
Should You Use Long Tail Keywords
Well, we've discussed that most voice searches consist of long questions. A study found that less than 2% of all voice search results contain a keyword in the title. So long keywords may not help you. It is better to target longer questions that people actually ask on the internet.
Where to Answer Voice Search Questions?
Google and other search engines do not care which page answers the relevant question. Instead, the answer is shown directly on the results page. So, you should have a well-optimized and well-structured FAQ page on your site.
Your FAQ page should have all the answers related to your business. Sometimes an answer needs to be explained in detail. In this case, writing another blog post performs well with complete data and answers.
Optimize for Feature Snippets
In this study of voice search results, it was found that more than 40% of voice search results came from a featured snippet. A featured snippet is a little box that shows up at the top of some search results and trumps all the other results. Sometimes users do not need to click on the link because all the information is there.
To improve your odds of landing in the featured snippet and showing up as a voice search result, use structured data in your content. Structured data is about using headings, bullet lists, numbers lists, table lists, and schema markups. Schema markup indicates to Google that there is data in your piece and helps Google crawl through all the information and place it in featured snippets. This improves your chances of ranking in a voice search result.
On-Site Optimization for Voice Search 
In addition to content optimization, there is on-site optimization that can help you to rank better on Google and Bing for voice search results.
Site Speed
Google loves speed. Fast loading pages are great for user experience and SEO as well. Go to Google page speed insights and check your website's speed. Follow Google's instructions to fix any speed issues. You need to attend to the following site speed factors:
Compress and optimize Images
Use a theme optimized for speed
Use a cache plugin and CDN
If you are on WordPress, always keep it updated
Get Google My Business Profile
If you are a local business, then you probably need to be found on those "near me" searches. If you serve a specific local area, then you are in luck because if someone searches for a service you provide near to your business location, Google will automatically show you.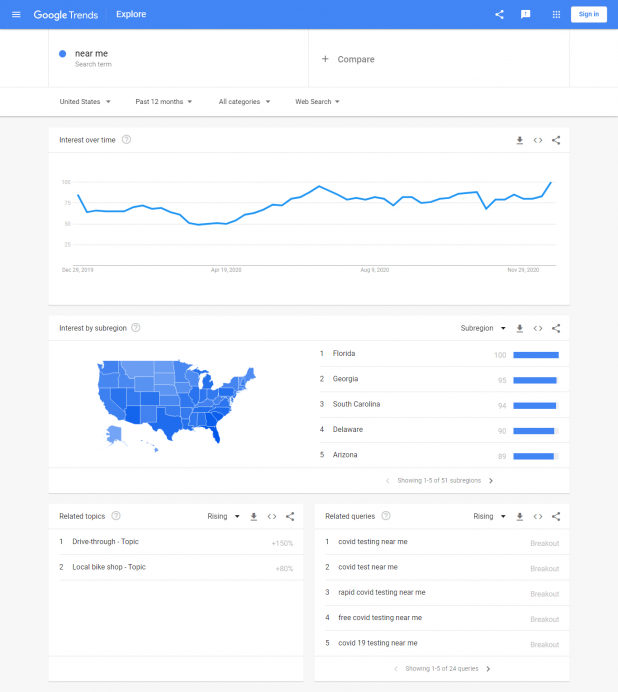 As you can see, "near me" searches have been trending on Google. It becomes even more interesting when you see that top "near me" searches are:
Food near me
Restaurant near me
Stores near me
For example, you have a restaurant and someone (near your restaurant) asks Google
"restaurant near me". Google will show you as the first result because you are close to the user. To get full advantage, make sure that the information you give on your Google my business profile is reflected on your website as well. Include the address of all cities where you provide services.
Optimize Your GMB Profile for Voice Search
There are several factors to consider in optimizing your Google My Business profile:
Keep your information up-to-date. If you changed your business address, add the new address to your Google My Business profile.
Add your active phone numbers
If you provide services in multiple locations, do not forget to add them to the GMB profile as well. This helps Google to provide accurate information to visitors
Get reviews on GMB
Bonus Tip
Siri iPhone is a digital assistant that does not show Google my business listings. Frustrating? Apple uses third party sites like Yelp and Foursquare and that is why you should create Yelp and Foursquare profiles.
Backlinks are Key
Backlinks are the backbone of your site and help your site rank higher on Google. The higher the number of high-quality relevant backlinks you have for your website, the easier it will be for you to rank for your target keyword. A study of Google search results found that the top voice search results are from pages that rank in the top five. And, these sites have a high Domain Authority with tons of backlinks. Conclusion?
Domain Authority is important for both organic text search and voice search. Create great content to get backlinks from high-quality sites.
Final Thoughts
Although 50% of searches are voice-based, there are more things to be discovered about voice search. You may rank at the top of the first page without optimizing specifically for voice search if you have high domain authority. So, you don't need to know a lot to optimize for voice search. Add the "answer the question" formula to your optimizing strategies and increase your chances of ranking for voice search.